Good Newwz Memes flood the internet after trailer drops
funny memes related to Diljit Dosanjh's baby avatar is trending all over the internet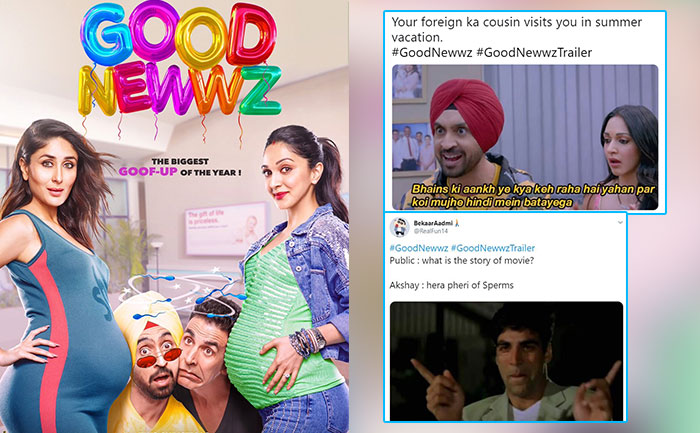 The Good Newwz trailer just released today and ever since the makers of the film dropped the trailer, the positive responses have been received from the audience from the trailer. Good Newwz stars Akshay Kumar, Kareena Kapoor, Diljit Dosanjh and Kiara Advani.
Since the trailer of the comedy film Good Newwz dropped today, the Diljit Dosanjh one has came out as popular for meme makers on social media. It is in the last scene of the trailer which has caught the viewers attention as the last scene turns out as the most hilarious moment which makes the audience laugh out loud.
Meanwhile, in the last scene of the trailer Kareena Kapoor can be seen giving birth to a baby who has Diljit's face. He wishes everyone with the funny dialogue, 'Hello ji'. Now, it is this hilarious scene which has turned out as the most funny memes. Check out the funny memes below.
Other Parents: Mera beta Engineer Banega/ Doctor Banega
His Parents: Mera Beta Kylie Jenner ke Peeche Paagal hoga #GoodNewwzTrailer pic.twitter.com/OWWk58oHfA

— Nasticissist (@nasticissist) November 18, 2019
#GoodNewwzTrailer
How my dad how my mom
Sees me. Sees me. pic.twitter.com/4q9IlmjtpB

— Sahil Bhalerao ?? (@Tera_saa) November 18, 2019
#GoodNewwzTrailer
She : mele babu ne susu kiya?
Le Babu in huggies : pic.twitter.com/YmfCPuz7Dn

— Satyarth (@Satyart28515059) November 18, 2019
When a 28 years old guy says he loves WWF: pic.twitter.com/03FfJRDRYf

— Pulkit (@voxxpopli) November 18, 2019
Nobody :

Indian Mom while watching a Bollywood movie with bunch of English dialogues : pic.twitter.com/MaL08fIyrW

— Stuti? (@morphinediary) November 18, 2019
Me to my frontbencher friend after result – pic.twitter.com/hw3TzpWbWL

— nitishtomar (@anikatetomar) November 18, 2019
Your foreign ka cousin visits you in summer vacation. #GoodNewwz #GoodNewwzTrailer pic.twitter.com/oIsYMQke5p

— Peejjah ? (@Falana_Dimka) November 18, 2019
Also Read: Good Newwz Trailer: Akshay Kumar & Kareena Kapoor Will Leave You In Splits