Gudi Padwa 2021: Top 5 Maharashtrian recipes you must try now!
Gudi Padwa, the Maharashtrian New Year, will also be celebrated on April 13. Here are 5 Maharastrian recipes that you should not miss.
Gudi Padwa is a spring-time festival that marks the traditional new year for Marathi and Konkani Hindus. . On this day, natives of Maharashtra and Goa celebrate their New Year, which falls on the Chaitra Pratipada Tithi, Shukla Paksha. It will be celebrated on April 13, and  Ugadi or the Telugu New Year also falls on the same day. While Ugadi is observed by the people of Andhra Pradesh, Telangana, and Karnataka.
The term Padwa stands for the first day of the lunar fortnight and is derived from the Sanskrit word pratipadā. The festival is observed with colorful floor decorations called rangoli, a special Gudi flag- which is made with a garlanded of flowers, mango, and neem leaves, topped with upturned silver or copper vessel. It is usually rested on a window of the house as this signifies prosperity and victory. No festival is complete without bingeing on traditional feasts. Without any further ado, here are 5 Maharashtrian recipes that you should not miss.
Gudi Padwa 2021- Recipes:
1. Puran Poli
How to make Puran:
Rinse the chana dal.
Add it to a pressure cooker, add water, and pressure cook it for about a minute.
Add jaggery, sugar, nutmeg, cardamom powder, dry ginger, and saffron to the lentils.
Mix well, and cook stirring frequently for 20 mins on medium heat.
How to make Poli:
Take maida in a bowl.
Knead the dough, till it is smooth and soft. Cover and keep aside the dough for 15 to 20 minutes.
Making Puran Poli:
Take a medium or large size ball from the dough and start making balls and the stuffing which should be of the same size.
Put the stuffing in the middle of the rolled dough and then gather all the sides of the dough on top of the stuffing to enclose it. Roll the pol using dry flour.
Heat Tawa and cook the puran poli on both sides with lots of ghee.
Serve puran poli warm or at room temperature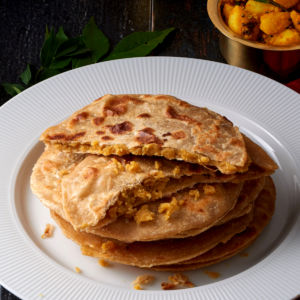 2. Sabudana Vada
In a large bowl take 1 cup sabudana and soak with enough water for 3 hours.
Drain off the water completely and rest for 30 minutes.
Take the soaked sabudana in a large bowl.
Add 2 potatoes and ½ cup peanuts.
Add ½ tsp ginger paste, 1 tsp cumin, 1 chili, 2 tbsp coriander, and ½ tsp salt.
Mix well.
Prepare vada by deep-frying or fry in a pan.
Serve sabudana vada hot.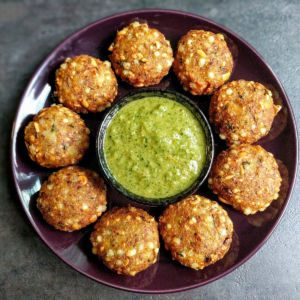 3. Puri Bhaji
How to make Puri:
In a large bowl take 2 cups wheat flour, 1 tbsp Rava, ½ tsp sugar, ½ tsp salt, and 2 tsp oil.
Mix well making sure the flour is moist.
Add water and knead the dough.
Knead the dough and add water as required.
Make a large ball size dough and roll it to form a log.
Cut into pieces and roll them into small balls.
Place the balls into a small bowl and 1 tsp oil.
Grease the ball to prevent it from drying.
Take a ball and roll using a rolling pin.
Flip over and fry until it turns golden brown.
How to make Aloo Bhaji:
Add 3 cubed potatoes into the pressure cooker.
Add 1½ cup water, ½ tsp salt and pressure cook for 4 whistles.
Next,  in a large Kadai, heat oil, 1 tsp mustard, 1 tsp urad dal, 1 tsp chana dal, 2 dried red chili, pinch hing and few curry leaves. splutter the tempering.
Add 1 inch ginger, 2 chilli, 1 onion and saute until onions change color slightly. Add ¼ tsp turmeric, ¼ tsp salt and saute for a minute.
Add pressure cooked aloo and mix well adjusting consistency as required.
Cover and cook for 5 minutes
Add coriander and mix well.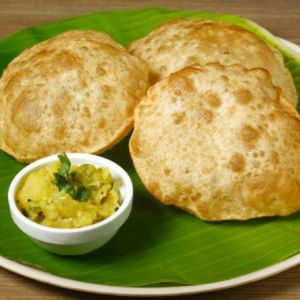 4. Aam Panna
Take the desired quantity of mangoes.
Boil them till they become soft.
Let it cool and then squeeze the pulp and then blend it with cumin (roasted), mint leaves, sugar, and salt, and then add water as per requirement.
Your refreshing summer drink is ready.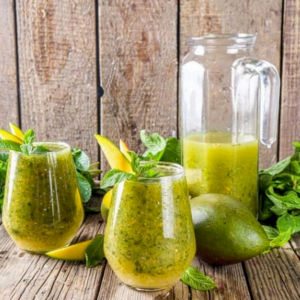 5. Kesari Bhat
Heat a pan first. Keep the flame to a low and add ½ cup fine Rava.
Stirring the roast rava on a low flame. Roast it for 5-6 minutes.
In a pan, heat the ghee and fry the raisins and the almonds and saute till they change color a little.

Add ¾ cup sugar.

Keep the flame on low, stir well till the sugar dissolves.

Add raisins and a pinch of saffron strands.
Add the roasted Rava in 2 to 3 batches and stir till no lumps are left.
Add roasted cashews, raisins and ¼ tsp cardamom power.
Mix well and serve.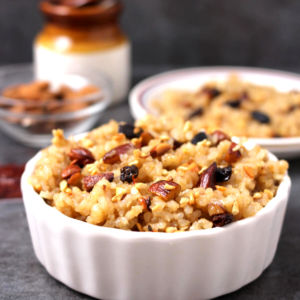 ALSO READ: Gudi Padwa 2021: From Date, Significance To Puja Rituals-Know Everything