Gujarat Earthquake: Tremors of 5.5 magnitude felt in Rajkot
Earthquake of magnitude 5.5 jolts Gujarat, ; tremors felt in Kutch, Saurashtra and Ahmedabad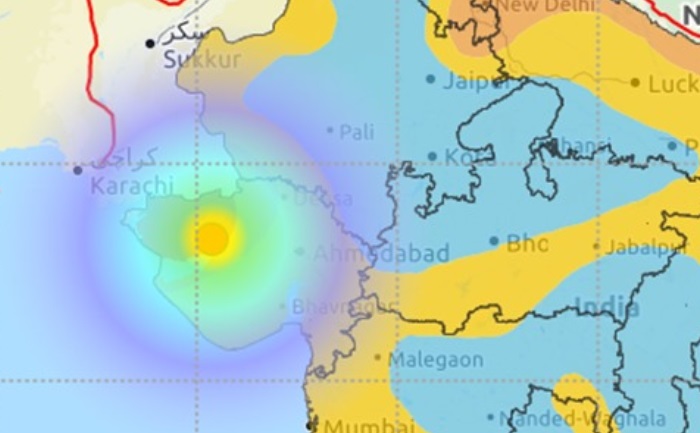 An earthquake of magnitude 5.5 on the Richter scale several parts of Gujarat. The epicenter of the earthquake was 13 km from Bhachau area in Kutch district. The intensity of the earthquake was so strong that tremors were felt in the entire region of Kutch, Saurashtra, and Ahmedabad.
Earthquake recorded in Gujarat
Epicenter:- Bhachau,Gujarat
Ricterscale:-5.3
Time:-8.15 PM
Remembering 26 Jan 2001
Biggest earthquake in last 8 yrs.#earthquake#GujaratEarthquake #Bhachau #Gujarat pic.twitter.com/4ltSCVothZ

— Dhruvil Gajjar (@meggi_07) June 14, 2020
However, there are no immediate reports of any casualty or loss of property as of now.
Gujarat: People come out of their houses in Ahmedabad following tremors in the state; visuals from Prahlad Nagar area in the city.

National Center for Seismology (NCS) has ascertained that magnitude of the earthquake was 5.5 on the Richter scale. pic.twitter.com/h0NVlQmoEj

— ANI (@ANI) June 14, 2020
Visuals from news agency ANI showed people gathered outside houses in the Prahlad Nagar area of Ahmedabad, where tremors were felt.
Following the tremors, Gujarat Chief Minister Vijay Rupani immediately called up Collectors of Rajkot, Kutch, and Patan districts. He got updated about the situation. However, there are no immediate reports of any casualty or loss of property as of now.
Minutes after the earthquake in Gujarat, another earthquake of magnitude 3.0 hit Jammu and Kashmir. The epicenter was 90 km from Katra.
Sunday night's earthquakes were the latest in a series of quakes to have hit parts of northern India. As many as 14 quakes have hit Delhi.
Gujarat has witnessed three major earthquakes in the past. The most devastating in 2001, another in Anjar in 1956 and the third in 1918 in the Rann of Kutch.
Also Read: Low-intensity earthquake of magnitude 2.1 hits Delhi