Gulabo Sitabo Movie Review: Amitabh Bachchan And Ayushmann Khurrana starrer is a comedy riot
Gulabo Sitabo review: Amitabh Bachchan is the soul of Gulabo Sitabo, Ayushmann holds his own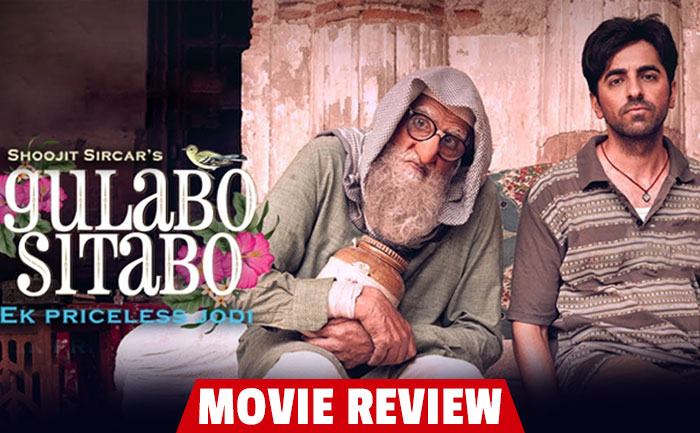 DIRECTOR: Shoojit Sircar
RUNTIME: 2 hours runtime
CAST:  Amitabh Bachchan, Ayushmann Khurrana, Vijay Raaz, Brijendra Kala, Shrishti Shrivastava, Farrukh Jafar
RATING: 2.5
Shoojit Sircar's comedy riot 'Gulabo Sitabo' has Bollywood's megastar Amitabh Bachchan and talented actor Ayushmann Khurrana pitched against each other. The film was earlier supposed to have a theatrical release. But due to the ongoing nationwide COVID-19 lockdown, it has been released on streaming giant, Amazon Primes. The satire is a well-crafted story sprinkled with a riot of emotions. The title 'Gulabo Sitabo' is based on popular folklore of two women by the same name who keep fighting over petty issues much like the two leads.
STORY:
'Gulabo Sitabo' is all about Fatima Mahal a crumbling haveli set in Lucknow. How it becomes the centre of a long feud between the owner's (Begum(Farrukh Jafar) husband Mirza (Amitabh Bachchan) and their stubborn tenant Baankey Rastogi (Ayushmann Khurrana) who is living there with his mother and sisters. The duo just cannot stand the sight of each other and are constantly squabbling. In comes a lawyer Christopher Clarke (Bijendra Kala) to get rid of the tenants, and a govt official Shukla (Vijay Raaz) to trade the haveli for a flat. The movie is a story of greed, of upmanship, and of a haveli that everyone wants a piece of.
Here's our honest review of the film.
REVIEW:
Amitabh Bachchan is a hoot and a half as Mirza. The veteran actor is a master of his trade and manages to steal the show as an angry, abusive, hunched old man. Ayushmann Khurrana is a perfect foil as the feckless Baankey, who hides his inadequacies with an air of nonchalance. Bachchan and Khurrana's scenes are unmissable.
Amitabh Bachchan leaves you impressed as the conniving, greedy, grouchy old man. Khurrana too as a man is never happy with anything in life, be it his life, his job, and his love-life. Both the actors have brought to life the characters they play on-screen. Their squabbles will leave you in splits. Mirza and Baankey argue like a married couple with empty threats. They also sweetly throw insults in typically Lucknawi andaaz.
Juhi Chaturvedi aces with her witty lines, she keeps her humour content intact. Juhi has also made the women characters memorable. Be it Baankey's sister Guddo(Srishti Srivastava), or Begum (Farrukh Jafar), or even Baankey's weary girlfriend. Srishti Srivastava as street smart Guddo is impressive. The 'Gully Boy' girl is on a winning spree for sure. Farrukh Jafar as Begum is outstanding. Though she has limited dialogues she shines in them. Both Vijay Raaz and Brijendra Kala are terrific and quite relatable.
Shantanu Moitra's background music is haunting and beautiful but the songs though are not memorable . Cinematographer Avik Mukhopadhyay has perfectly captured Lucknow's true spirit. Editor Chandrashekhar Prajapati too has done a good job. They have brought alive the lanes and bylanes of true Lucknow onscreen.
Some may find the pace of the film a tad languid but it works.
Watch 'Gulabo Sitabo', catch all the action between Amitabh Bachchan and Ayushmann Khurrana. They are truly a treat to watch. The twist at the end is worth the wait.
For all the latest movie reviews, stay hooked on to The Live Mirror.
Also Read:  Gulabo Sitabo Movie Review: Amitabh Bachchan & Ayushmann Khurrana Starrer Is A Comedy Riot