Gurgaon: Judge's wife shot by guard, dies in hospital, son critical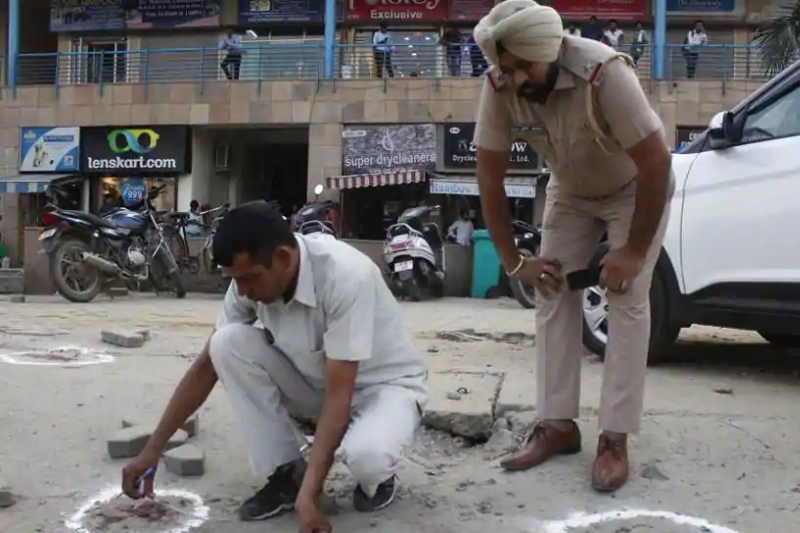 The wife of an additional session Court Judge was shot in a busy market in Gurgaon on Saturday died on Sunday morning. The son of a judge is also said to be in a critical condition.
The gunshot incident comes around 3:30 pm near the Arcadia market in Sector 49, Gurgaon where the deceased wife and son had gone for shopping. The gunman first shot the wife then the son and tried to drag him in the car.
The irony is, over 40 people were stood there as the guard attempted to put the unconscious body into the car. While, the video shared on social media showed that, the passerby was playing a role of mute spectator.
One of the videos doing rounds on social media shows, the gunman first shot the wife and then the son and tried to drag him in the car. But when he couldn't, he left them on the road and drove away in the same car, shows the video footage captured by eyewitnesses from their cellphones.
#WATCH: Wife and son of an additional sessions judge shot at by the judge's gunman in #Gurugram's Sector-49. Both the injured have been admitted to the hospital and the gunman has been arrested. pic.twitter.com/rMqXdYHrxR

— ANI (@ANI) October 13, 2018
When he was on his way, he called the judge informing, "I have shot your wife and son". He made two more calls telling people about the shooting, including his mother."  The woman has been identified as Ritu, 38, and her son Dhruv.
The gunman, Mahipal Singh, had been posted with the judge for the last two years. After shooting at them, Mahipal reached a police station where he fired again, before fleeing from there. The Station House Officer tried to catch hold of him but could not. A little later he was arrested from Faridabad.
"An additional sessions judge's wife and son were shot at. They have been admitted and the doctors have taken them for a procedure," said DCP Gurgaon (East) on Saturday.
The Police are busy finding out the reason behind the shooting. According to the initial investigation, he was suffering from depression and was angry at the "misbehaviour" by the judge's family.
The accused, Mahipal Singh belongs to Mahendragarh in Haryana. His wife is a teacher and he has two children – seven and three years old.
This is the not the first incident. Earlier in August, a 50-year old Non-Resident Indian (NRI) was beaten to death in Gurugram in city's DLF Phase-2 area. Soon after the beating, The NRI suffered reportedly suffered a cardiac arrest and died after he was roughed up by a private guard, reports The Financial Express.
Also read: Gurugram: Session Court Judge's wife, son shot at; hospitalised