Guru Purnima 2019: Wishes, Quotes, Status, Songs, Poems, Images & WhatsApp Stickers
Gura Purnima to be celebrated on 16th July 2019. Here's everything from Guru Purnima Wishes, Quotes, Status, Songs and Poem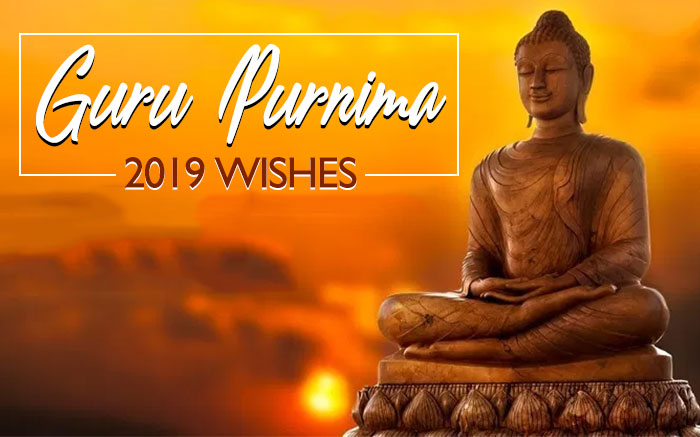 Guru Purnima is a tradition dedicated to spiritual and academic teachers, who make all possible efforts to make their students a great Human being. Guru Purnima falls tomorrow (16th July) this year. On the occasion of Guru Purnima, students send Happy Guru Purnima Wishes, Messages, Status, Songs and Quotes their beloved teachers to show their gratitude. The day is mainly celebrated in India, Nepal or Bhutan.
Everyone college, school or religious institution at least has one teacher, who dedicates their life to make their student a successful person. You must have several teachers who have taught you tons of things throughout your study time. Guru Purnima 2019 is one of the best days to show your gratitude towards your teachers by sending them Happy Guru Purnima Quotes, Images, Quotes, Speeches and Songs.
The festival of Guru Purnima is celebrated with great enthusiasm in schools and colleges wherein students do not leave any stone unturned to wish their beloved Gurus. Ahead of Guru Purnima 2019, we have enlisted collection of Guru Purnima Images, WhatsApp messages, quotes, SMS, GIF images and also some Stickers which you can send them on this day.
There is no doubt that Guru or Teacher plays a very important role in everyone's life when it comes to making their career. Guru is nothing but someone who teaches you how to live a life by passing his or her own knowledge and experience.
Guru Purnima Messages
1. When one finds the true Guru, one conquers half the world. Thanks for taking me as your disciple! Happy Guru Purnima!
2. Many Teachers came in my life but I don't think about the rest when it comes to making a difference. You are certainly better than the best. Happy Guru Purnima
3. You introduced me to myself and showed me the right way. Thanks for making me who I am. Wish you a happy Guru Purnima Day!
4. Today is the best day to pay the tribute to your Guru. On this auspicious day of Guru Purnima, make an oath for your life to follow the steps of your Guru. Happy Guru Purnima!
5. To the world, you may be just a teacher but to your students, you are a hero! May guru's blessings always shower on you. Happy Guru Purnima!
6. May the name of guru be enshrined in your heart. May guru ji' s divine love and blessings be with you always. Happy Guru Purnima!!
7. When one finds the true Guru, one conquers half the world. Thanks for taking me as your disciple! Happy Guru Purnima!
Guru Purnima Quotes
Guru Purnima celebrates the human ability to rise beyond physical nature, and the Greatness of Adiyogi, who made this possible. – Sadhguru
Guru and God both appear before me. To whom should I prostrate? I bow before Guru who introduced God to me. – Kabir
Worshipping the feet of the Guru is the ultimate of all worships – Sri Guru Pranam
There is no deity superior to the Guru, no gain better than the Guru's grace … no state higher than a meditation on the Guru. – Muktananda.
Guru is Shiva sans his three eyes, Vishnu sans his four arms, Brahma sans his four heads. He is Parama Shiva himself in human form – Brahmanda Puran.
Guru Purnima Images
Guru Purnima Status
1. As you walk with the Guru,
you walk in the light of Existence,
away from the darkness of ignorance.
You leave behind all the problems of your life and
move towards the peak experiences of life.
Happy Guru Purnima
2. When it comes to teaching .. you are the BEST.
Happy Guru Purnima!!
3. You showed me light when I was in dark.
In my life, you have left a very big mark.
In every step, you were my guide.
My every success is your pride.
For always showing me the right way,
I thank you, teacher, on this holy full moon day.
4. You have been my living inspiration Giving me lessons
of truth and disciplineWishing you joy and happiness on Guru Purnima
5. A Guru's purpose is not to create shishya in his own image,
but to develop shishya who can create their own image.
Guru Purnima Songs
How can we forget to pay respect to our Gurus or Teachers on Guru Purnima who showed us the right path? In India, we consider our teacher as a god and it is an obligation upon us to follow them and obey them. On the occasion of Guru Purnima 2019, we have brought you a collection of best Guru Purnima songs for you.
Check out best Guru Purnima songs below:
Guru Purnima Poems
1. गुरु आपके उपकार का,
कैसे चुकाऊँ मैं मोल ?
लाख कीमती धन भला..
गुरु हैं मेरा अनमोल…
हैप्पी गुरु पूर्णिमा
2. गुरु गोविन्द दोऊ खड़े का के लागूं पायं.
बलिहारी गुरु आपने जिन गोविन्द दियो बताय..
Thanks for being my Guru!
3. आपसे से सीखा और जाना,
आप को ही गुरु माना,
सीखा सब आपसे हमने,
कलम का मतलब भी आपसे जाना
गुरु पूर्णिमा की हार्दिक शुभकामनाएं
4. शांति का पढ़ाया पाठ, अज्ञानता का मिटाया अंधकार
गुरु ने सिखाया हमें, नफरत पर विजय हैं प्यार.
गुरु पूर्णिमा की हार्दिक शुभकामनाएं
5. सही क्या है गलत क्या है ये सबक पढ़ते है आप
झूट क्या है और सच क्या है ये बात समझते है आप
जब सूझता नहीं कुछ भी हमको
तब राहों को सरल बनाते है आप
हैप्पी गुरु पूर्णिमा
Guru Purnima WhatsApp Stickers
As WhatsApp has become of the most used chatting apps, we opt to send everything on WhatsApp. If you want to send Guru Purnima Stickers on WhatsApp, you can find plenty of Guru Purnima Stickers here. Instead of Images, the stickers are another way of sending messages with just a click of a button.
We hope you liked the above collection Guru Purnima Wishes, Messages, Status, Quotes, Stickers, Songs and Poems. We wish a Happy Guru Purnima in advance.