Happy Phirr Bhag Jayegi: This Diana Penty-Sonakshi Sinha-starrer fails to impress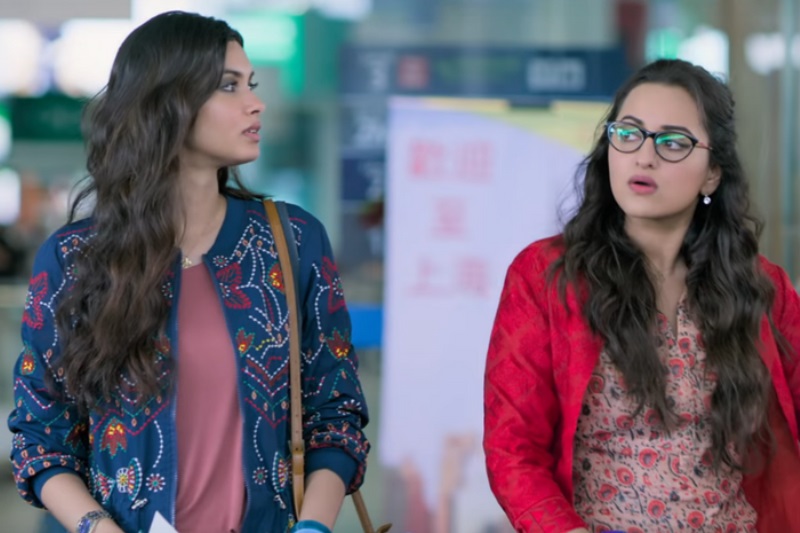 Cast: Sonakshi Sinha, Jimmy Sheirgill, Jassi Gill, Piyush Mishra, Diany Penty, Denzil Smith, Jason Tham, Aparshakti Khurana
Director: Mudassar Aziz
Genre: Comedy
This sequel of the 2016 comedy 'Happy Bhag Jayegi' about the runaway bride from Amritsar who lands up in Lahore is unappealing.
For some reason, Daman Singh Bagga, played by Jimmy Shergill, finds himself drawn to girls with the name of 'Happy' which is a very common name among the Punjabi masses. He was smitten by one in Mudassar Aziz-directorial Happy Bhag Jayegi, and once again in this sequel, Happy Phirr Bhag Jayegi, he finds himself in a haphazard pursuit of 'Happy-ness'.
In this film, Sonakshi Sinha plays the role of Happy but she is exactly opposite to her name, somebody who is scowling all the time. This film doesn't even have enough gags. The plot involves kidnapped girls, kidnapped policemen and kidnapped Punjabi businessmen who like wearing outrageously flamboyant hoodies.
Sinha comes to Chennai and is kidnapped by gangster 'Chang'- someone who knows how to speak in fluent Hindi-mistaking her for someone else who is also named as 'Happy'
The last 40 minutes of the movie feature a concert for no apparent reason or maybe just so that Piyush Mishra can dress as Batman.
The movie lacks a proper plot but they could have done away with it if the audiences got to laugh. But as I said-not enough gags. Much like Anil Kapoor and Nana Patekar in the Welcome franchise, these movies belong to Shergill and Mishra.
The scenes are plain exhausting. Another thing to be noted is Aziz Mishra's sense of demographics. The Chinese who speak Hindi do so better than the Amritsar-residents, who are constantly speaking and interacting in the language.
According to me, the film doesn't score more than two stars out of five.
Also read:Bollywood movies you should watch in August 2018