Hardik Pandya and Natasa Stankovic become parents to a baby boy; See pic
Cricketer Hardik Pandya and 'Bigg Boss 8' contestant Natasa Stankovic become proud parents to a baby boy.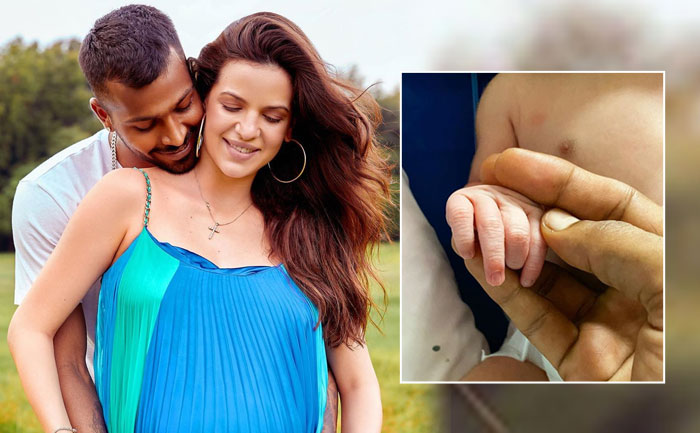 Cricketer Hardik Pandya and his fiance 'Bigg Boss 8' contestant, and dancer Natasa Stankovic, have been blessed with a baby boy. The cricketer took to his Instagram handle to share the news.
Sharing the news on his Instagram, the Indian cricketer shared a photo of himself holding his son's hand, "We are blessed with our baby boy ❤️🙏🏾" wrote Pandya.
Take a look at Hardik Pandya's Instagram post:
Earlier, on January 1st, Hardik popped the question on a yacht during his New Year getaway with Natasa in Dubai, which was also a surprise to many. Pandya has also uploaded a couple of photos and a short clip where the couple is dancing to a Bollywood romantic number sung by his friends. The duo shared the pictures of their engagement on their respective Instagram handles.
After announcing their engagement, Hardik and Natasa surprised fans with the happy news of her pregnancy in Instagram posts on May 31.
"Natasa and I have had a great journey together and it is just about to get better 😊 Together we are excited to welcome a new life into our lives very soon. We're thrilled for this new phase of our life and seek your blessings and wishes 🙏," wrote Hardik, whereas, the same pictures were also re-posted by Natasa on her Instagram handle.
In one of the pictures, the couple was seen performing a puja as they sit wearing garlands and in other, Pandya can be seen resting his hand on Natasa's baby bump as the duo officially announced the news.
We congratulate the couple on their new journey of parenthood!