Keeping aside his own daughter Indira, Nehru sent Sardar Patel kids to Parliament: Hardik Patel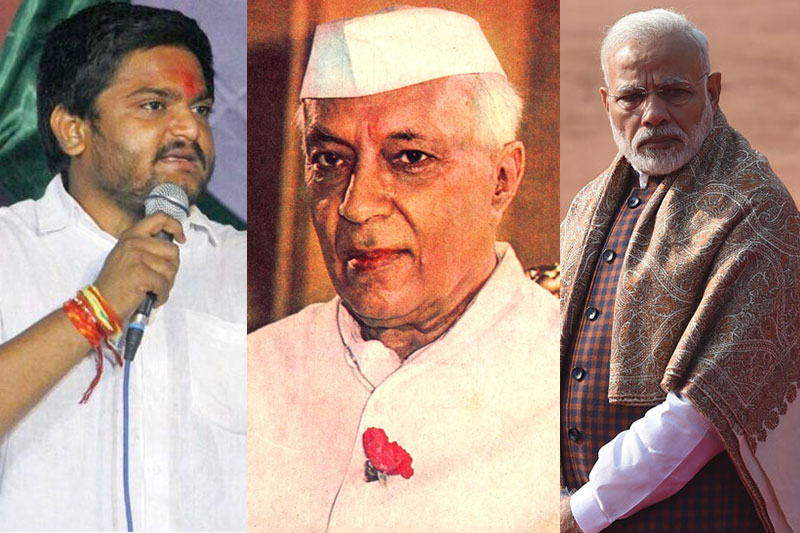 Politics in India is different for from other countries, and parties and their leaders do know how to take advantage of the situation. Considering the fact that Bharatiya Janata Party is trying to strengthen its base in the country by promoting a statue of Sardar Vallabhbhai Patel in Gujarat, Patidar Anamat Andolan Samiti (PAAS) leader Hardik Patel attacked BJP for sidelining Jawaharlal Nehru and promoting dynastic approach.
Taking to Twitter on Wednesday, Hardik criticised the BJP and Rashtriya Swayamsevak Sangh's idea of promoting the Sardar Patel by trying to defame the Nehru. He wrote, "Iron man Sardar Patel's son and daughter, both were the MPs in Lok Sabha and Rajya Sabha simultaneously. This opportunity was created for the brother-sister duo by Pandit Jawaharlal Nehru, by sidelining his own daughter Indira. She never got Congress ticket till Panditji was alive. Sangh and BJP has only tried to defame the Pandit Nehru."
लोह पुरुष सरदार पटेल के बेटे और बेटी,दोनों ही एक साथ लोकसभा और राज्यसभा में थे।भाई-बहन के लिए ऐसा संयोग पंडित नेहरू ने ही निर्मित किया था जिन्होंने अपनी बेटी इंदिरा जी को जीते-जी काँग्रेस का टिकट नहीं मिलने दिया।संघ एवं भाजपा ने सिर्फ़ पंडित नहेरू जी को बदनाम करने का काम किया है।

— Hardik Patel (@HardikPatel_) November 14, 2018
Patel was expressing his opinion on the occasion of Pandit Jawaharlal Nehru's birthday, which is also celebrated as Children's day. Patel's reaction can be considered as an expression to the opposition of BJP claiming dynasty politics by the Congress and promoting the Gandhi family members.
It is to be known Prime Minister Narendra Modi on October 31 unveiled the tallest statue of Sardar Vallabhbhai Patel in Gujarat and cited that Congress has sidelined the works of Patel by promoting Gandhi and Nehru family members.
ALSO READ: Pandit Jawaharlal Nehru Birth Anniversary: PM Modi, Sonia Gandhi and others pay tribute