Haryana: BJP bags five seats in nagar nigam election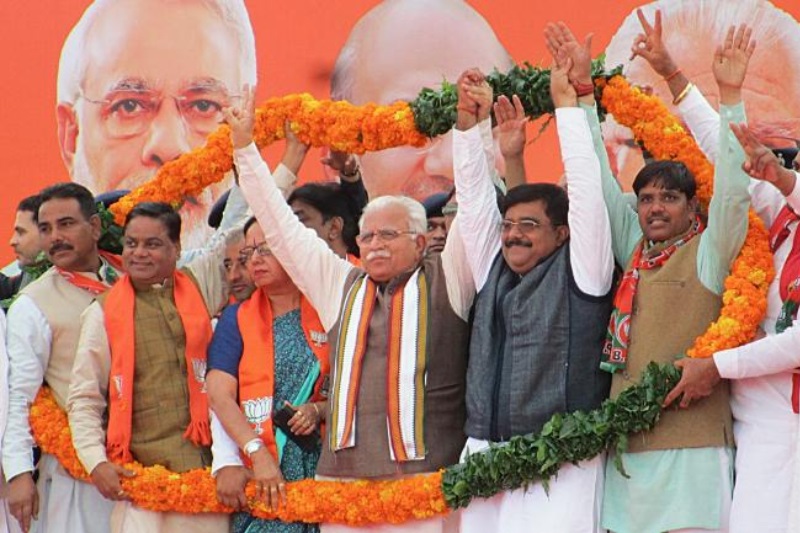 According to reports, Bharatiya Janata Party (BJP) has won all five municipal corporation elections in Haryana. It has barely been few days after being trounced by the Congress in state elections in the Hindi belt, the BJP is already back to its winning ways. Accordingly, in Haryana, BJP's mayoral candidates have swept elections that were held in five cities on Sunday.
Apparently, the margins were significant. For example, in Yamunanagar, Madan Singh's margin of victory was over 40,000 votes. Whereas, in Panipat, Avneet won by over 74,900 votes.
Renu Bala in Karnal, Gautam Sardana in Hisar, and Man Mohan in Rohtak, were the other winners.
Chief Minister Manohar Lal Khattar belonging to the the BJP had campaigned extensively for candidates who contested the municipal corporation and committee elections held this weekend.
मैं हरियाणा के सभी नागरिकों का करबद्ध आभार प्रकट करता हूँ जिन्होंने @BJP4India के सभी प्रत्याशियों पर अपना विश्वास प्रकट करते हुए उनके पक्ष में मतदान किया। हम पूरी पारदर्शिता तथा ईमानदारी के साथ आप सभी की सेवा में सदैव समर्पित रहेंगे। pic.twitter.com/un5015Jsno

— Manohar Lal (@mlkhattar) December 19, 2018
Meanwhile, the Congress chose not to use its party symbol to contest, but lent support to some independents.
Over 69 percent voter turn was witnessed in the region. Indian National Lok Dal and the Bahujan Samaj Party (INLD-BSP) alliance was also in fray.
Also read: Muzaffarpur shelter home: CBI files chargesheet in special POCSO court against all the accused