Hawaii: Kilauea Volcano Erupts On Big Island With A Roar
Kilauea Volcano Erupts On Hawaii's Big Island ; View Pics and videos of the massive explosion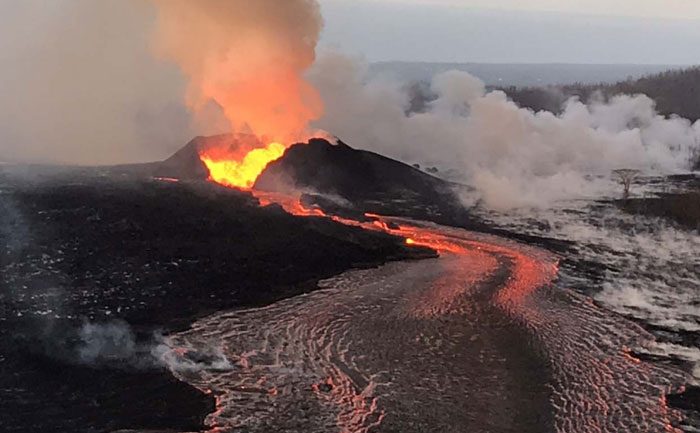 The Kilauea volcano on Hawaii's Big Island erupted on Sunday night. It sent massive plumes of steam, ash soaring into the atmosphere. The volcano erupted after a 4.4 magnitude earthquake struck near Hilo late Sunday local time. The United States Geological Survey's Earthquake monitoring website shows that at least seven other earthquakes ranging from 2.5 to 2.7 magnitude have occurred over the previous few hours.
Residents were urged to stay indoors as steam clouded the sky and ash fell. The eruption started with multiple fissures opening on the walls of Halemaumau crater
As of just after 6 am HST on Dec 21, 2020, the middle of the 3 fissures that opened at Kīlauea last night has paused; the main eastern and weaker western fissures remain active. Lava continues to fill Halemaʻumaʻu, and volcanic gas and glass (Pele's hair) travels downwind. pic.twitter.com/lBJXJ3EBoG

— USGS Volcanoes🌋 (@USGSVolcanoes) December 21, 2020
Face in the Kilauea volcano when it erupted.. #Kilauea #KilaueaEruption #KilaueaVolcano pic.twitter.com/X6T7T1apYw

— Blox Musk (@BloxMusk) December 21, 2020
.@USGS reports this lava fountain shooting up to 165ft high flowed into the summit water, boiling it off and creating a new lava lake. #Halemaumau #KilaueaVolcano pic.twitter.com/zn5DaaBJxJ

— Yostina Banoub (@Y0stina) December 21, 2020
Because of the location of the erupting lava, no homes were evacuated and there was little risk to the public.
Kilauea erupted in May 2018, destroying more than 700 homes and forcing residents to evacuate, CNN previously reported.
Also Read: Indonesia: Sinabung volcano erupts, spews 3 mile ash cloud