Indonesia: Sinabung volcano erupts, spews 3 mile ash cloud
Indonesia's Sinabung Volcano erupts sends column of ash 5,000 m into sky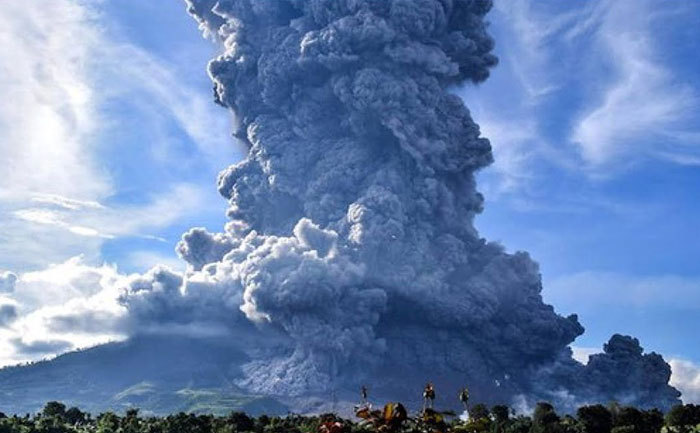 Sinabung Volcano on Indonesia' Sumatra island erupted on Monday, spewing volcanic ash high into the sky. Massive plumes of ash and smoke are rising from the volcano into the sky.
Sinabung is one of the 120 active volcanoes in Indonesia. Sinabung had been dormant for more than four centuries before exploding in 2010. It had next exploded in 2014 killing four people and next in 2016. This is the fourth time it has erupted.
North #Sumarta, #Indonesia right now.#Sinabung volcano eruption pic.twitter.com/bGkKxWWD3n

— Richard Grune (@0406Guno) August 10, 2020
Before the #volcanic eruption, locals reported that it "rained dust". The ash has covered vast areas on the Sumatra island. The ash has blocked sunlight plunging the entire region into darkness.
It is noon in #Indonesia – the darkness you see is due to the insane amount of ash spewed by #Sinaburg #Volcano in #Sumarta, blocking the sunlight.

Frightening. pic.twitter.com/91auGje5hO

— SV News 🚨 (@SVNewsAlerts) August 10, 2020
Indonesia's Volcanology and Geological Hazard Mitigation Center in a statement revealed that there have been no fatalities or injuries as yet. Villagers are advised to stay 5 kilometers (3.1 miles) from the crater's mouth. Currently, Mount Sinabung is at Level III (Alert) Status.
Also Read: Indonesia: Kawah Ijen Volcano Erupts with Electric-Blue Lava