Hearthstone Patch 15.6: Battlegrounds Early Access and Patchnotes
Battlegrounds, Legendary Quests and New Card Backs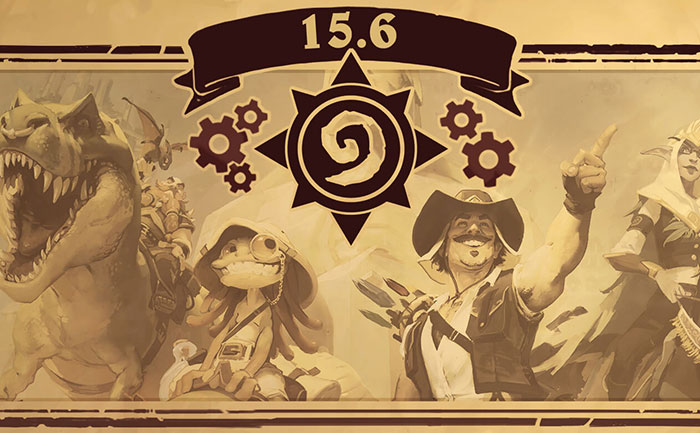 Blizzard has released a new patch and it introduces the new Hearthstone Battlegrounds game mode. Players with a Virtual BlizzCon Ticket or those who pre-ordered the Descent of Dragons can get to playing straight away. It can also be earned through Twitch drops by watching streamers. Some updates have been made to the quests while new card backs have been added into the game.
According to the official Blizzard patch notes, a new game mode Battleground will be introduced. New legendary quests and new card backs will also be available to players. A few game improvements and bug fixes have also made their way into the patch. Take a look at the patch notes, as released by Blizzard:
New Game Mode: Battlegrounds
Hearthstone: Battlegrounds is a brand-new auto-battling game mode that introduces a fresh, strategic, 8-player experience to Hearthstone. In Battlegrounds, you'll take on the role of a familiar Hero straight out of Hearthstone history, craft a powerful board of recruited Minions, and face-off in an action-packed series of duels until a single winner is crowned!
Battlegrounds is now live with today's update for a week of Early Access for players who have acquired the Descent of Dragons pre-purchase bundle, the BlizzCon Virtual Ticket, or BlizzCon Attendees. After this early access phase ends at 10 a.m. on November 12, we'll enter Open Beta where everyone will be able to hop into Bob's Tavern to try their hand at being the best of the Battleground Heroes!
Battlegrounds System Requirements: Due to the nature of an 8-player match with tons of attacks, effects, and animations triggering at the same time, Hearthstone: Battlegrounds is currently only supported on mobile devices with more than 2 GB of RAM. This means that some older devices may not be able to run Battlegrounds. As we progress out of Beta, we will be optimizing the experience so that players with older devices can participate in this new game mode.
Legendary Battlegrounds Launch Quests
There will be Legendary Quests such as:
Battlemaster (November 12): Play two games of Battlegrounds to earn a Descent of Dragons, Saviors of Uldum, and Rise of Shadows card pack.
Into the Fray (November 13): Play three games in any mode (including Battlegrounds) to earn a Descent of Dragons, Saviors of Uldum, and Rise of Shadows card pack
A Worthy Opponent (November 14): Play two games in Play mode (Standard, Wild, or Casual) to earn a Descent of Dragons, Saviors of Uldum, and Rise of Shadows card pack.
BlizzCon Rewards
BlizzCon attendees and Virtual Ticket holders will be granted a Golden version of the Neutral Legendary Descent of Dragons card Sathrovarr and the Blizzard Events 2019 card back.
A normal non-disenchantable version of Sathrovarr will also be granted to players who log into Hearthstone after this update goes live and through the Descent of Dragons expansion.
Daily Quest Changes
We've cut some of the less popular daily quests (such as quest requiring you to play Divine Shield Minions, Overload Cards, Secrets, 50 Murlocs, etc) and tuned down some quest requirements to make quests generally easier to complete.
Daily quests have also been split into two buckets: Easy (50g) and Slightly More Difficult (60g). Rerolling a Slightly More Difficult (60g) quest (like Play 10 Beasts) will always give you an Easy (50g) quest, so you can get Easy quest every day if you'd like.
We've also added some new daily quests that we're excited for you to discover!
Warcraft Anniversary Event
To celebrate the 25th anniversary of the Warcraft franchise, players who log into Hearthstone any time between November 13 10:00 AM PT and November 27 10:00 AM PT will receive awesome Warcraft themed rewards. Stay tuned for more details soon!
New Card Backs
The following Card Backs have been added to the game:
Cake of the Dead: Acquired by winning 5 games in ranked mode, November 2019.
Blizzard Events 2019: Acquired by participating in Blizzard events during 2019.
The Shattering: Acquired by pre-purchasing Descent of Dragons.
Hellfire Peninsula: Acquired by winning 5 games in ranked mode, December 2019.
Game Improvements and Bug Fixes
Smart Deck Builder: The smart deck builder now considers historical data rather than the just the current meta, though the current meta has a higher priority. For example, putting Lakkari Sacrifice into an unfinished deck will most likely lead the autocompleter to create to a quest discard warlock instead of an existing meta Warlock deck, such as zoo Warlock.
Streamer Mode: The ability to censor your Battletag (and your opponent's Battletag) both in matches and at the top of your friends list. This new feature can be enabled by holding Ctrl + Shift + S (or Command + Shift + S on MACs).
As mentioned in our "Behind the Tavern Doors" blog, we've added alternate search terms for some hard-to-type cards such as E.M.P. Operative, Dyn-o-matic, Zephrys the Great, and SN1P-SN4P. We've also added a few common misspellings and simplified versions of leetspeak card names (found on some Mech minions). For example, searching "snip" or "snap" will now show you SN1P-SN4P. We will continue to add terms as needed for future cards with difficult names.
The quest lines for new Hearthstone players has been updated to create a better experience with significantly more rewards.
Quest cards will now display the Quest Reward when selected in the Collection Manager.
New card icons will now be cleared after viewing the page with the new card shown. You will no longer need to click or hover over the card.
ALSO READ: BlizzCon 2019 Announcements: Diablo 4, Overwatch 2, Hearthstone And WOW Shadowlands