WhatsApp hidden features 2020: 11 latest tricks and tips you must know
Latest WhatsApp Hidden Features, Eleven Tips, and Tricks To Know In 2020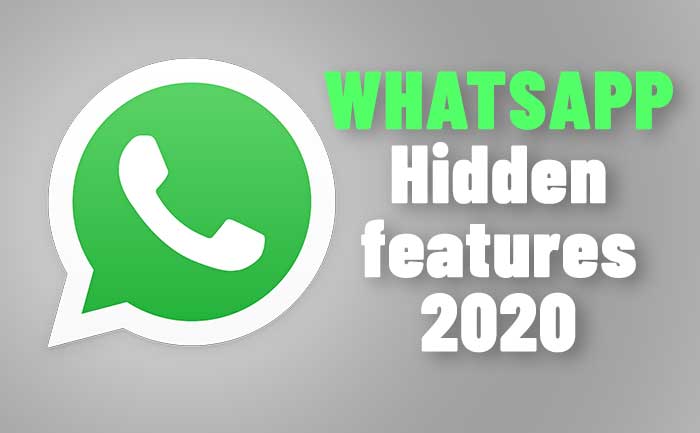 WhatsApp has steadily emerged as one of the most popular messaging apps all over the world. It has more than 1.5 billion subscribers and still counting. The reason behind Whatsapp's growing popularity lies in the fact that it is the most preferred way to remain in contact with friends, professionals, and others.
The Facebook-owned messaging app, Whatsapp keeps on adding a bevy of features and updates to provide its customers with a smooth messaging experience. But there are certain Whatsapp hidden features which are not known to most of the users.
In this guide, we will share 11 WhatsApp hidden features that will surely help you to use it more efficiently and more securely.
WhatsApp Hidden Features: 11 tricks youmust start using on Android & iPhone
1. Pin important conversations:
Are some chats more important than the others? It may be for personal texts or official purposes. There are some important messages that you want to see the moment you open the chat. You only have to pin that chat to view it instantly. Just tap and hold on the contact or group and hit pin icon on the top. As for iPhone users, swipe right on any chat and tap on the pin icon.
2. The typewriter font:
WhatsApp introduced strikethrough, italics and bold fonts a while back. The Facebook-owned giant has now added support for a new Typewriter font. To change the font use the (`) symbol three times either side of the word. For example, "`Hello"`. The symbol is available on both Android and iOS keyboards.
3. Bookmark your messages:
There are times when we want to mark a specific message so that when we need them we don't need to hunt it down. You can do so by adding a star to it. Just tap and hold the message you would like to mark and hit the Star icon. You can find these important messages under the Starred messages section in the WhatsApp menu. This is there on Android and iOS.
4. Add desktop shortcut:
Instead of always opening the app to chat with your most frequently messaged contact you can just add them directly on your home screen. To do so just touch the blank screen of your Android phone tap and add the widget. Next, look for WhatsApp Chat and tap and hold it to add to the home screen. Choose your contact and voila it will be on your home screen.
5. WhatsApp Fingerprint Unlock:
Fingerprint Unlock has been there on WhatsApp for quite some time now. Go to Settings on Whatsapp. Then account, next privacy and then tick on Fingerprint Lock. Enable the option and customize it according to your needs.
6. See who you chat with the most:
One can see this by heading over to Settings > Data and storage usage > Storage usage.
7. Two-Factor Authentication:
For added security, you can enable two-factor authentication. Head to WhatsApp Settings > Account and tap on Two-Step verification. Once enabled, whenever you set up WhatsApp on a new smartphone, apart from the OTP, the app will also require you to enter the two-step verification code.
8. Read messages without being given away by Blue Ticks:
If you wish to read a WhatsApp message without the sender knowing, here is how you can do so:
a) You can disable blue ticks altogether (Settings>>Account>>Privacy>> uncheck Read Receipts).
b) You could read the message from the notification panel. To read multiple or long messages just tap and swipe down the notification in the notification panel to stretch it.
c) Simply turn on AirPlane mode, read the message and then turn the AirPlane mode off.
9. Stop photos, videos from automatically saving in your phone:
If you get fed up to see the pictures your friends have sent you in your phone's Photo or Gallery folder, go to Settings -> Chats -> turn off Save Incoming Media.
10. Delete message after you have sent them:
The App now allows you to 'unsend' messages that you have already sent. Long press a message, Select delete for everyone. But the feature works for messages sent in the last 60 minutes.
11. Share Live Location (Real Time):
You can now share a live location with your contacts. The location is updated in real-time and you can keep a tab on exact whereabouts of specific contacts. You can share location for 15 minutes, 1 Hour or 8 Hours straight. To do so, just tap the attachment icon in the text input field. Now select 'location' and then select 'Share Live Location.
These are some interesting WhatsApp hidden features and we are sure you could benefit from a few of them.
Also Read: WhatsApp Web 2020 Guide: How To Use WhatsApp On PC & Download WhatsApp Web Apk