G-Dragon to Choi Siwon – Top Highest-Paid K-pop Idols
Check out the list of richest K-pop Idols. Here, are the details of how much they earn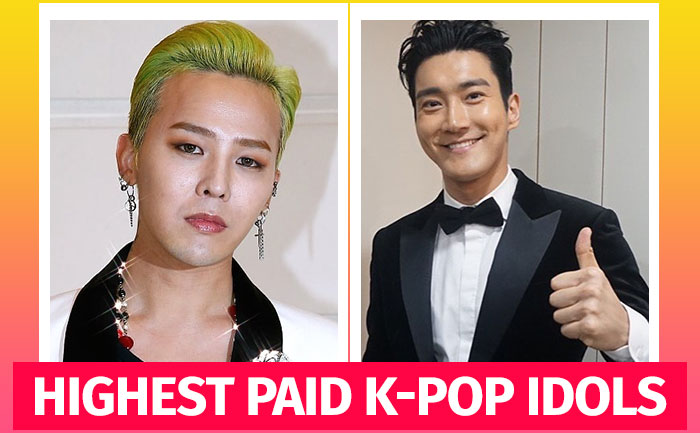 The Korean Music industry has been rapidly garnering attention from all across the globe and the Kpop Idols have to be credited for this because of their hard work and talent. The Kpop Idols are known for inspiring millions of their fans with their music videos. As the music field is growing rapidly in Korea, the Idols have also increasing their paycheck amount. Here, we bring you the list of the highest-paid Kpop Idols in today's time.
Top Highest Paid Kpop Idols
GOO HARA- $9.5 Million
Goo Hara's fans are still mourning for her death. The beautiful singer, dancer and actress had committed suicide last year in November, right after two months from the death of Kpop Idol, Sulli. Goo Hara kickstarted her career as a member of the DSP Media girl group in 2007. She had appeared in several TV series and debuted as a soloist in the year 2015. She has several popular songs to her credit and she was among the highest-earning Idols in Korea. She had debuted as a soloist back in 2015. Her net worth was of $9.5 Million throughout her career, which made her one of the highest-paid Kpop Idols.
Taeyang-  $10 Million
The South Korean singer from Big Bang group is surely ruling the Kpop industry with his charm and songs. Dong Youngbae, known for his stage name Taeyang, is a popular member of the boy band Big Bang. He is among the chart-topping solo singers, who knows how to use his wealth wisely. Taeyang works hard because of his passion for music. He has also hired a trusted wealth management professionals to manage his extensive real estate properties. Unlike other K-Pop Idols, he doesn't only rely on his music to make money. Investment savvy Taeyang has made several means of earning. He is known for eaning the net worth of $10 Million.
Im Yoona-$11 Million
Born in South Korea's Seoul, the singer and the actress was raised to become the sweetheart of her nation. Im Yoona had
graduated from a teenybopper to become a serious actress in both Korea and China. She was
managed by SM Entertainment under one of the biggest girl groups in Korea, Girls' Generation. She was seen in the drama, 'You Are My Destiny' as the lead actress in the year 2008. She has been constantly working hard to become more and more successful each day. Yoona earns a whopping net worth of $11 Million.
Sandara Park- $13 Million
Sandara Park is known after her stage name, Dara. She is a multi-talented Kpop Idol and the beauty Icon in Korea. She had played the lead role in her debut film, 'Bcuz of U' in the year 2004. Sandara is known for mesmarising her audience with her incredible singing skills and her acting. Apart from doing movies and shows, she is also quite active at doing commercials and that's what made her one of the highest-earning Idol. Sandara Park earns a net worth of $13 Million as of today.
Kwon Boa-$14.5 Million
Kwon Boa is popularly known after her stage name, BOA. She was born in South Korea and had released her first album in 'ID; Peace B' in 2000. She is famous for her singing and acting skills. Boa is also known for ruling the foreign charts, as she is known for selling one million copies of her album in Japan. She was also titled as the Queen Of K-pop for her popularity. BOA makes the net worth of $14.5 Million.
Lee Ji-eun – $15 Million.
She is popularly known by her stage name IU, she is a famous singer, songwriter and actress who rose to fame under LEON Entertainment. She had kickstarted her career at the age of 15 and went on to garner the International fame. Having successful albums, popular Korean drama and big commercials to her credit, she became one among the highest-paid K-pop Idol. She has a net worth of $15 Million.
Jung Jihoon- $18 Million.
The South Korean songwriter, singer, actor and the music producer, Jung Jihoon is popularly known as the Rain, after his stage name. He has several concerts, 28 solo songs and seven albums to his credit. Having sold a million copies of his album in Asia, he has become one of the highest-paid K-pop Idol today. The artist earns a net worth of $18 Million.
G-Dragon- $22 Million
Popularly known as the powerhouse of pop-culture, G-Dragon needs no introduction. G-Dragon's real name is Kwon Jiyong and he is a singer, songwriter, composer and a fashion designer. He garnered the fame after joining the Big Bang Group. So far, he has written 22 songs. Among those all, his record, Heartbreaker (2009), has taken away full attention, and more than 2,000,000 copies were sold worldwide. He also has several awards to his credits which made him earn a net worth of $22 Million in his career.
Choi Siwon-$35.6 Million.
Choi Siwon is the singer, songwriter, actor and a popular model. He is a member of South Korean boy band, Super Junior. He garnered fame after working in several Korean dramas and movies. He is famous for using his unique style when it comes to pop songs. He makes a whopping net worth of $35.6 Million.
PSY- $45 Million
PSY is one of the most popular K-pop Idols in 2020. His real name is Park Jaesang and he is a popular singer, lyricist, record producer, and talented in other fields too. He became famous as 'Gangnam Style' that created a massive bustle on YouTube. He got more attention from his live stage performances. Having so many achievements to his credit, he has become the topmost popular idol in Korea. He has the net worth of $45 Million as a solo artist throughout his career.
For more such updates, stay hooked on to The Live Mirror.
Also Read: COVID-19 Lockdown: ARMY Set The Fashion Trend Of Dressing Up As The BTS Album Covers