Not sure, but will try and qualify for 2020 Tokyo Olympics – Hima Das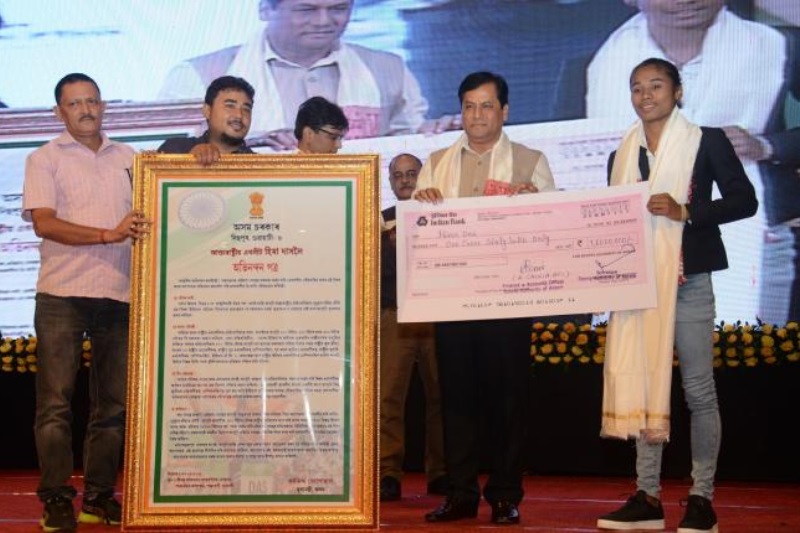 Asian Games medallist Hima Das on Saturday said that she will work on improving her timing and try to qualify for the 2020 Tokyo Olympics.
The 20-year-old, who won three medals at the Asiad that included a gold in the women's team 4x400m relay and silver medals in the mixed relay team event and women's 400m event is also ready to go anywhere the federation sends for training.
"There are only two years for the Olympics and I do not know whether I will qualify or not but I will continue trying to improve my timing," she was quoted as saying by PTI.
Also Read: Kickboxer Tracy Darlong aims for an Olympic gold
The Athletics Federation of India and the Indian Olympics Association (IOA) along with her coach will discuss the venue for her training. "Wherever they sent us to practice, we will go," she added.
Speaking at a felicitation ceremony where the Assam government rewarded her terrific performance at the intercontinental event with a cash prize of Rs 1.6 crore, Hima assured that she concentrate equally in both the 200m and 400m and try and bring medals in both the categories.
Fondly called "Dhing Express" in reference to her village in Assam, Hima was earlier appointed the sports ambassador for Assam after she had won the gold in the U-20 World Championships back in July. She said that she will take her new responsibility seriously and will work on nurturing more sportspersons from the state.
"Hopefully 10-15 sportspersons from the state will get medals in the next Asiad," she said.
Also Read: Want help from WB government to get a house near my training base: Swapna Barman
Image Source: India Blooms