Kickboxer Tracy Darlong aims for an Olympic gold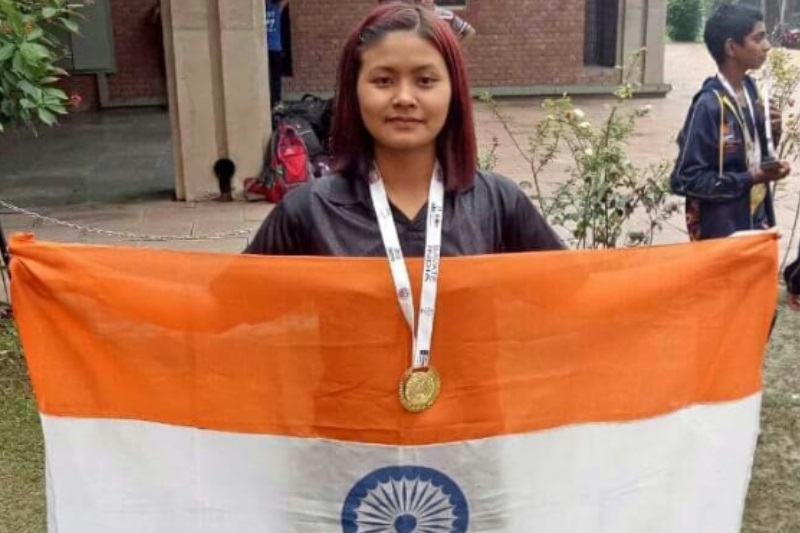 Tracy Darlong, a kickboxer from Tripura, who won a gold in the 'Francaise Savate Championship' now aims to bring an Olympic medal home.
"I have been playing different games and sports in my village since childhood. There are many children, who play games in the village. I am just another player like them. My aim now is to win gold in Olympic Games," Tracy was quoted as saying by PTI at a felicitation programme in her state.
The 20-year-old was rewarded by the Tripura Tribal Welfare minister Mevar Kumar Jamatia at an event organised by the Darlong Students Union for her gold in the tournament held recently in Chandigarh, reported the news agency.
Also Read: Want help from WB government to get a house near my training base: Swapna Barman
The minister also assured the athlete that the Tripura government will do everything possible to support her game and also encourage other youngsters like her.
"It is very admirable that Darlong has brought laurel for our state hailing for a humble family. We shall provide all the support she needs," he said reports the news agency.
Her mother Biakveli had to sell her jewellery to fund her daughter's trip to to the tournament in Chandigarh. "We are facing severe fund crunch, but I will do everything to see my daughter fulfill her dreams."
Biakveli works as an ASHA worker at 82-mile village in Dhalai district in Tripura.
Darlong's coach Pinaki Chakraborty is also hopeful of her ward doing well at the Olympics. Savate and Kickboxing (the two sports that Tracy plays) are not part of the 2020 Tokyo Olympics. "But it is ex[pected that both the games would be included at the 2024 Olympics," he added.
Image Source: The Better India