Hockey World Cup: India lose 2-1 to The Netherlands; crash out of tourney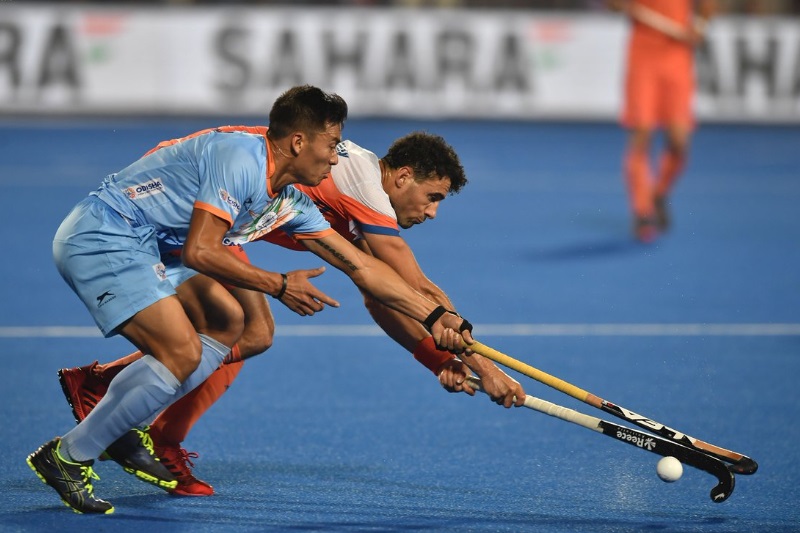 Hosts India were knocked out of the hockey World Cup after losing 2-1 to the Netherlands in their quarterfinal encounter in Bhuvneshwar on Thursday.
Akashdeep Singh gave India the lead which was cancelled just three minutes later by Dutch striker Thierry Brinkman before Mink Van Der Weerden converted a penalty corner with 10 minutes on the clock to carry his side into the semi-finals.
They will face Australia – in what will be a repeat clash of last edition's final –  in the last four on Saturday.
India took the lead in the 12th minute from their first penalty corner. The initial shot from Harmanpreet Singh was saved by the Dutch goalkeeper but the ball fell for Akashdeep, who made no mistake to net his second goal of the tournament and give India a 1-0 lead early in the match.
But the Netherlands bounced back in a whisker. Having missed an opportunity to take the lead two minute before conceding, Dutch striker Thierry Brinkman levelled the scores for his side seconds before the referee whistled an end to the first quarter. A quick free-kick from the Dutch caught India napping from which Brinkman deflected a pass into the net leaving the entire stadium, including the umpires, guessing to what just had happened.
After an action-packed first quarter, the second did seem little sluggish but India still had opportunities to kill the game off long before the Dutchmen found their magical touch on the ball. Hardik Singh skied a penalty corner, while Nilkanata Sharma went close to scoring.
But if it was India, who pushed The Netherlands back with their tactics in the opening two quarters, the Dutchmen showed a glimpse of their nimble footwork and fast-paced play in the third quarter. But India soaked in the pressure at least as long as they could. Led by the marvellous Surender Kumar, India withstood a long period of Dutch style play that included consecutive penalty corners, all of which was brilliantly thwarted away by the Indian backline.
A green card to Hardik meant India played the final minutes of the third quarter with 10 men but the biggest blow was yellow to Amit Rohidas, three minutes after India had allowed Der Weerden to score from the PC. With just 10 minutes remaining, India were expected to pounce on the Dutch but with a man down, it seemed that the game was over.
Goalkeeper Sreejesh went out to bring-on another field player despite repeated attacks, the Dutch defence could not be breached.
Semi-finals: England vs Belgium / Australia vs The Netherlands
Also read: India's attacking game in World Cup one of the best: Dilip Tirkey