Holi 2021 Date, Holika Dahan Date, Muhurta And Legends
Holi 2021 Date: Holika Dahan Date, Muhurta , Legends and Best Places to Play Holi In India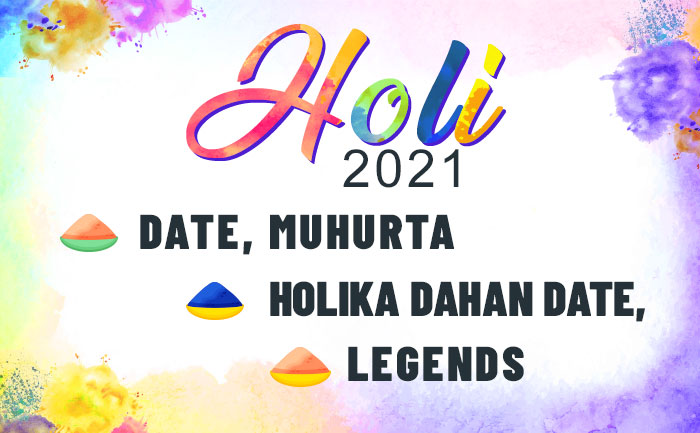 India is known as the land of festivals where each festive occasion is an important part of our life and tradition. One of the best os Holi or The Festival Of Colours that colour our everyday life with some exuberant and joyous palette of colours. Holi is celebrated for two days. The first day of Holi is Chhoti Holi or Holika Dahan it is celebrated by lighting a bonfire that signifies the symbol of victory over evil. The next day is celebrated with colours. According to the Hindu calendar, Holi falls on Phalguna Purnima (Full Moon) which falls in the months of February or March. It marks the blooming of spring and a goodbye to the winter season. According to the Puranas, the day of Holi is also referred to as Vasant Mahotsav or Kama Mahotsav.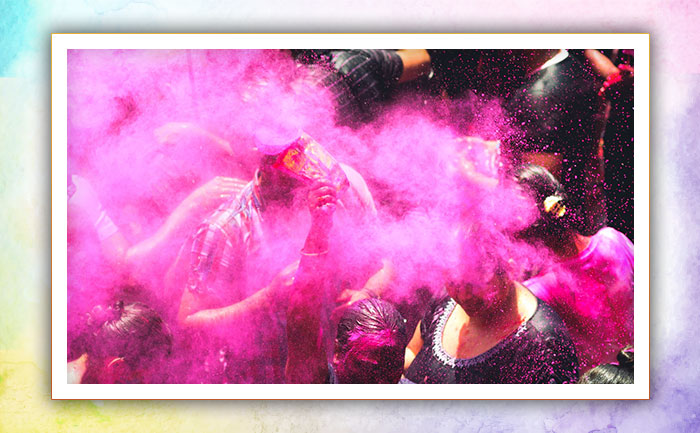 Holi happens a day earlier in West Bengal and Odisha. In these regions, it is celebrated as Dol Jatra or Dol Purnima on the day of Holika Dahan. In Mathura and Vrindavan, Holi festivities start a week earlier and is celebrated with full fervour.
But this year due to the COVID-19 Pandemic there will be many restrictions on the Holi celebration. People should wear a mask and maintain social distance to curb its spread.
Here is all you need to know about Holi 2021, date, time, legends of the festival of colours:
Holi Dates
Holi Puja Timings:
Holika Dahan: 28th March 2021
Holi (Dhuleti): 29th March 2021
Purnima Tithi Begins: 3:26 AM – 28 March 2021
Purnima Tithi Ends: 12:17 AM – 29 March 2021
Holika Dahan Muhurta – 06:54 PM to 09:14 PM
Legends:
Prahlad: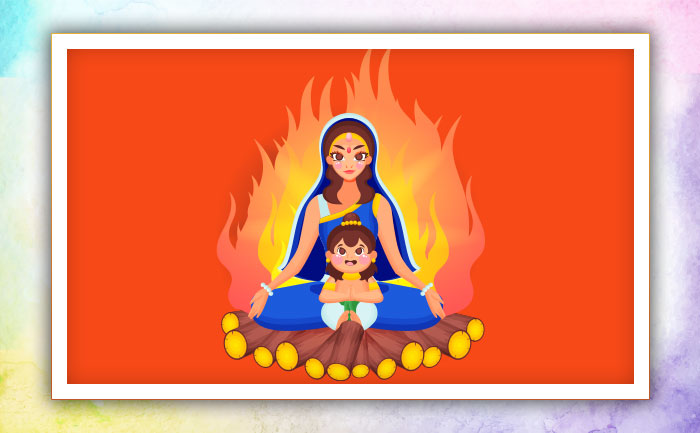 The first legend of Holi is associated with Prahlad. He was Hiranyakashipu, the demon king's son but an ardent devotee of Lord Vishnu. The Demon King wanted all to worship him as God. But when his own son worshipped Vishnu the king's rage knew no bounds. Hiranyakashipu sought help from his sister, Holika (who was blessed with the powers to resist heat caused by fire). Holika asked Prahlad to sit on her lap and set herself on fire. But she perished in the fire whereas Prahlad came out unscathed. Lord Vishnu took his fourth avatar, Narasimha and ended the rule of Hiranyakashipu.
Legend of Kamadeva:
When Lord Shiva's consort Sati ended her life and burnt herself to death due to her father's insults. An angry Lord Shiva renounced everything and began severe meditation. But to wake him for Parvati's attention cost, Lord Kama, his life. Later, when Shiva understood his blunder, he blessed Kamadeva with a second life and immortality in invisible form. Holi is the day that marks the reunion of Kama Deva (the God of love and desires) and his wife, Rati.
Legend of Radha and Krishna: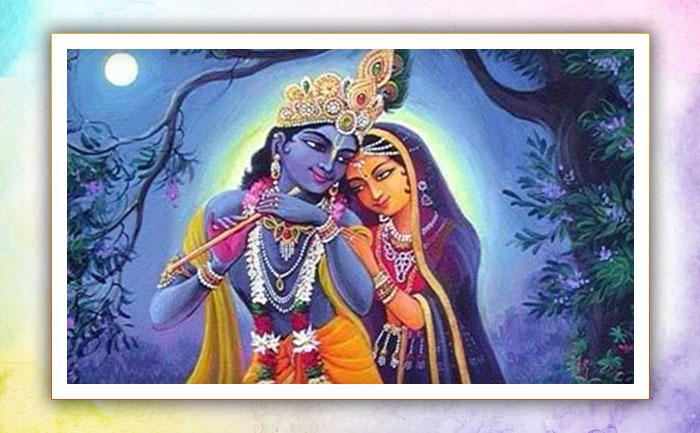 This legend depicts the immortal love of Radha and Krishna. Krishna was quite conscious of his dark colour and Radha being fair. He once complained to his mother, why is Radha fair and I am Dark? Mother Yashoda told him to apply colour to Radha's face she will also turn dark. Lord Krishna went ahead and did the same. Since then Holi is celebrated with fervour in Vrindavan and Mathura. They use gulal and flowers too.
Legend of Pootana:
Another legend says that once the demoness called Pootana tried to kill Krishna by giving him her poisoned milk. Krishna is said to have sucked the milk so intensely that he drained the demoness out of her life. Hence, the biggest celebration of Holi takes place at Mathura.
Regional Holi Celebrations:
Phoolon Wali Holi in Mathura and Vrindavan:
Mathura is where Lord Krishna was born, while Vrindavan was where he spent his childhood. Preparations for Holi start in Mathura after Vasant Panchami. The week-long celebrations at Banke Bihari temple in Vrindavan is legendary. People start the celebrations by starting with the throwing of flowers known as Phoolon Wali Holi which will be held on Thursday, 25 March 2021. The colourful Holi procession starts from Vishram Ghat and finishes near Holi Gate by Monday, 29 March. Devotees will celebrate by throwing gulal at each other In the Dwarkadheesh Temple of Mathura.
Lathmar Holi in Barsana: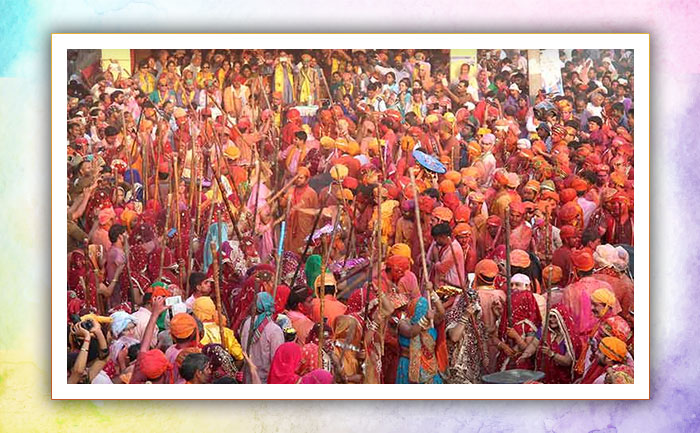 Lathmaar Holi of Barsana will begin on March 23. It so happens that Radha was born in the village of Barsana around 42 Km from Mathura. On Holi, the men from Nandgaon, visit Barsana to play Holi with the girls there. The girls of Barsana greet the men with long bamboo sticks. Soon overcoming the obstacles the men reach Radha Rani's temple and hoist the flag. The following day the men of Nadagow play Holi with the girls of Barsana, with colours made from flowers of Palash tree.
Nandgaon:
More famously known as the place where Ladoo Holi is played. Here people Holi in a very unique way by throwing sweets at each other. You can say more of a colourful yummy day.
Udaipur:
The royal place of ancient times celebrates a royal Holi here. A magnificent procession is carried out from the royal residence all the way to Manek Chowk. There is an elaborate band performance which is followed by the royal family offering prayers and lighting to the bonfire.
Anandpur Sahib, Punjab: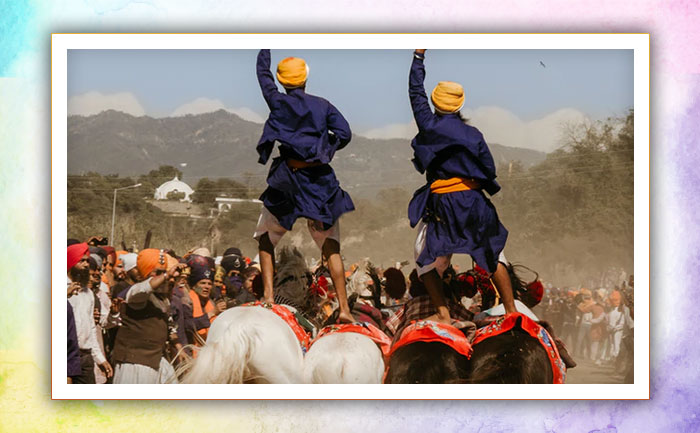 The Sikhs of Punjab celebrate this auspicious day as Hola Mohalla. It is a three day fair from Mon, 29 Mar, 2021 – Wed, 31 Mar 2021. This is a show of their physical agility. It was first organized by Shri Guru Gobind Singh and is still continued. From wrestling match, martial arts, mock sword fights, acrobatic military exercises, and turban tying.
Hampi, Karnataka:
Holi in Hampi is an exception. People in the town celebrate Holi in the morning. They indulge in dance, songs, and exchange delicacies. The people in the old ruined capital of the Vijayanagara Dynasty are all set to play Holi with colours and eventually end the day by bathing in the Tungabhadra river.
Wishing All A Happy and Colourful Holi/ Festival Of Colours.
Also Read:  Balam Pichkari To Rang Barse- Check Out Holi Special Bollywood Playlist