Hong Kong polls: Democrats camp's landslide victory in local elections
Hong Kong's democracy forces huge election win amid political crisis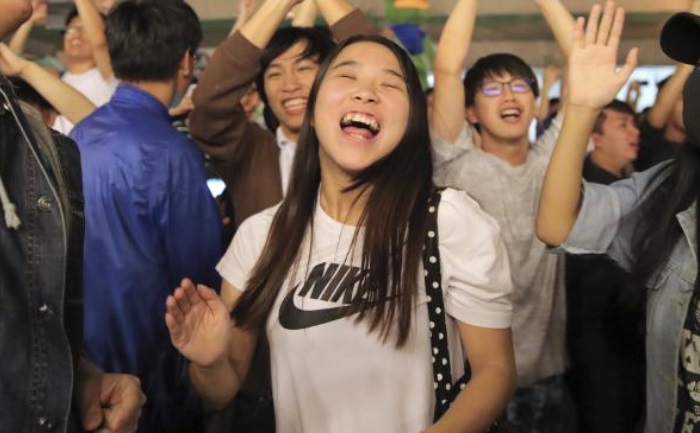 After months of violent protests in Hong Kong calling for greater democracy. The citizens cast their ballots in district elections. A record number of Hong Kongers seized the first opportunity to vote and turned up in huge numbers to cast their votes. Despite fears the vote could be disrupted or canceled over the unrest, it went ahead peacefully.
Voters waited hours for their turn to vote, as there were unusually long lines at polling stations across the city Some people had been waiting since the early morning hours. The vote comes as dissatisfaction with the government's performance increases because of the ongoing protests triggered by legislation allowing extraditions to mainland China.
Vote counting was underway in Hong Kong early Monday after a massive turnout in district council elections. Hong Kong residents handed an overwhelming victory to pro-democracy candidates in a vote for local district councils.
Pro-democracy candidates won 86% seats of the 444 seats counted as of 9 a.m. The pro-government camp won about 12% of its seats.
Hong Kong, 399/452 seats counted.

District Council political camps:

Pro-Beijing: 45

Pro-democracy: 351

Unaligned: 3#HongKongElections pic.twitter.com/B7zrEti5oS

— Asia Elects (@AsiaElects) November 25, 2019
When the results began trickling in after midnight, including upset wins for democrats against heavyweight pro-Beijing opponents, some voting centers erupted in loud cheers
On the day of huge change in #HongKongElections look who's birthday it is…. https://t.co/daVpIT26qv

— Sally Bundock (@SallyBundockBBC) November 25, 2019
Hong Kong stocks climbed Monday, with the Hang Seng Index rising 1.7%, opening above its 100-day moving average.
Enthusiasm is high among pro-democracy forces, who are hopeful they can pressure Carrie Lam's administration to become more compromising.
Also Read: Hong Kong Open: Kidambi Srikanth ousted by Kenta Nishimoto in the quarter-final