Ketika Sharma: 25 Stunning, Beautiful and Gorgeous Photos of ROMANTIC Actress
Here are 25 hot, sexy, bold, stunning, beautiful and gorgeous pictures of Romantic actress Ketika Sharma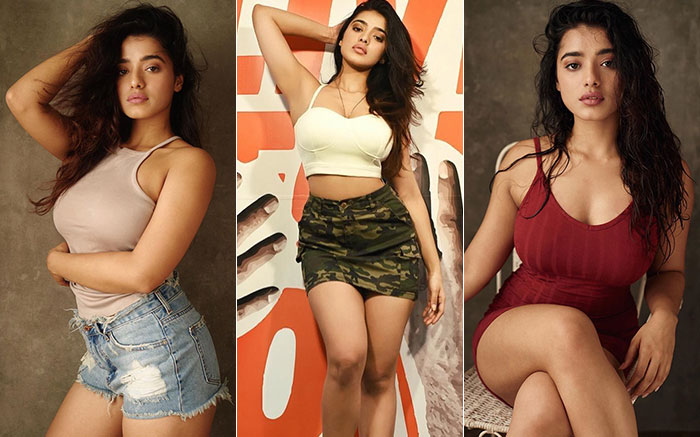 Ketika Sharma — an Indian model, actress, YouTuber and social media influencer — has been making headlines for her upcoming film titled Romantic. The gorgeous actress is an avid social media user, who keeps uploading her hot, bold, streamy and beautiful photos on Instagram. If you look at Ketika Sharma's Instagram posts, it is filled with her workout videos and sexy pictures.
Ketika Sharma is one of a few Indian actresses who has more than 1 million Instagram followers. Yes, the reason behind having a huge fan following is that she keeps updating her fans about her daily routines. Reaching out to her 1.6 million Instagram followers, Ketika Sharma has recently uploaded first look from her upcoming film ROMANTIC co-starring Puri Jagannadh's son Aakash Puri.
The first of Ketika Sharma from Romantic movie has set the internet on fire. If anything to go by her topless look, the film is likely to have some streamy and sensual scenes between Ketika and Aakash.
Even before she could make her Tollywood debut, Ketika has been finalised as the second heroine opposite Allu Arjun for in director Trivikram's film that is under progress. The lead role will be played by Pooja Hegde.
Delhi girl Ketika Sharma, who rose to fame with her YouTube video Thug Life, is making her Tollywood debut with Romantic. Before you watch her first film Romantic, let's have a look at Ketika Sharma's hottest, bold, steamy, sizzling, stunning and beautiful photos.
Ketika Sharma: Hottest, stunning, beautiful, bold, sexy and streamy photos of Romantic actress
1. Ketika Sharma looks damn hot
2. OMG!
3. Beauty in a blue
4. Ketika Sharma looks Sexy
5. Monday Motivation
6. She looks gorgeous
7. The Leggy Lass
8. No Word to describe Ketika's beauty
9. Doesn't she look good?
10. The Water Baby
11. Looks beautiful than ever
12. What a sculptured body she has
13. Looking hot in Red
14. Let's take a selfie
15. Isn't she is Bombshell?
16. Unbelievable
17. Real Beauty
18. Looking absolutely gorgeous
19. Ketika Sharma looks sizzling
20. Can't compare with anyone
21. It's Gym Time
22. She looks no less than the angle in Saree
23. Beauty on a beach
24. Let's Swim
25. Let's go on a ride
These are Romantic actress Ketika Sharma's hottest, stunning, sexy and bold photos. The Delhi based model has always been in the news for her toned and well-curved body.
We wish her a very successful career ahead.