Houston Astros defeat New York Yankees in the The American League Championship Series
New York Yankees lose 4-1 to Houston Astros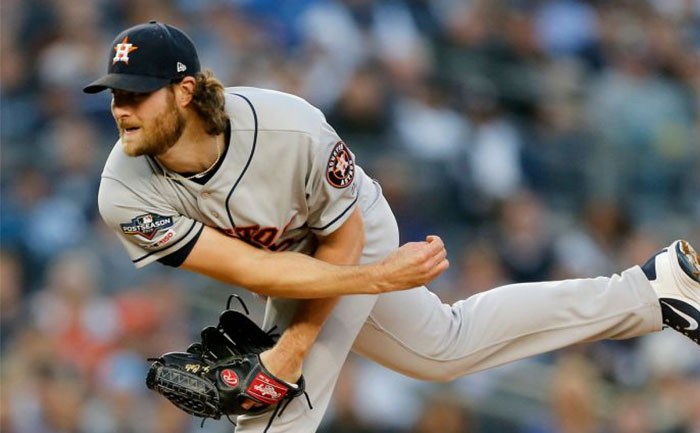 The Houston Astros took a 2-1 lead in the American League Championship Series by defeating the New York Yankees. Yankees lost 4-1 to the Astros and will hope to tie the series in Game 4. There is, however, a high probability of the game getting pushed back due to bad weather.
Gerrit Cole was the star of the show despite not being his best. He had a shaky start and allowed back-to-back singles to DJ LeMahieu and Aaron Judge. Despite this, he managed to halt the Yankees with seven scoreless innings while striking out seven and walking five. Cole had 326 strikeouts this season, putting him at the top of the list. fellow teammate, Justin Verlander came a close second with 300 strikeouts.
"Sometimes it comes and goes," Cole said of his command, "and tonight I was able to make pitches when I needed to. And next time out I'm pretty confident I'll be better."
Cole allowed four hits and struck out seen, ending an 11 game streak of consecutive double digit strike outs. The previous record was eight.
Gerrit Cole is the 1st pitcher in Astros history with 3 straight postseason outings of 7+ IP and 1 or fewer runs allowed

— Sarah Langs (@SlangsOnSports) October 15, 2019
"The way he navigated this game," Astros manager A.J. Hinch said, "is something very few pitchers can do. He worked his way through and around every high-leverage count. That was the most impressive thing about Gerrit tonight."
Yankees manager Aaron Boone after the loss: "It's obviously a little frustrating we weren't able to break through with [Gerrit Cole]. We gave ourselves a chance, [but] he made big pitches when he had to. We weren't able to break through. We weren't able to get that hit tonight to really allow us to be in that game or even grab a lead at some point."
Aaron Hicks said of their disappointing defeat, "It's definitely frustrating. We had opportunities to get runs and we weren't able to do it. We're a team that normally takes care of that."
Brett Gardner, when questioned about Yankees inability to score against Cole, said, "I think three or four of the first five innings, we had some guys on base and had a chance for a big inning. Just a really good pitcher out there on the mound, and with guys on base, makes pitches when he has to. Just a tough night for us."
ALSO READ: Carlos Correa Ensures Astros Win Over Yankees In ALCS Game 2