How To Earn Money Online From Anywhere In The World
Want to make money without leaving home? Here's your guide to 6 lesser-known but real ways of making money online.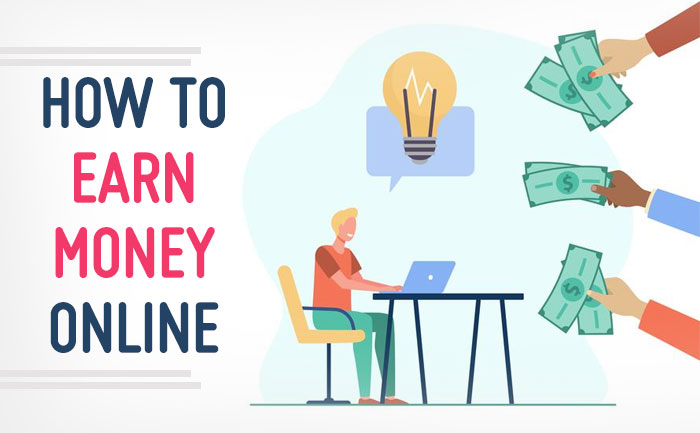 In a highly capitalist market, money is the sole entity that calls the cards. There's nothing that money can't buy. From a needle to private jets; everything has a price and money pays for it! And it's not just about the modern world, the concept of money finds its way in the pages of human history since trading started. Money replaced the barter system and established itself as the world order that works seamlessly to this day. However, with technological advancement, money too has evolved; digital money, online transactions, and cryptocurrency are some of the examples. As the world changes every minute, it's important that we open up new avenues of earning money and one of them is to earn money online. Earning money online brings along endless possibilities to make faster money and to get rich quick opportunities.
With that let's take look at some of the ways on how to make 100 dollars a day or more. Here are some ways which can help you make a quick buck:
1. Paid-to-click sites:
You could start earning money by simply clicking on advertisements by visiting websites such as ClixSense.com, BuxP, and NeoBux. These all are paid-to-click (PTC) sites and require user registration. Such sites also reward you monetarily for providing them with references.
2. Promoting sponsored social shares:
The rise of social media platforms can also be a powerful tool to make money online. A lot of organizations across businesses pay you for posting about them and their products. These sponsored posts include posting pictures and talking about company products on social media platforms like Facebook, Instagram, and Twitter.
3. Earn money for searching the web:
Do you enjoy surfing the web? Then, this may actually make money by sitting in your comfort space. This is one of the easiest methods of making money online with minimal effort and change in lifestyle. What better way to make money than by doing what you already do? Isn't it? Qmee.com brings forth this idea and rewards you for surfing on search engines like Google, Bing, Yahoo, Amazon, and eBay. All you have to do is just install a simple add-on to your browser and when you conduct a search there may be a few sponsored results alongside your normal search and viola! You'll notice your back account hitting the upward curve. Each Qmee result has a cash reward attached to it. You just have to simply click on it and collect your reward. The best thing is there is no minimum to cash out. You may also opt to donate the money that you've earned to charity.
4. Get paid for reviewing websites & apps:
This is particularly for those who have a knack for digging out information on websites or apps and presenting the experience of usage in the form of a complete package. UserTesting.com is a platform that pays everyday people to review all kinds of websites. Each review takes around 20 minutes and comes with an opportunity to earn $10 on Paypal. The process is quite simple; you need to sign up, complete a test review and you're all set to receiving websites in your inbox. Review the websites at your convenience and start making money by working from home.
5. Affiliate marketing:
If you're someone who has a good presence on social media or has a blog or website, you can put that to good use and pool in the money by promoting different companies, products, services, and online offers on your profile or your website or blog. Awin network is one such service through which you can earn money online. Awin network requires you to sign up as a publisher. Post that, you need to check their offers blog or browse the merchant listings to find something you think your friends would be interested in, grab your affiliate link and share it in your social circle. If someone makes a purchase within 90 days using your link, you make a nice commission on the said purchase. Isn't that a great way to make faster money?
6. Sell your photos:
Do you love to paint a picture through lenses? Do you have highly perceptive eyes that can capture the aesthetics in frames? Then this one is surely for the photographer in you! You can reach out to stock photography websites that are always looking for photos on different subjects. You can upload your images on popular photography sites like Shutterstock, Photoshelter, and Getty Images. You get paid every time someone buys a photograph clicked by you. Now that's an uber-cool way to put your skills to use and make extra money from what you love doing the most.
These are some of the ways through which you can earn money online. Remember, it all depends on the fire in your belly. The more you spend time on the internet and the more you polish your skills, the more you can earn through these dedicated online tools.
ALSO READ: How To Link Mobile Number With The Aadhaar: Step-By-Step Guide