Fallout 76 Screws Guide: How and Where to Get Screws
Here's how you can discover Screws in Fallout 76 Screws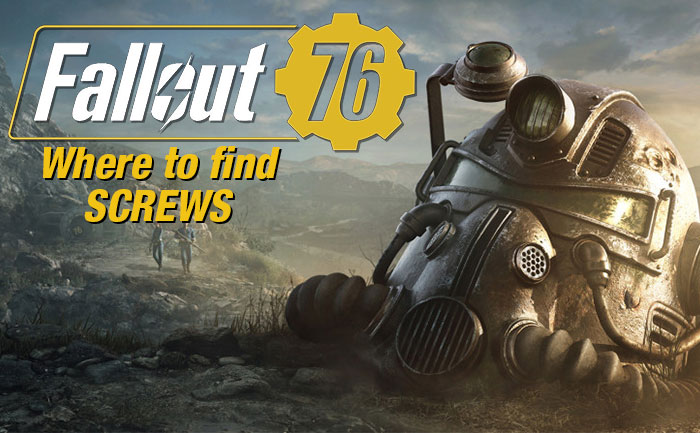 Fallout 76 Screws Guide: Looking for ways to get or find Screws in Fallout 76, you have come to the right place. Yes, in this guide, we will explain how you can located Screws in Fallout 76 by following some easy steps. Besides Screws we will also reveal how to find junk items granting Screws when scrapped. How to Find screws in Fallout 76
For the unversed, Screws are a common crafting component that you would require to modify gear, build turrets or even craft camp items as well. It is not easy to collect a lot of Screws in Fallout 76 and since you constantly require screws for almost every type of crafting, you will often fall short.
How and where to get Screws
Helping you out, we have brought a you complete guide explaining how you can get enough Screws and listed all of the junk items that you must have. You should note that there is no real way to farm for Screws in Fallout 76, so you will have to discover the environment for the junk items below.
Notably, you can find some of these item in all the environment in the game. You are expected to bump into the likes of desk fans, typewriters and hotplates in industrial or corporate buildings. Toy cars and Giddyup Buttercups are rarer, and will usually be found in bedrooms or construction plants.
Making you life easier, we would suggest you to use the 'Tag for Search' feature while seeking out crafting materials including Screws. When you tag Screws, it will place a magnifying glass icon next to the item you should be selecting. It indicates that if you rush while conducting loot, you would not miss the unassuming junk item you must have.
Without any further ado, let's talk about Junk items which reported to have Screws in Fallout 76.
Here's a list of all the items which contains Screws when scrapped:
Antique Globe – 1 Screws
Carlisle Typewriter – 4 Screws
Chez Vivi Typewriter – 4 Screws
Clean Globe – 1 Screws
Clean Pepper Mill – 2 Screws
Desk Fan – 2 Screws
Giddyup Buttercup – 4 Screws
Giddyup Buttercup Body – 2 Screws
Globe – 2 Screws
Handcuffs – 1 Screws
Hot Plate – 1 Screws
Hubcap – 2 Screws
Loose Screws – 1 Screws
MiniNuke Stabilizer Fins – 2 Screws
New Toy Car – 1 Screws
New Toy Truck – 3 Screws
Office Desk Fan – 1 Screws
Pepper Mill – 2 Screws
Restored Desk Fan – 2 Screws
Souvenir Toy Car – 1 Screws
Tongs – 1 Screws
Toy Car – 1 Screws
Toy Car – 1 Screws
Toy Truck – 1 Screws
Typewriter – 1 Screws