How to make cheesecake: Step-by-step guide to make delicious treat at home
Here we take you through a step-by-step guide on how to make cheesecake at home in different styles. Here are five different flavored cheesecakes including Mango, Blueberry, Oreo, and others. The recipes are simple and easy to make at home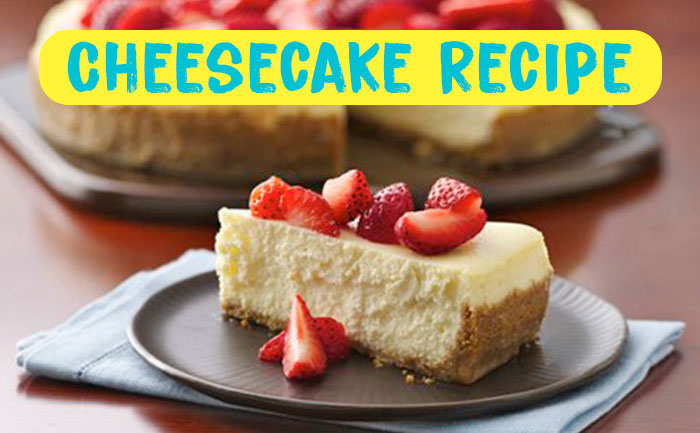 Special occasions are absolutely incomplete with no cakes. What better way to add some extra sweetness to a special occasion, than by getting a cheesecake? People from all age categories tend to love cheesecakes. There are hundred different ways you can make a cheesecake-baked or non-baked to make the moments cherished. Here in this article, we take you through five simple recipes of cheesecakes -Mango cheesecake, Oreo cheesecake, Blueberry cheesecake and others. Make sure you try them at home.
Check out five cheesecake recipes:
Mango Cheesecake Recipe:
Ingredients: 
1 tin (400 gms)Nestlé MILKMAID
2 tbsp Gelatine
1/2 cup (75 ml) Water
200 gms Paneer grated
1/4 tsp Mango Essence
400 gms Chopped Mango
200 ml fresh Cream
Procedure:
First, dissolve the gelatine in 1/2 cup water over a pan of hot water
Then start blending the grated paneer and Nestle MILKMAID
Add the dissolved gelatine and mango essence to a blender or food processor

Add mango pieces and blend for another 2-3 minutes. Also, s

ave a few mango peace for garnishing

Whip the cream well and gently fold into a mixture

Now pour the mixture into a wet mold
Let it set in the refrigerator for 20-30 mins
Once it's set, unmould and cut into squares peace
Now you can decorate it with mango slices and serve chilled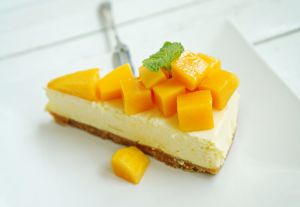 Blueberry Cheesecake:
Ingredients 
1 cup graham cracker crumbs
2 tbsps white sugar
1/4 cup melted butter
16 oz cream cheese – softened
1 cup sour cream
3/4 cup white sugar
1 tsp vanilla extract
2 tbsps all-purpose flour 4 eggs
2 cups frozen blueberries
1/3 cup blueberry jelly
Procedure
First up combine the butter, crumbs, and 2 tablespoons sugar in a bowl and mix it well
Pat the mixture into the bottom of a 9-inch springform pan and make it look like a base
Mash the cream cheese until it turns soft and creamy
Now gradually beat in ¾ cup sugar, sour cream, flour, and vanilla
Beat in eggs one at a time
Pour the mixture into a crumb-lined pan
Put the cake in the oven for 1 hour at 325 °. Let it bake until the crust is firm to the touch
Now take the cake out and let it cool
Now remove the cake from the pan or mold. Using a sharp knife you can also give it a firm shape
Now place frozen blueberries on top of the cake
Melt the jelly completely and with the help of a spoon spill it over the blueberries place it on the cake
Chill the cheesecake and serve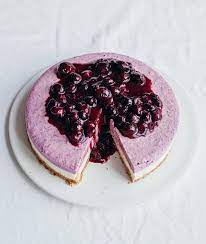 Strawberry Cheesecake:
Ingredients
3/4 cup ground pecans
3/4 cup graham cracker crumbs
3 tablespoons butter, melted
4 packages (8 ounces each) cream cheese, softened
1-1/4 cups sugar
1 tablespoon lemon juice
2 teaspoons vanilla extract
4 large eggs, room temperature, lightly beaten
2 cups sour cream
1/4 cup sugar
1 teaspoon vanilla extract
2 tablespoons cornstarch
1/4 cup water
1 jar (12 ounces) strawberry jelly
3 tablespoons orange-flavored liqueur or lemon juice
Red food coloring, optional
1 quart whole fresh strawberries, halved
Procedure:
Start with preheating the oven to 350°
Now combine crumbs, pecans and butter together in a bowl
Once you mix it well, spread it over a pan
Now up take a large bowl and beat the cream cheese and sugar, until it turns smooth
Squeeze a lemon and add vanilla to the mixture and again beat
Now add eggs and beat at low speed to blend everything

Take the beaten mixture out and spread it over the crust which is settled in the pan

Now, bake this for about 40-45 mins in the oven. Once you feel it's cooked nicely, cool it down to room temperature

Now start preparing the topping for the cheesecake. Combine sour cream, sugar and vanilla in a bowl. Mix it well and then spread it over the cheesecake to put it back in the oven for 4-5 mins

Once you take out the recipe, keep it in the refrigerator overnight or for few hours

Before serving the cheesecake, combine cornstarch and water. Mix it well until it turns smooth. Add strawberry jelly and cook over a medium to high flame and keep continuously stirring it. Once the jelly becomes thick remove it from the flame

If needed you can add food color. Once it cools down, spread the liqueur on top of the cheesecake just before serving.
Black Forest Cream Cheesecake:
Ingredients
2 packages (8 ounces each) cream cheese, softened
3/4 cup sugar
2 eggs, lightly beaten
1 teaspoon vanilla extract
1/2 teaspoon almond extract
Dash salt
1-1/2 cups sugar
1/2 cup canola oil
1 egg
1-1/2 teaspoons vanilla extract
2-1/4 cups all-purpose flour
1/3 cup baking cocoa
1 teaspoon baking soda
1/4 teaspoon salt
1-1/2 cups buttermilk
1 can (21 ounces) cherry pie filling
Whipped topping and chocolate curls, optional
Procedure 
Take a large bowl and beat the cream cheese in it
Add sugar and beat the mixture all again and make it a smooth paste
Now add eggs and beat at low speed. Stir it nicely and let it rest aside
Take another large bowl and combine sugar, oil, egg and vanilla to beat it. Blend everything together nicely while beating. Combine the flour, cocoa, baking soda and salt into this mixture. Now start adding sugar little by little alongside adding buttermilk. Mix it well
Now spread half of the batter into a greased/ floured pan. Make a flat shape on the pan with the spread. With the remaining cream keep on adding the layers

Bake this at 375° for 45-50 minutes. Once you feel it's cooked, take it out and let it cool to room temperature

Slice the cheesecake and serve with pie filling
You can garnish the cake as you want with any fruit, honey or chocolate chips.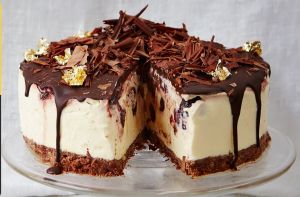 No-Bake Oreo Cheesecake
Ingredients
4 Oreo cookies, crushed
6 tablespoons butter, melted
1 envelope unflavored gelatin
1/4 cup cold water
1 package (8 ounces) cream cheese, softened
1/2 cup sugar
3/4 cup 2% milk
1 cup whipped topping
10 Oreo cookies, coarsely chopped
Procedure 
Take a small bowl and mix crushed cookies, then add little butter
Once you mix them well, press the mixture on the bottom of a greased pan
Keep in the refrigerator for few hours
Now take a small saucepan and dissolve the gelatin completely. Let it be heated for five mins
Take another large bowl to beat the cream cheese and sugar together
Make it a smooth paste and start adding milk gradually to the paste. Now add the gelatin to this mixture and beat at a low speed
Now take the whipped topping and spread it over the crust. You can use chopped cookies
Keep the cheesecake in the refrigerator and let it rest for few hours. Before serving garnish with more chopped cookies or choco-chips.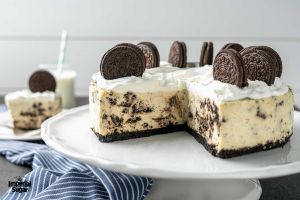 For more such updates, stay hooked on to The Live Mirror.
Also Read: Monsoon Trends: Best Seven Tea Cakes For A Misty, Wet Rainy Evening