Monsoon Trends: Best Seven Tea Cakes For A Misty, Wet Rainy Evening
7 Easy Fluffy Tea Cake Recipes That Are Perfect Companion To Your Hot Cup Of Tea On A Rainy Evening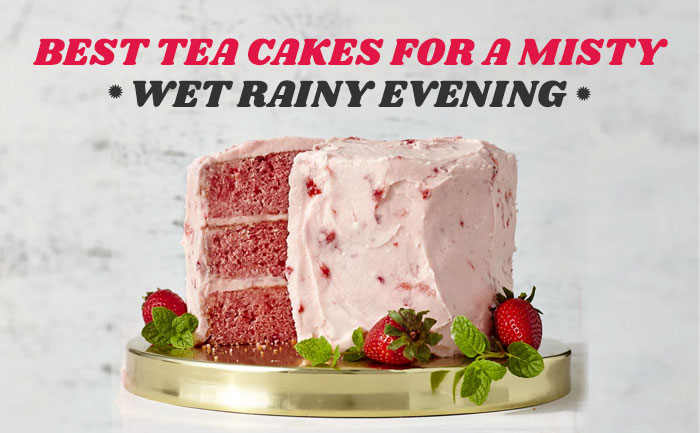 A slice of teacakes with a hot cup of tea on a misty rainy evening is a perfect end to a busy day. It is a hygge moment. A simple cup of tea is also good for a break from your busy schedule but a slice of cake adds a certain bit of happiness. So why not a teeny tiny slice of your favourite tea cake to go with your hot cuppa of Tea?
What are Tea Cakes?
Tea Cakes is an heirloom recipe for a slightly sweetened sweet treat that is made of simple ingredients that are easily found in your kitchen. Some Tea Cake recipes are handed down through families, some are handed over by good friends.
As the weather gets nippy, why not indulge yourself with some spicy-sweet nutty flavoured tea cake. Enjoying it with your cup of tea is an out and out happy feeling. Now with the monsoon once again knocking on our doorstep. What better time to enjoy a hot cuppa of chai or steaming mug of coffee with some soft fluffy tea cake?
Here are seven easy tea cakes to make your rainy evening unforgettably enjoyable:
1. Vanilla Cake: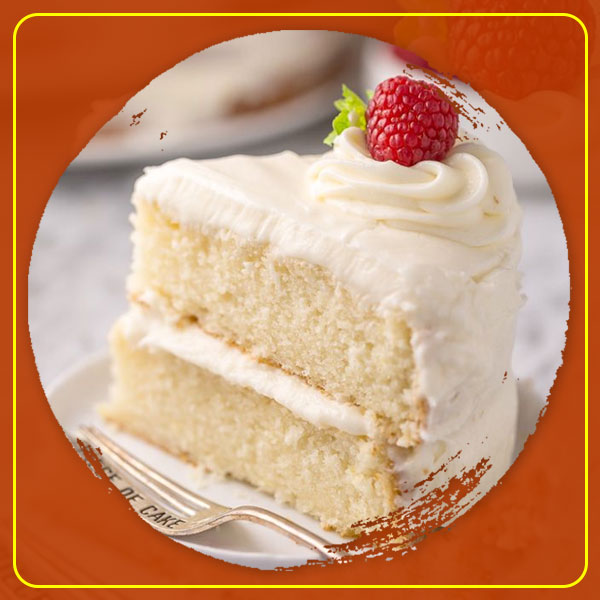 Ingredients: 
Two cups of maida
Two teaspoons of baking powder
A pinch of salt
Half a cup of unsalted butter
One cup of milk
One and a half cups of sugar
Four eggs
Three teaspoons of vanilla essence
Method:
Preheat the oven to 180°C.
Sieve the maida, baking powder and salt together twice or thrice and keep it aside.
In a microwave-safe bowl, add the milk and butter. Microwave for 30 to 40 seconds till the butter melts. Set it aside.
In another large bowl, add the eggs (at room temperature) and sugar.
Beat it until it reaches a ribbon consistency in an electric beater or a normal hand-whisk.
Add flour to the eggs-sugar mixture in batches and fold it till it combines well.
Add the milk-butter mixture and vanilla essence.
Mix it to form a smooth batter with no lumps.
 Prepare the baking tin by greasing it with butter and sprinkle some flour.
Pour the cake mixture into the baking tin and tap the sides to remove the trapped air.
Bake in the preheated oven for 45-50 minutes
Remove from oven and cool the cake on a wire rack.
Once the cake cools completely, cut into neat slices and serve.
2. Southern Tea Cakes:

Ingredients
1 cup butter softened
2 cups sugar
1 1/2 teaspoons vanilla extract
3 large eggs
2 tablespoons buttermilk
4 cups all-purpose flour
1 teaspoon baking soda
Method: 
Cream butter and sugar together until light and fluffy, about 3 minutes.
Stir in the vanilla extract and then add the eggs, one at a time.
Add buttermilk until incorporated.
Gradually add the flour and baking soda into the creamed butter mixture.
Divide the dough in half and wrap well in plastic wrap.
Refrigerate for one hour to overnight.
Preheat the oven to 350º.
Remove the dough from the refrigerator 15 minutes before rolling out on a lightly floured surface.
Cut the dough with cookie cutters and place it onto a parchment-lined baking sheet.
Bake until lightly browned, about 10 to 12 minutes.
 3. Coconut And Chai Cake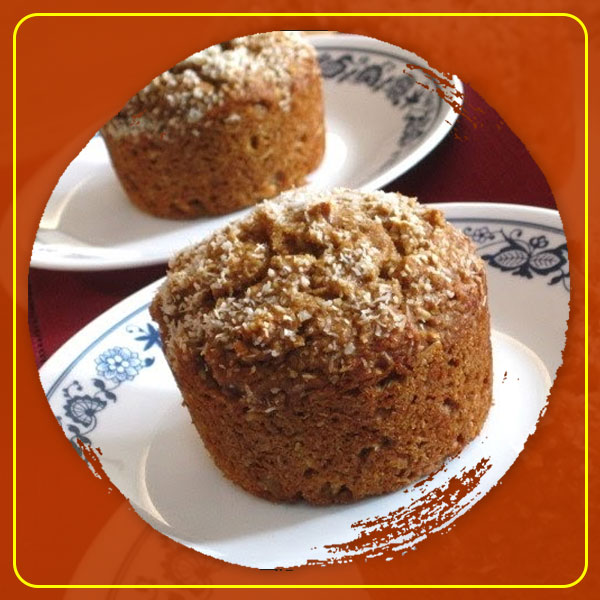 Ingredients
1 cup ginger tea
3/4 cup all-purpose flour
1/3 cup instant oats coarsely ground
1/3 cup gram flour or besan Or use maida/all-purpose flour
1/2 cup desiccated coconut + extra for topping
1 tsp baking powder
1/2 tsp baking soda
1/2 tsp salt
1 tsp cinnamon powder
1/3 cup milk
2 tsp white vinegar
1/2 tsp almond extract optional
1 tsp vanilla extract
3/4 cup sugar
1/4 cup oil neutral flavoured
to sprinkle
2 tsp instant oats
2 tsp desiccated coconut
Method:
Preheat oven to 180°C. Grease an 8-9″ round cake tin.
 Sprinkle all-purpose flour and tap all around such that the tin is well coated.
Also, Sprinkle oats and desiccated coconut all around so that the cake removed from the tin is studded with a sprinkling of oats and coconut.
Combine dry ingredients-flours, coconut, baking powder, baking soda, salt and cinnamon powder in a large bowl.
Whisk together ginger tea, milk, oil, vinegar, sugar, vanilla and almond extract in a large bowl, until well combined.
The vinegar may curdle the milk a bit, but it does no harm to the recipe.
Make a well in the combined dry ingredients and pour the wet ingredients.
Gently combine with a whisk or spatula until no large lumps of flour remain.
Pour the cake mixture into a greased tin and sprinkle some coconut on the top.
Bake for 25-35 min or until a tester comes out clean.
Allow it to sit in the baking tin for 5-10 minutes.
Slice after a minimum of 15 minutes to half an hour.
Serve warm as a tea time cake.
4.  Easy Strawberry Cake: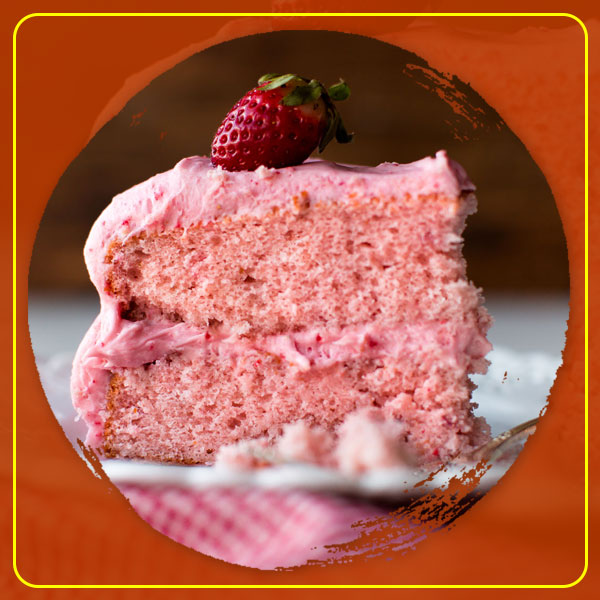 Ingredients: 
85 grams unsalted butter (at room temperature, soft, 6 tbsps)
1 cup castor sugar (+ 2 tbsps)
1 egg large
1/2 cup milk
1 tsp vanilla extract
1 cup maida (all-purpose flour)
1/2 cup jowar flour (sorghum )
1.5 tsp baking powder
1/2 tsp salt (omit if using ed butter)
300 grams strawberries fresh, hulled & halved horizontally
Method:
Prepare a 9 inch round baking pan with baking paper or butter and flour it and keep aside.
Preheat oven at 180xb0C.
With an electric hand mixer, beat the sugar (1 cup) and butter for 3-4 minutes until pale and creamy.
Add the egg and beat for another 30 seconds.
Whisk in the milk and vanilla extract.
Sieve all the dry ingredients and add to the wet ingredients.
Mix until just combined
Scrape out the batter into the prepared baking pan.
Place the strawberries in a single layer on the top, cut side down.
Sprinkle the 2 tbsp of sugar on top of the strawberries.
Bake at 180xb0C (in preheated oven) for 10 minutes, after which reduce the temperature to 175xb0C and bake for 50-60 minutes, or until a tester comes out clean.
Allow cooling completely before slicing. Or not :).
5. Mango Oats And Chia Seed Cake: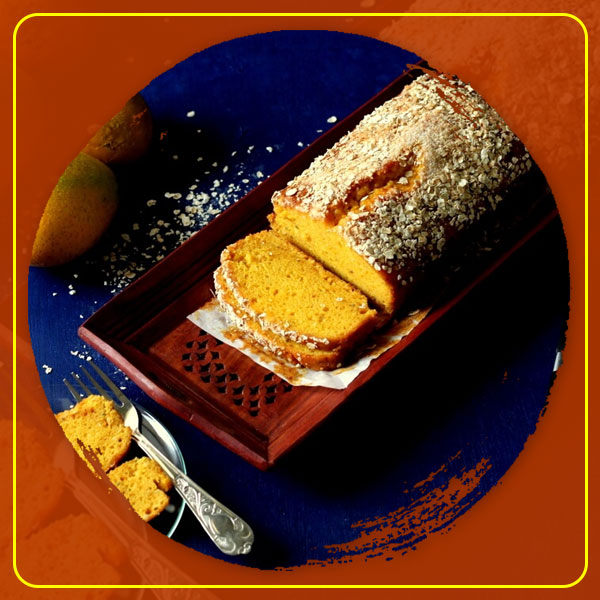 Ingredients
1Cup All-Purpose Flour
1/2 + 1Cup + tsp Oats
1Cup Mango Pulp3 Medium-sized mangoes make 1 cup
2Tsp Chia Seeds
1/2Cup CurdAt room temperature
1Cup Sugar
1Tsp Baking Soda
1Tsp Baking Powder
1/2Cup Oil
Method: 
Pre-heat oven at 180 °C.
In a bowl, sieve the all-purpose flour and mix the oats, chia seeds with it. Keep it aside.
In another bowl, add curd and sugar, mix till the sugar dissolves using a balloon whisk.
Add the baking soda and baking powder and mix till you start to see the bubbles appearing on the mixture.
add oil to this mixture and mix it again.
Add the above mixture and mango pulp to the dry ingredients.
Whisk it till it attains a pancake batter consistency.
Grease/ line a loaf/cake pan with parchment paper and pour the batter into it.
Sprinkle a tsp of oats on it and bake at 180 °C for 30-35 Minutes until a fork/ toothpick inserted comes out clean.
Allow it to cool completely and then slice them.
6. Fruit Cake: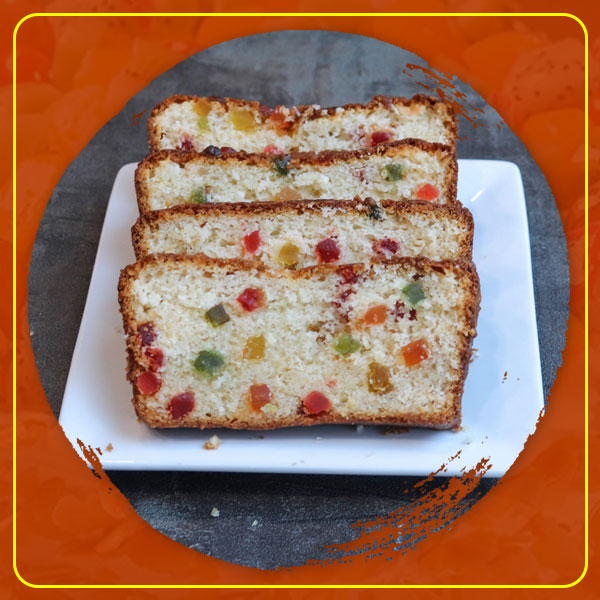 Ingredients:
2 cups all-purpose flour (maida)
1/4 cup butter
1/4 cup vegetable oil
1 cup sugar
4 eggs large
1 tsp vanilla essence
1 tsp baking powder
1/2 tsp baking soda
pinch salt a
Method:
Grease and line a square 8-inch pan with parchment paper.
Preheat the oven to 180C
Sift together all-purpose flour, baking powder, baking soda and salt twice and keep aside.
Beat together butter, oil and sugar till light and fluffy.
Add eggs one by one and beat well.
Add vanilla essence and mix.
Gently fold in the flour mixture.
Rub tutty fruity with a little flour and fold in the batter.
Pour the batter into the prepared pan
sprinkle nuts of choice on top and bake for 35-40 minutes at 180C.
Cool completely and enjoy a slice with tea or milk.
The cake stays well for 2-3 days in an airtight container
7. Vegan Gingerbread: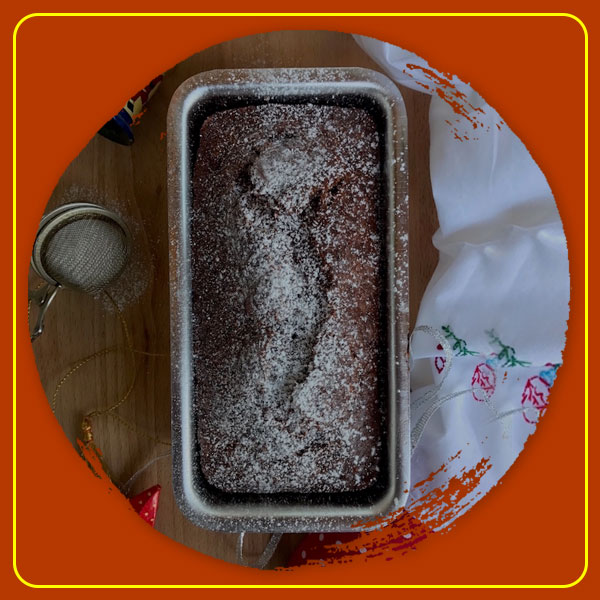 Ingredients: 
3/4 cup plain flour
1/2 tsp baking powder
1/4 tsp baking soda
1/8 tsp salt
3 bananas (medium-sized, overripe)
1/2 cup jaggery powdered (or use brown sugar)
2 tsp ginger ground
1/2 tsp nutmeg grated
1/2 tsp cinnamon
1/2 tbsp apple cider vinegar (or lemon juice)
2 tbsp cooking oil
Method:
Use a small-sized loaf tin (7″ x 3″ or 6 x 3″) with oil or butter.
Preheat oven to 180°C.
In a bowl, mix the flour, baking soda, powder and salt.
In another bowl, mash the bananas. Whisk well the oil, jaggery, ground spices until you get a smooth mixture.
Add the dry ingredients to this and mix well.
Scrape out the batter into the prepared loaf tin and bake for 25 minutes.
Cool the cake in the tin for 10 minutes.
Unmould and allow to cool for 30 minutes or more before slicing.
Courtesy Saffron Tales, Dailyo
Also Read:7 Decadent Chocolate Desserts You Need To Make Right Now