How To Make Choco Lava Cake At Home: A Step-By-Step Guide
Choco lava cake recipe is an all-time favourite among chocolate lovers. Here's a quick recipe to make this sinful dessert at home.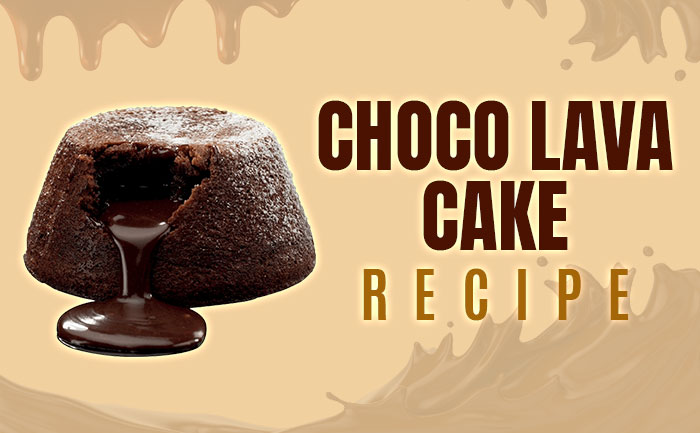 Molten chocolate cake is a popular dessert that combines the elements of a chocolate cake. Its name derives from the dessert's liquid chocolate center, and it is also known as chocolate moelleux, chocolate lava cake, or simply lava cake. It should not be confused with chocolate fondant, a recipe that contains little flour, but much chocolate and butter, hence melting on the palate. You may have had this soft, warm, and mouth-watering dessert at restaurants and are ready to try it on your own. The cake is surprisingly easy to make at home.
Lava cake is a chocolate cake with a gooey, molten center. They're baked long enough for the outer layer to set, while the center remains soft as the chocolate lava cakes combine a flourless chocolate cake with a soufflé, they can feel complicated and intimidating.
Baking a cake has always been considered a time-consuming process that might require too much energy as well as ingredients. But that's not really true! The best part about is that it needs no special ingredients. This tasty recipe is ready in less than an hour.  Chocolate Lava Cake is best eaten immediately. Vongerichten has been credited with popularizing it in the United States, and it became almost a de rigueur inclusion on high-end restaurant dessert menus
History:
Though the Molten Chocolate cake is known to have been invented by the American Chef Jean-Georges Vongerichten, another claim has been made by the French Chef, Jacques Torres. He claims that the Lava cake recipe was found in France years back. According to Vongerichten, he pulled a chocolate sponge cake from the oven before it was done and found that the center was still runny, but was warm and had both a good taste and texture.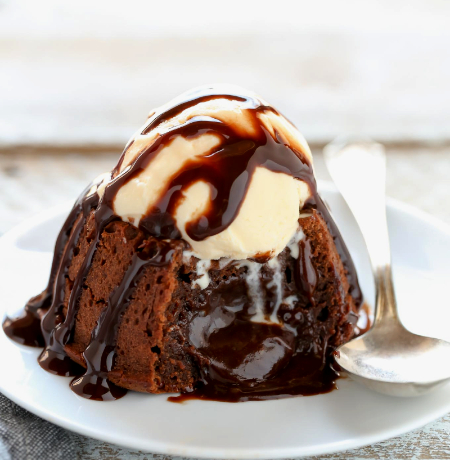 We don't want you to miss out on the warm melted chocolate lava in the center of the cake! Since this cake is one of the yummiest choices in desserts, here's a step-by-step recipe you can below as you whip up and treat yourself to Choco Lava.
Ingredients:
Butter
Egg
Sugar
Salt
Chocolate
Flour
Vegetable Oil
Vanilla extract
Baking Temperature:
180°C
Preparation Time:
25 Minutes
Baking Time:
20 Minute
Steps:
Add flour, 1 tsp baking powder, 2 tbsp sugar, 2 tbsp cocoa powder, and ⅛ tsp salt.
Mix well until it's smooth.
In another bowl whisk together sugar, with a pinch of salt, and eggs.
Mix together the chocolate-butter mixture with the sugar-eggs mixture.
Transfer this mix to a buttered microwave-friendly bowl.
For the lava to ooze out from the center, place 2-3 chocolate pieces in the center and cover them with the batter.
Bake at 180 degrees celsius.
Use a knife or spatula to gently scrape the sides of the cups so the cakes are loosened from the cups a bit.
Then, place a plate over the top of each cake and turn it over, so that the plate is under the cake as the cake falls out of its cup and is ready to eat.
Serve with whipped cream/vanilla ice cream
Enjoy!
Variations:
There have been many alterations to the Lava cake recipe, which mostly includes the variations in the fillings. Instead of the chocolate fillings, various other flavors like Lemon, Caramel, Strawberry, and Orange can be found. Apart from the Chocolate filling, the Orange flavor is also one of the most popular due to its typical appearance.
Calories:
Lava Cake gives 425 calories. Out of which carbohydrates comprise 220 calories, proteins account for 23 calories and the remaining calories come from fat which is 218 calories.
Stay tuned to The Live Mirror for more updates.
ALSO READ: Korean Recipes: 5 Most Popular And Easy Dishes To Try At Home