How To Make Super Delicious Chocolate Covered Strawberries?
How To Make Amazing Chocolate Covered Strawberries? Learn In Easy Steps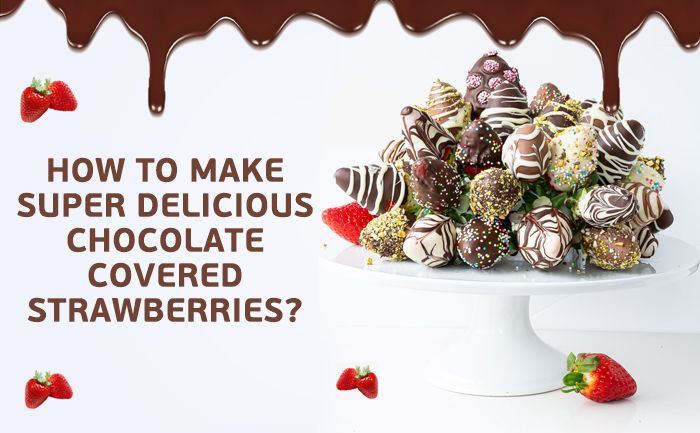 Strawberries those plump red and luscious berries leave a heavenly taste in your mouth. The sweet and sour juicy mix is not only mouthwatering but also possess numerous health benefits. Who can resist a chocolate-covered strawberry? One bite of the tangy chocolaty dessert and you are transported to heaven.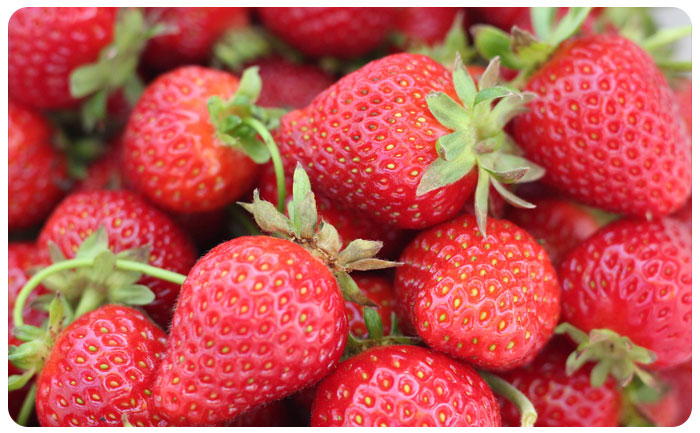 Chocolate covered strawberries are also a lovely treat to gift to your special someone. These little sweet treats are super easy to make and will not take much of your time to coat and wrap as a loving gift for your near and dear ones. Homemade chocolate covered strawberry can be made more special by decorating it with sprinklers nuts or drizzles.
Here is How to make chocolate-covered strawberries: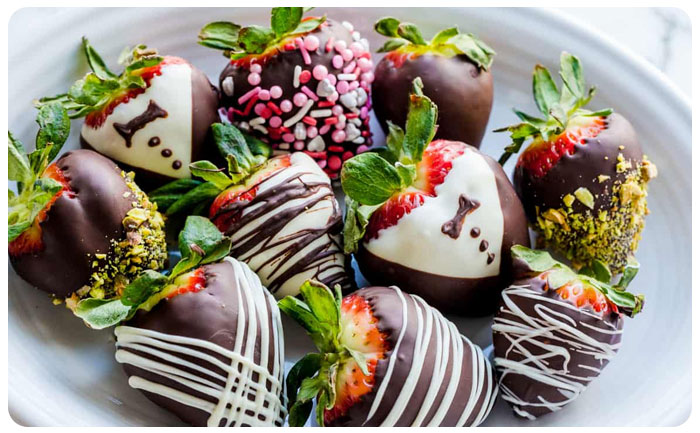 Ingredients:
100g dark chocolate, roughly chopped
400g strawberries
30g white and milk chocolate, roughly chopped
Method: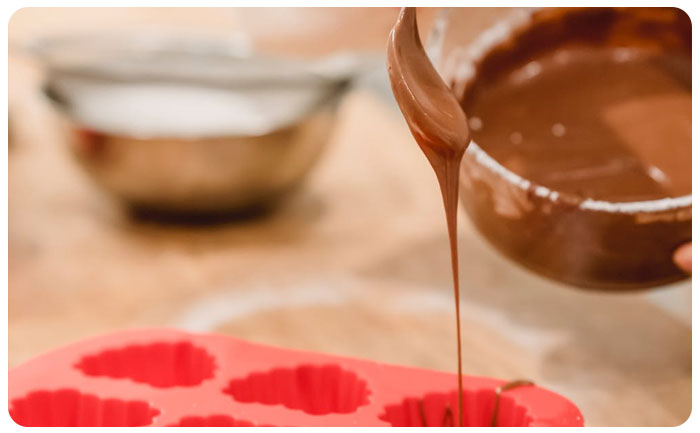 Put the strawberries in a bowl and rinse them.
Pat them dry
Put the chopped pieces of chocolate in a microwave bowl.
Melt them in the microwave for 1-2 minutes until it is completely melted.
Stir it to remove any lumps.
Hold the Strawberry from its stem and dip it in melted chocolate.
Swirl and twist the strawberries to remove excess chocolate
Place them on parchment paper
Refrigerate them for about 30 minutes.
Two ways of melting chocolate chips:
Microwave or Double-boiler method.
Fill a small saucepan with water, then place a glass bowl or metal bowl over the saucepan. The bottom should just touch the water. Fill the bowl with chocolate, bring the water to a boil, and heat until the chocolate melts, stirring frequently.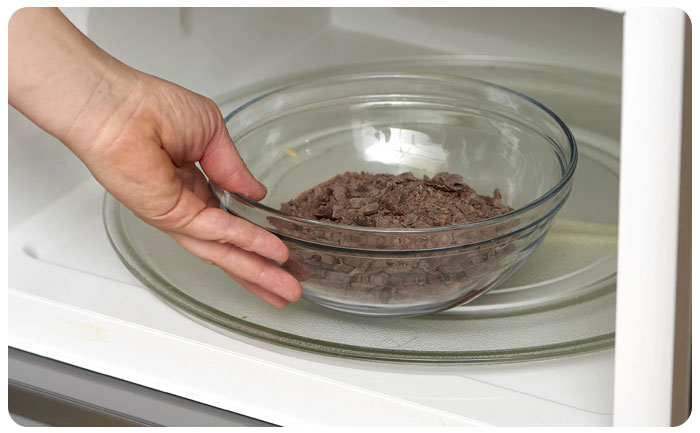 To microwave, add the chocolate to a microwave-safe bowl, and heat for 30 seconds. Stir if possible, then continue to heat in 10-second intervals, stirring in between, until the chocolate is smooth.
Different Types Of Chocolate Covered Strawberries
You can cover the Strawberries in candy sprinkles, chocolate chips or chocolate cookie crumbles.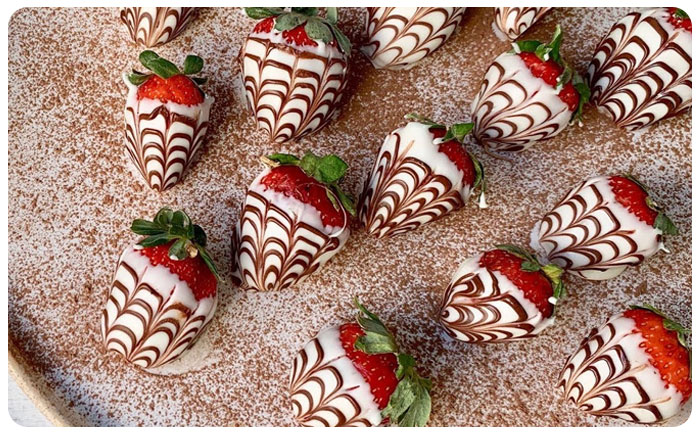 White Chocolate Drizzle:
Cover your strawberry in dark chocolate. Let it harden. Next, melt some white chocolate chips and drizzle them on the already chocolate-covered strawberries in a zig-zag manner. Let it dry.
Caramel-Covered Chocolate Strawberries:
If you have caramel syrup available at home,  drench your chocolate covered strawberries with caramel syrup.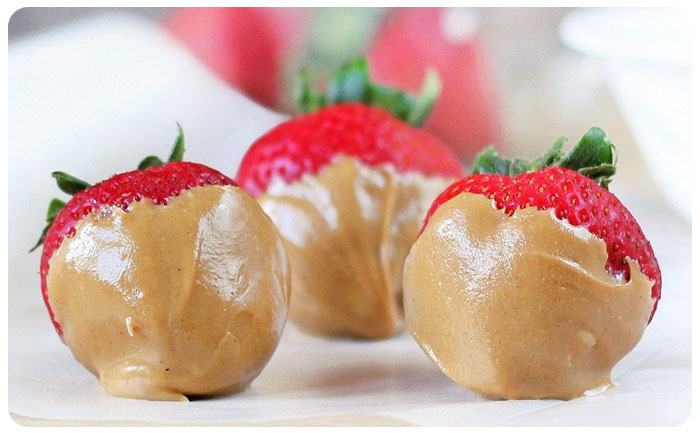 Nuts-filled chocolate strawberries
Chop some nuts (almonds and cashews) into fine pieces and add onto the chocolate covered strawberries. It will add crunch to your smooth chocolate-covered treats.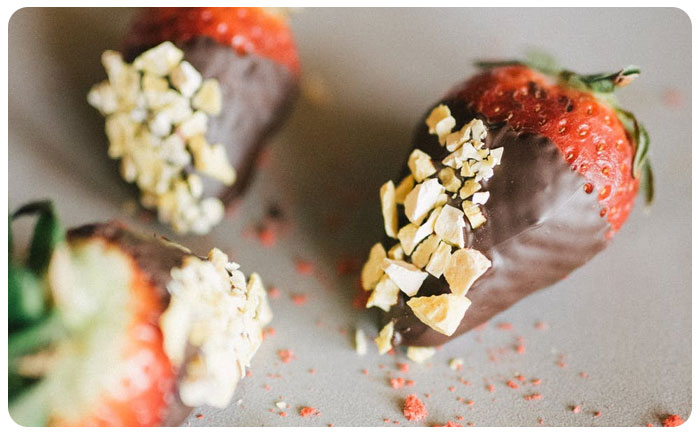 Add some colourful sprinkles:
Cover your strawberry with dar chocolate. Sprinkle the entire layer with some colourful sprinkles.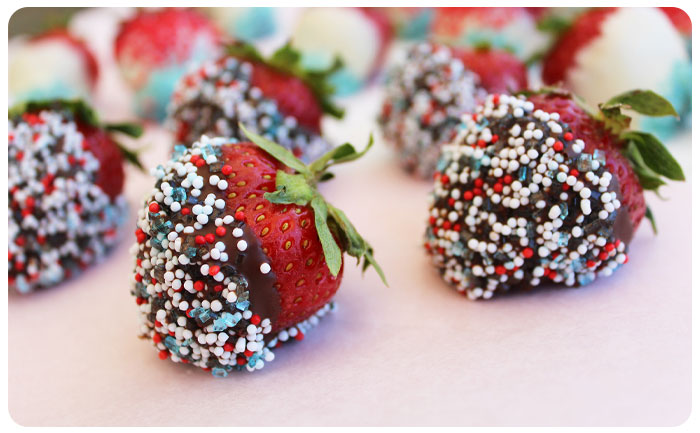 Store it in a cool place and serve it with any dessert or on its own.
Also Read:  How To Make Burnt Garlic Mushroom Fried Rice Recipe