How To Use A Pulse Oximeter At Home: Step-By-Step Process
Pulse oximetry is a noninvasive method for monitoring a person's oxygen saturation. Here's how you can use it.
What is Pulse Oximeter?
Pulse oximetry is a test used to measure the oxygen level (oxygen saturation) of the blood. It can rapidly detect even small changes in how efficiently oxygen is being carried to the extremities furthest from the heart, including the legs and the arms. With the alarming rise in the number of coronavirus cases across the country, the doctors and experts are advising Covid-19 patients being treated at home to keep track of their blood oxygen levels.
The most common approach is transmissive pulse oximetry. In this approach, a sensor device is placed on a thin part of the patient's body, usually a fingertip or earlobe, or an infant's foot. Fingertips and earlobes have higher blood flow rates than other tissues, which facilitates heat transfer.
One of the most common symptoms of COVID-19 is a drop in oxygen levels and a delay in treating it can put the person at risk for severe complications and death. Thus, to get help sooner, a pulse oximeter can help by alerting the person about the drop in oxygen levels.
If you or one of your family members wants to monitor pulse rate or the oxygen level in the blood accurately, you can do it by attaching pulse oximeters to your fingertips. These devices have become essential in such a setting of the pandemic where a patient's blood oxygen levels require frequent monitoring.
However, if your home SpO2 reading is lower than 90%, it is best to call your health care provider immediately.
Covid-19 patients have also been asked to take a 6-minute walk test in which one should check the oxygen level before and after six minutes of walking inside the room. For better oxygenation at home, the Centre has also asked Covid-19 patients to try self proning where one has to lie face down with the support of 4-5 pillows.
The device also gives the heartbeat reading, ranging for a healthy person between 60 to 100 beats per minute. Oxygen saturation gives information about the amount of oxygen carried in the blood. Pulse oximetry is also used to check the health of a person with any condition that affects blood oxygen levels, such as:
Heart attack
Heart failure
Chronic obstructive pulmonary disease (COPD)
Anemia
Lung cancer
Asthma
Pneumonia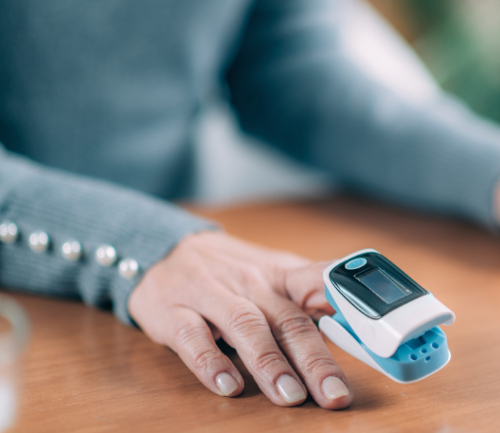 What happens if your oxygen level is too low?
When your blood oxygen level goes outside the typical range, you may begin experiencing symptoms. This includes:
Shortness of breath
Chest pain
Confusion
Headache
Rapid heartbeat
How to use:
Make sure your finger is free of nail polish, false nails, etc before putting your finger inside the oximeter.
Your hands should be at normal temperature, warm them if you feel they're cold.
Make sure that the finger fits well and the probe is not too tight.
Rest for at least 5 minutes before taking your measurement.
Switch on the oximeter and place the pulse oximeter on your index or middle finger.
Keep the oximeter in place for at least a minute or longer if the reading is not stable.
Record the highest result once it has not changed for five seconds.
Identify the reading carefully.
Start recording from baseline and record three times a day at the same time.
Take extra measures if you feel a change in your health.
NOTE: The baseline saturation should not be below 94 percent. If it is below 94 percent, consult a medical professional.
ALSO READ: How To Read Books Online For Free: 5 Best Websites