Monsoon Special- Masala Chai, Onion Pakora To Corn Chat Recipes For Rainy Season  
If you want to enjoy the monsoon to the fullest, then here are few amazing recipes to try at home. Learn making Masala Chai, Onion Pakora, Vadapav, Corn Chat and Moong Dal Vada to light up cozy rainy days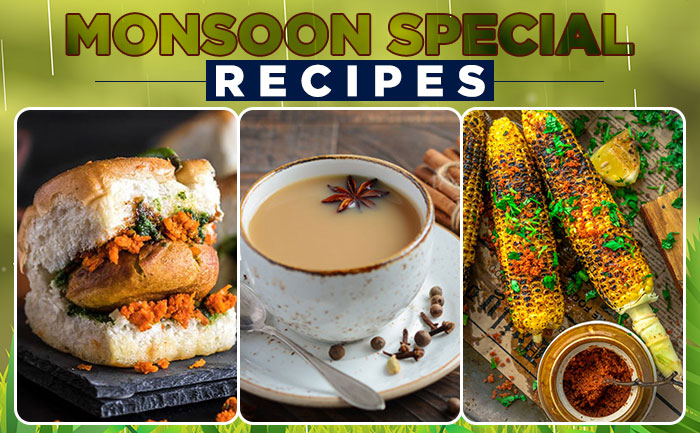 Monsoon is finally here and so the cravings. During the cozy rainy days we often desire to have something warm, crunchy and tasty. The monsoon season in India is almost synonymous to several delicious food items and warm drinks. Whether its the masala chai, roadside butta (sweet corn) or onion pakora, this season of the year is to treat yourself with some extra calories, well why not? Here we take you through few easy recipes for the rainy season that you can try making at home and enjoy with your loved ones. The recipes include Vadapav, Moong Dal Pakora, Onion Pakora and Sweet Corn Chat.
Here check out monsoon special recipes:
Masala Chai Recipe:
Ingredients:
2-3 Cloves
1/2 to 3/4 Cinnamon
4-5 Green Cardamoms
Tea Powder
2-3 Cup Water
Ginger (Optional)
Sugar / Jaggery
1 cup Milk
Procedure:
Take 2-3 cups of water in a vessel and keep it on the flame for boil
Add 2-3 teaspoon of tea powder
Add cloves to the heating water
Add green cardamoms and crushed ginger
Add cinnamon to the boiling water
Add suger/ jaggery as per your taste
Once the mixture starts to boil add milk
Let the tea boil for a while and serve it warm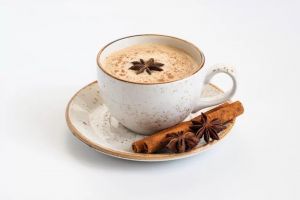 Onion Pakora Recipe:
Ingredients:
Besan (Gram flour) 1-2 Cups
Rice Flour -1/4 Cups
Onion 2-3 Big
Red Chilli Powder -1 Tablespoon
Garam Masala/ Coriander seeds powder
Salt as per taste
Asafoetida – 2 pinches
Baking Soda (Optional)
Oil for deep fry
Procedure:
Take Besan (Gram flour) in a bowl
Add rice flour into the bowl and mix both the flour well
Add red chilli powder to the flour base
Add garam masala or coriander seeds powder, asafoetida 2 pinches and baking soda 1 pinch (optional) to the mixture
Add finely sliced onion to the batter and mix it well
Add little amount of water if needed
Once the batter is ready, keep the oil for heating in a Kadai
When the oil heats up, make small sized pakora with the batter and deep fry them
Let the Pakora get crispy in the oil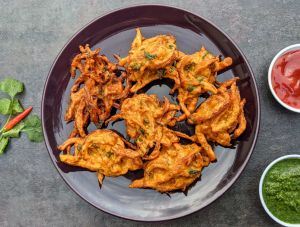 Moong Dal Pakora Recipe:
Ingredients:
1 Green Chilly
1 tsp Kashmiri Chilli Powder
Salt
1/2 tsp Saunf (Fennel Seeds)
2 Cups water
1/2 tsp Ajwain
1 tsp Heeng
1 tsp Jeera
1-2 cup Moong Dal
Oil for deep fry
Procedure:
Prior to making Moong Dal pakora, you need to soak the yellow Dal for 4-5 hours. Once its nicely soaked in the water, grind it
Now take the batter in a bowl and add salt as per taste
Add finely chopped green chilly to the batter
Now add jeera, heeng, ajwain and sauf to the batter and mix it well
Now add one tsp of kashmiri red chilli powder and also add one pinch of haldi (turmeric powder) optional
Once your batter is ready, keep the oil for heating in a Kadai
After the oil's temperature raises, make round balls of the batter and fry them in the oil
Let the pakora turn orange or brownish
After you deep fry all the batter, serve it with green chutney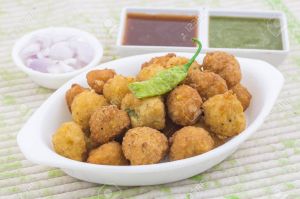 Vadapav Recipe:
Ingredients:
5 Chillies- Green
3 tsp Red Chilly Powder
1 Cup Cilantro
8 Garlic cloves
1 Inch Ginger
5 Potatoes
1 1/2 tbsp Garam masala
1 tbsp Mustard seeds
1 Salt as per taste
1 Salt as required
1 1/4 tbsp Turmeric powder
Oil
1 tbsp Coriander cumin, powder
1 tbsp Cumin seeds
8 Pav/water rolls
7 Curry, leaves
2 cups Besan
1/2 tbsp Soda
Procedure: 
Boil the potatoes in water and peel the cover. Once they cool, mash them with the masher and transform this mashed potato to a bowl
Now add ginger-garlic paste, chopped green chillies and cilantro to the mashed potatoes and mix them well
Take a separate Kadai, keep it on the flame. Give a tadka of mustard seeds, cumin seeds, curry leaves adding little amount of oil. Once the seeds start fluttering, add this kadka to the mashed potatoes mixture
Now add spices- turmeric powder, garam masala, finely chopped onions and salt as per taste to the potatoes
Make medium or big sized balls using the mashed potatoes

Next up, take a big size kadai and keep the oil in it for heating. This oil is for deep frying the Vada

Keep checking the temperature of the oil after you keep it on the flame
Meanwhile, start making the batter for the Vadapav. Take a bowl and add chickpea flour / besan to it. Add little amount of chilli powder, turmeric powder, water as required and salt as per taste. Keep the consistency of the batter thick and cover-able, which can allow you to cover the potato balls
Once the oil gets heated, dip the potato balls into besan batter and deep fry them into oil
Serve the potato vada with bread or pav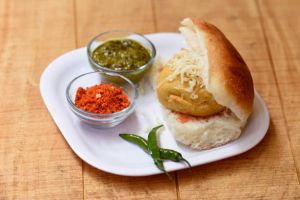 Crispy Corn Chat:
Ingredients: 
1 tsp Chilli- Red powder
1 Coriander
1 Onion
2 cups Sweet corn
1 tsp Lemon
2 tbsp All purpose flour
1 Salt
1 Oil
1 Pinch Amchur (dry mango powder)
Procedure:
Take a Kadai and keep the oil on a low flame for heating, you need this for deep fry

Next up- add corn kernels, flour, red chilli powder, amchoor and salt in a mixing bowl and give it a good mix

Add a tablespoon of water and mix it. The flour should coat the kernels. You can add water if needed, but keep it thick and dry

Once the oil is hot, place a sieve inside the oil. Take a tablespoon of corn and scatter it inside the sieve which is inside the oil. Frying it inside the sieve makes it easy to drain
Do not fry all of it together and keep observing the corn, because they quickly turn brown
Once the corn becomes crisp and turns golden take it out onto a kitchen towel

Now add chopped onions, coriander leaves, mint leaves to the fried corn. Squeeze half a lemon to the dish. If needed garnish it with garam masala and red chilli powder and its good for

serving

.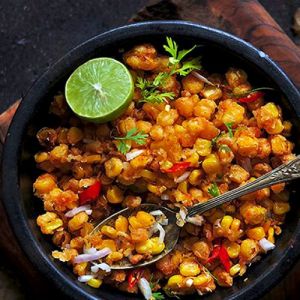 Which one did you like the most? Do let us know. For more such updates, stay hooked on to The Live Mirror.
Also Read:  5 Immunity Boosting Recipes For Healthy Lifestyle