How To Use Wireless Mouse To Laptop/PC: A Complete Guide
Wireless mouse is one of the user-friendly computer-related tools that can be carried anywhere without the hassle of wires.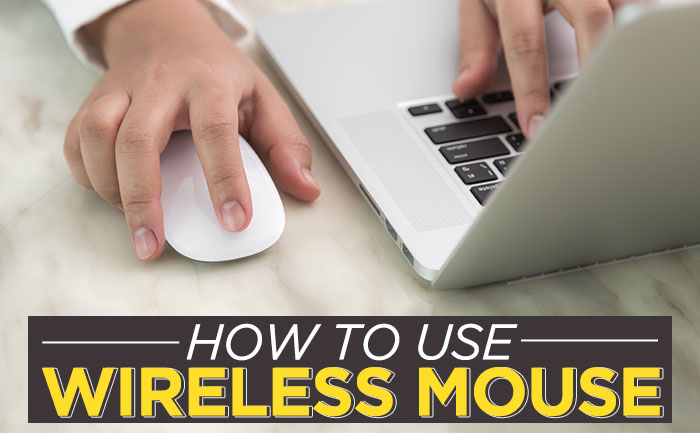 A wireless mouse is a hardware input device used to interface with a computer system. Wireless mouse technology predominantly uses radio frequencies (RF) to send signals from the mouse to the computer. Like other radio technologies, this requires a transmitter and a receiver. The mouse transmits radio signals to a receiver, which is itself connected to the computer hardware, normally via a wire. A wireless mouse is also known as a cordless mouse.
There are two types of wireless mouse: Bluetooth, which connects directly to your computer's Bluetooth receiver, and RF wireless, which connects to a receiver that you plug into your computer. Usually, a USB receiver is plugged into the computer and receives signals from the cordless mouse. Most wireless mice models usually come with rechargeable batteries or a USB cable for charging them. A wireless mouse is more convenient than a wired mouse. With a small and portable wireless mouse, there are no cables that get tangled up in your bag or drag things around your desk.
How To Use Wireless Mouse:
Make sure your computer is turned on.
Plugin your mouse's receiver.
Make sure that your mouse has batteries or is charged.
Turn on your mouse.
Connect the USB receiver to the USB connection on your computer.
The USB receiver and Connect lights illuminate to indicate the mouse is ready for use.
Now, you can use the mouse.
Move your mouse around to test the connection.
Best Wireless Mouse:
M720 gives you the power to tackle any task. Two ways to connect and multi-device capabilities keep you in your flow, even when working between two or three computers and give up to 2 years Battery life may vary based on use and computing conditions. of battery life ensures
MRP: ₹5, 695.00
Lenovo 400 Wireless Mouse
Lenovo 400 Wireless Mouse has a battery life of up to 12 months and left/right buttons that last up to 8 million clicks
MRP: ₹1,416
HP X200 Wireless Optical Mouse
Compatible with HP PCs with available USB-A port and is Compatible Operating Systems Windows 10; Windows 8; Windows 7; MacOS 10.1 or higher
MRP: ₹899
Compatible across all notebooks and desktops platform with Windows Vista/7/8/10 and USB port available.
MRP: ₹ ₹1,499
Dell Mobile Wireless Mouse- MS3320W
Easy dual-mode connectivity offers you the option to pair and connect to almost any PC via 2.4GHz wireless or Bluetooth 5.0.
MRP: ₹ 1,699.20
Lenovo 300 Wireless Compact Mouse
The mouse offers 1000 DPI pointing device resolution for quick movement. It is a 3 button USB laser mouse with a wireless reception range of 1 meter.
MRP: ₹575
iBall Freego G100 Premium Wireless Optical Mouse
It offers a 10 meters wireless range and an average battery life of 16 hours.
MRP: ₹899
Mi Portable Wireless Mouse
It offers an excellent tracking accuracy of 1200 DPI high resolution. The mouse comes with an RF 2.4 GHz private protocol wireless connection that communicates with the mouse via radio frequencies.
MRP: ₹ 549
It offers a remarkable speed, precision, and quietness of electromagnetic scrolling with the max speed wheel up to 90%
MRP: ₹7,495
Stay tuned to The Live Mirror for more updates.
ALSO READ: How To Make Choco Lava Cake At Home: A Step-By-Step Guide