Hrithik Roshan & Big B in awe of this Tik Tok star's dance moves
Hrithik Roshan & Amitabh Bachchan are bowled over by this Tik Tok stars killer dance moves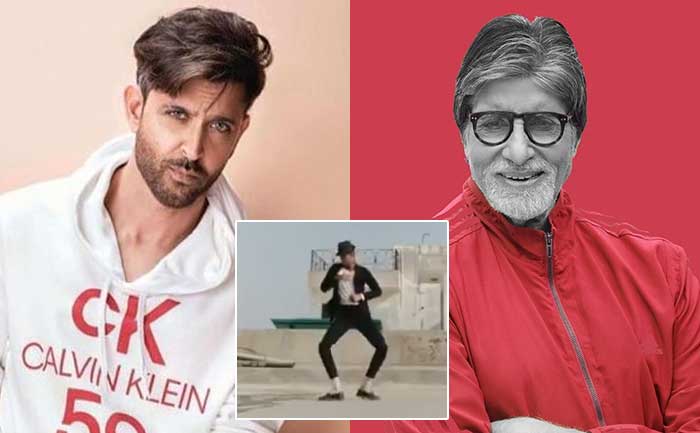 Superstar Hrithik Roshan is known as one of the best dancers of Bollywood. The actor has innumerable fans who are crazy about his groove on the dance floor. But a video on social media has left the 'War' star quite impressed. He is bowled over by a Tik Tok star moves on the dance floor. Praising the Tik Tok star the War star wrote, "smoothest air walker I have ever seen" He even asked who is this man?
Check out the post shared by Hrithik Roshan here:
Smoothest airwalker I have seen. Who is this man ? https://t.co/HojQdJowMD

— Hrithik Roshan (@iHrithik) January 13, 2020
In the video, we see a young man dressed like Michael Jackson and dancing to songs such as 'Mukkala Mukkabala' and 'Tumse Milke Dil Ka Hai Jo Haa' on a terrace. The man in the video is Yuvraj Singh, a TikTok user who goes by the handle Babajackson2020.
Not only Hrithik Roshan but megastar Amitabh Bachcha too is left impressed by Yuvraj's groove.
wow … https://t.co/0g7nzv4M7x

— Amitabh Bachchan (@SrBachchan) January 12, 2020
The same post was also shared by Anupam Kher,
Watch him!! He is OUTSTANDING!! ??? https://t.co/jnHkx2uwUr

— Anupam Kher (@AnupamPKher) January 13, 2020
Yuvraj thanked Hrithik Roshan and Amitabh Bachchan for sharing and liking his video,
Sir yuvraj has an emotional message for you. @SrBachchan #Tiktok #YuvrajSingh https://t.co/SulqzJLcuj pic.twitter.com/bCyJCYbUHN

— Kavita Singhh (@TheKavitaSingh) January 13, 2020
On the work front, Hrithik Roshan was last seen opposite Tiger Shroff in Siddharth Anand's War. He is yet to announce his next project. The year 2020 also marks the actor's 20th anniversary in Bollywood.
Also Read: Hrithik Roshan Owns THESE 5 Most Ridiculously Expensive Things?