Hulk actor Mark Ruffalo celebrate two years of Thor with work friends
Mark Ruffalo shared selfie with Chris Hemsworth and Taika Waititi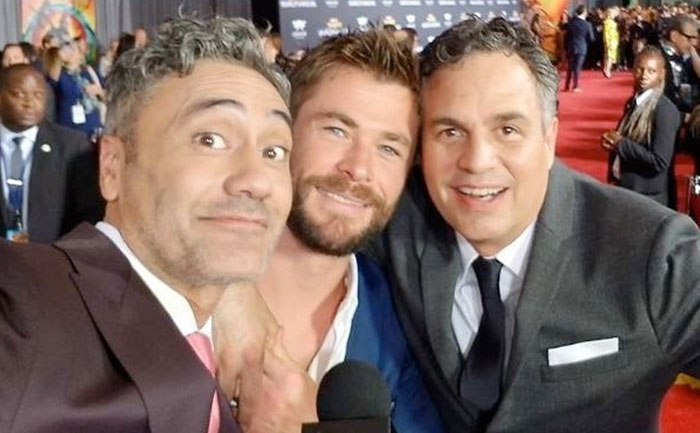 Marvel Studios Thor: Ragnarok was released two years ago. It is the third film from the franchise besides the previous two Thor films. In the third film we watched Chris Hemsworth come back as the God of Thunder and while Tom Hiddleston as Loki, the odin sons had meanwhile Huk, Valkyrie and Held for the company. Apparently, the film not only remodeled Thor in the Marvel Cinematic Universe but had also projected Hemsworth's Hilarious side. The funny side which was adopted in Avengers: Infinity War and Avengers: Endgame.
Also, Ragnarok was one of the best Thor movies until now from the film franchise. Yesterday, Mark Ruffalo took to his social media and celebrated the two years ever since Thor: Ragnarok's release. Even, the Hulk actor whose varied side was observed in the Taika Waititi directorial, also didn't miss the opportunity and took to Instagram as well to share a selfie which was taken moments just before the film premiered and well, Ruffalo also leaked the beginning of 15 minutes via Instagram live.
Apparently, the selfie was taken by the director Waititi while Ruffalo and Chris Hemsworth showed their infectious smiles for the camera. Lately, the actor also channeled his famous lines from the film, "Friends from work" to the caption the heart melting photo. He captioned, "Always had a lovely time with my friends from work. Happy 2nd Anniversary to #ThorRagnarok." Check out the image below.
Though it is a cherished moment to return to, Thor fans can't wait to know more about Thor: Love and Thunder. Also, the fourth Thor film shows Natalie Portman's Jane Foster picking up the Mjolnir for being the first female Thor in MCU. Although, not much is currently known about the movie until now.
Also Read: Spider-Man Might Form School Boy Crush On Captain Marvel In Sequel