Hum Fit Toh India Hit, Really?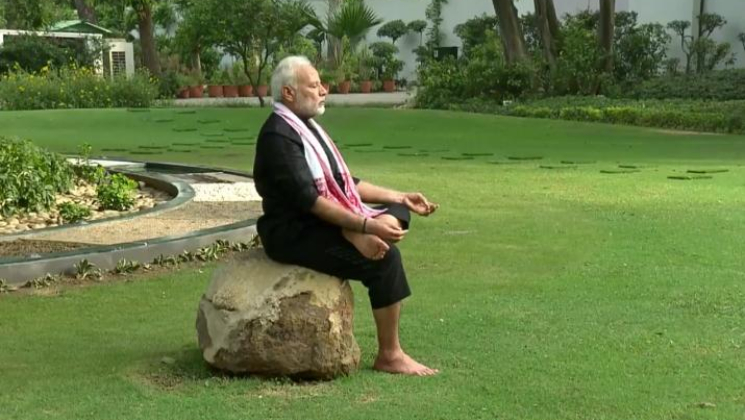 The responsibility of India's health is under State Government according to 'The Constitution Of India'. Rather than central government, it makes every state responsible for "raising the level of nutrition and the standard of living of its people and the improvement of public health as among its primary duties".
Recently in 2017, The National Health Policy was endorsed by the Parliament of India. When it comes to the health of India, it is as unequal as the caste system. We all know India is a democratic country, 'लोकतांत्रिक' in Hindi which has the population of around 132.42 crores according to the 2016 World Population Prospects. But in 2012 Indian government stated that we have 22% of population which is below poverty, a clear indication that how can 29.1324 crores of it's population afford its nutrition and gain health in the income of 75 Rupees per day?
Further let's try to find out the answer for the above encountered question. During IPL finals there was a carefully crafted 120-seconds long #HumFitTohIndiaFit commercial with a voice-over by the Honorable Prime Minister Shri Narendra Modi intermixed with footage of him as well as famous celebrities — politicians, sportsperson and Bollywood stars — promoting a fitter, healthier India. This commercial was a hit as it was ran at least 10 times on air in between the match.
The entire #HumFitTohIndiaFit campaign was ignited by the Sports Minister Rajyavardhan Singh Rathore who posted a video of himself on social media, doing push-ups in his office. He urged his followers on Twitter to post pictures and videos of them engaged in activities to keep themselves fit. Through the video he also put out a #FitnessChallenge to Hrithik Roshan, Virat Kohli and Saina Nehwal. And, in true Indian political tradition, Rathore thanked Prime Minister Modi for inspiring him to stay fit.
Post pictures and videos of how you keep yourself fit and send a #FitnessChallenge to your friends on social media. Here's my video ?and I challenge @iHrithik, @imVkohli & @NSaina to join in? pic.twitter.com/pYhRY1lNEm

— Rajyavardhan Rathore (@Ra_THORe) May 22, 2018

Virat Kohli was the first to respond to the Minister's challenge. Others followed.
I have accepted the #FitnessChallenge by @ra_THORe sir. Now I would like to challenge my wife @AnushkaSharma , our PM @narendramodi ji and @msdhoni Bhai for the same. ? #HumFitTohIndiaFit #ComeOutAndPlay pic.twitter.com/e9BAToE6bg

— Virat Kohli (@imVkohli) May 23, 2018

'Hum Fit Toh India Fit' challenge has been reignited once again after Prime Minister Narendra Modi responded to Indian cricket team captain Virat Kohli's nomination.
On Wednesday morning, 13th June 2018, PM Modi posted his morning fitness regime that helps him lead a better lifestyle. Apart from Yoga, his daily routine includes everything from breathing exercises to walking on a track inspired by the Panchtatvas.
Here are moments from my morning exercises. Apart from Yoga, I walk on a track inspired by the Panchtatvas or 5 elements of nature – Prithvi, Jal, Agni, Vayu, Aakash. This is extremely refreshing and rejuvenating. I also practice
breathing exercises. #HumFitTohIndiaFit pic.twitter.com/km3345GuV2

— Narendra Modi (@narendramodi) June 13, 2018
He passed on the challenge to Karnataka Chief Minister HD Kumaraswamy, Commonwealth medalist Manika Batra and 40-plus Indian Police Service (IPS) officers. The IPS Association tweeted, "policing requires high levels of physical and mental fitness. We welcome challenge by Honourable PM. While 40+ amongst us count many athletes its added motivation for the IPS to invest some time for good health in midst of unending demands of policing".
Policing requires high levels of physical & mental fitness. We welcome challenge by Hon PM Sri @narendramodi. While 40+ amongst us count many athletes it's added motivation for the IPS to invest some time for good health in midst of unending demands of policing #HumFitTohIndiaFit https://t.co/WEPZP5bHrq

— IPS Association (@IPS_Association) June 13, 2018
Where as Chief Minister H.D. Kumaraswamy said that "My fitness is Karnataka's fitness, people have to be fit in every work, that's my top priority", on fitness challenge by Prime Minister Narendra Modi.

On the contrary, Congress president Rahul Gandhi described Prime Minister Narendra Modi's fitness video put out on Wednesday morning as "bizarre" and "ridiculous".
The #HumFitTohIndiaFit campaign is with initiative to generate awareness regarding health and nutrition with respect to the obesity in India which has reached epidemic proportions in the 21st century, with morbid obesity affecting 5% of the country's population. Hence the campaign seems to be influencing only to the creamy layer of the population.
This contradicting point gives chance to internet influencers to burst out with memes and trolls on social media in response to the tweeted video. You could literally imagine PM saying to Cricketer Virat Kohli, "Oh Kohli, I think I did something wrong. Did I just break the internet?"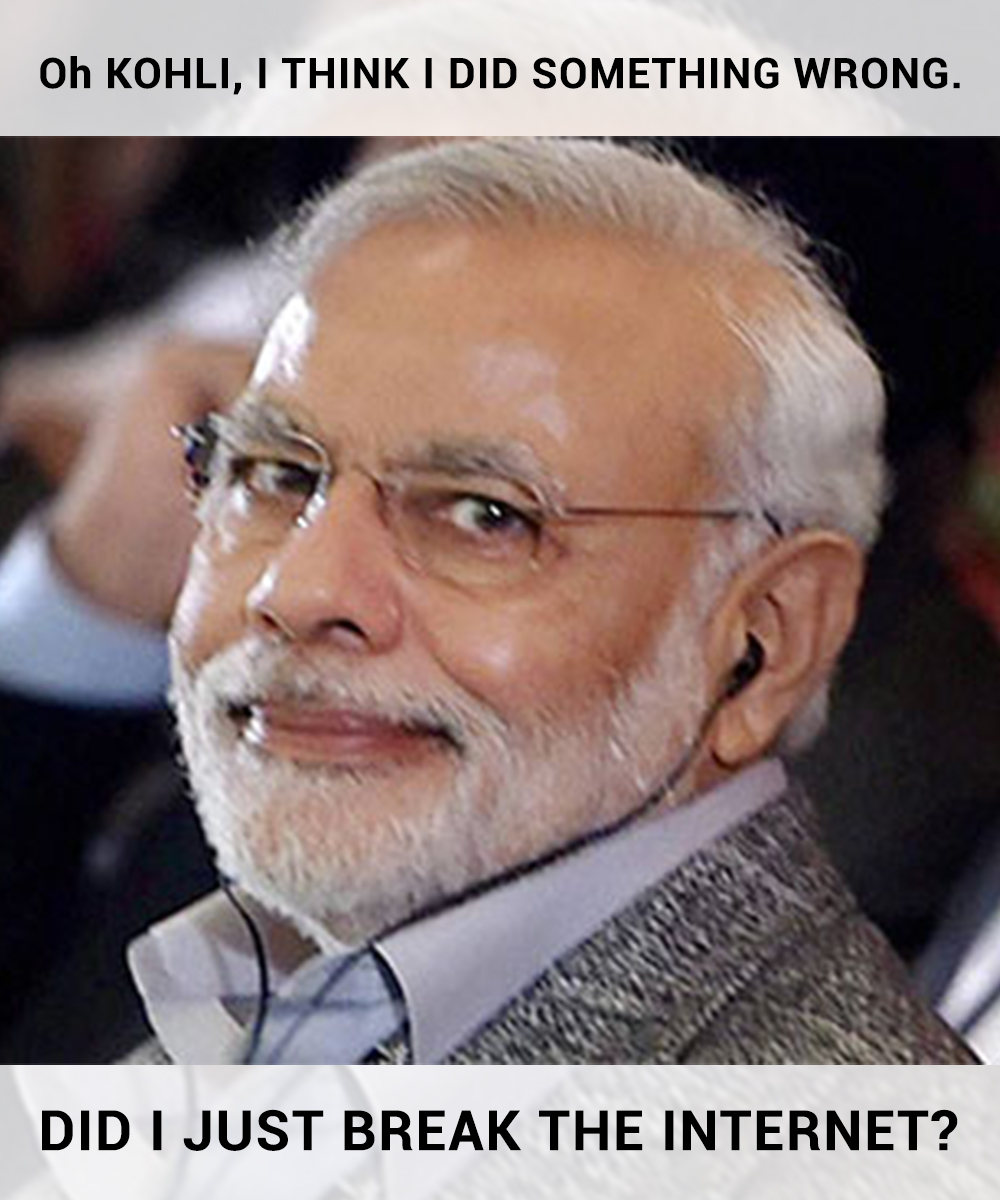 Following are some insane internet vines, trolls and memes that can make you roll on the floor laughing:
1.

2.

3.

4.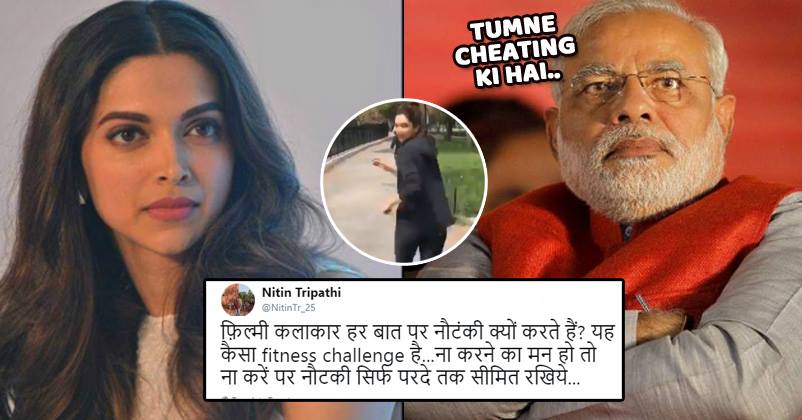 5.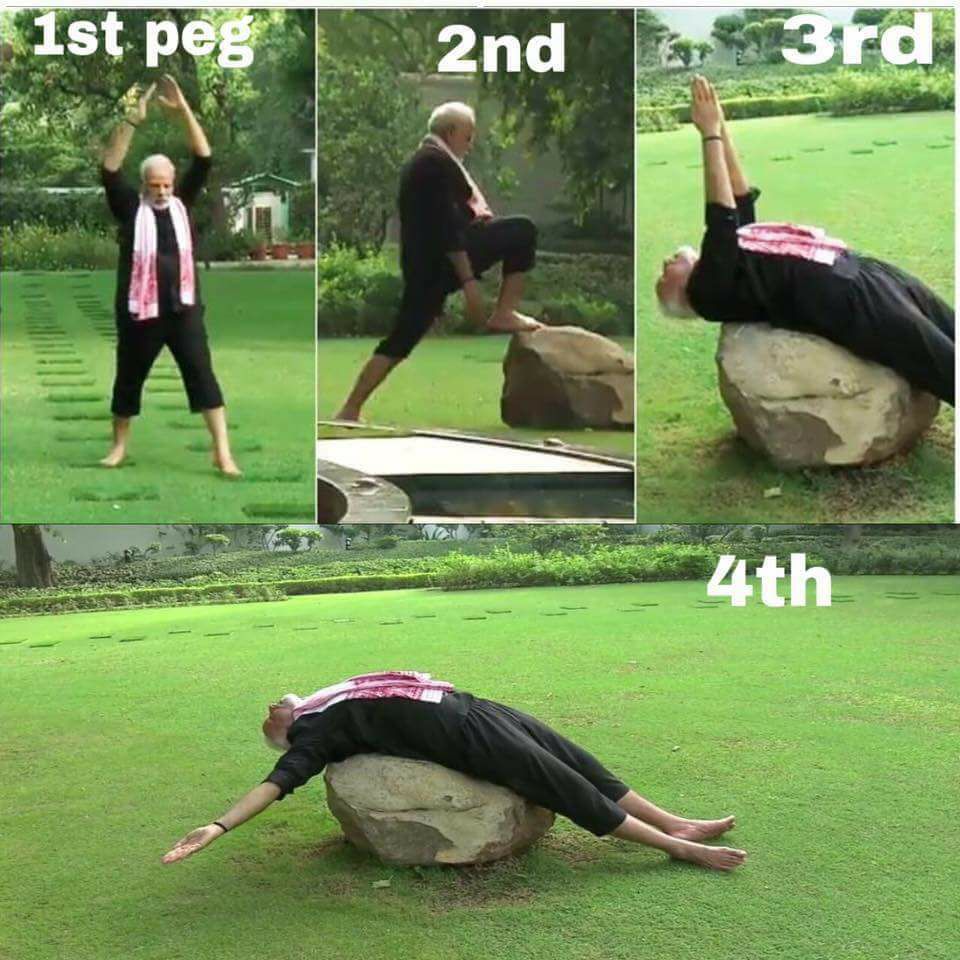 The campaign soon went viral when celebrities and popular athletes took up the challenge, urging the public to abandon an unhealthy lifestyle. Yet the question how can 29.1324 crores of it's population afford its nutrition and gain health in the income of 75 Rupees per day? in the period of Demonetization and inflation remains unanswered. Preferably, it gives birth to the quiz of questions which continues the hope of poor man as a hope with the universal fact, "The rich become richer and the poor become poorer".