'Hum-Tum' episode between PDP-BJP ends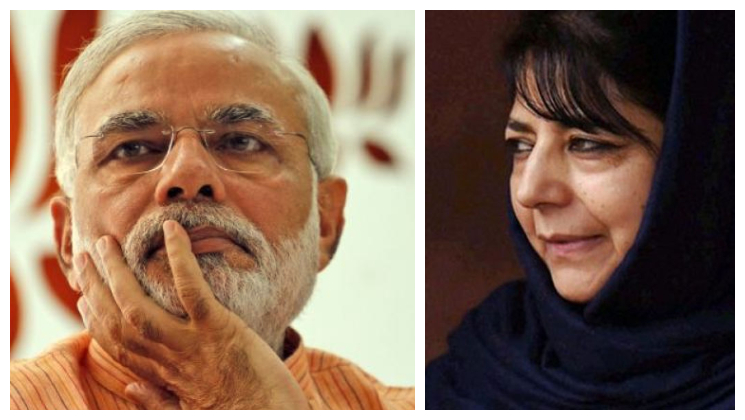 The 'Hum-Tum' episode between the two different ideological opponents – Bharatiya Janata Party and People's Democratic Party – started with roller coaster ride in 2015 in the valley, separated with just a 'Sayonara' on Tuesday. Calling the three-year-long coalition to an end, the saffron party said they want to walk alone.
The first question that comes to mind, why only after five days of Rising Kashmir Editor-in-Chief  Shujaat Bukhari's murder, the BJP broke the alliance? Why did they surprise PDP chief Mehbooba Mufti with something she was not expecting at all? Are they anyway inspired by Rabindra Nath Tagore – to walk alone the path? Or was it under the big plan of nation's largest party for the upcoming General Elections 2019?
Several issues are being analysed by the brainy citizens who are trying to pinpoint their ideas with pen and paper. Now, considering the cases of stone pelters, soldiers being murdered constantly and continuous cease fire violation by Pakistan in valley, the decision to roll back the support from Mehbooba Mufti's government is still like swimming in the fishy waters.
Reason being, these incidents have been on the rise since last three years and even before Mufti was CM. Kashmir had been boiling with incidents for the last 70 years, with each government at the Centre trying to mitigate peace. Be it Sheikh Abdullah, Mufti Mohammad Sayeed, Farooq Abdullah or Omar Abdullah or Mehbooba Mufti, Kashmir has suffered.
Is it because of Shujaat Bukhari's murder that inspired the nationalist Bharatiya Janata Party to part ways from Muftis or shall I call it an agenda politics of BJP? If it is an agenda politics, then it is clear that BJP do not want to associate with PDP anymore, who according to its Hindu allies – Shiv Sena and Rashtriya Swayamsewak Sangh – are opportunists and bear an 'anti-national' approach.
The popularity of BJP has diminished with time, especially when NaMo was a one man show for winning elections all across India for BJP. But now with good allies like Telegu Desam Party had parted ways, and Shiv Sena planning for it, BJP's decision to say 'Sayonara' to PDP is not a surprise to me. However amazed Mufti may be, she should acknowledge the fact the saffron front initiated for an alliance as they are the biggest opportunist, according to me.
Where ever they cannot form a government, what they do is either break it or form an alliance. It happened with Jammu and Kashmir, Nagaland, Goa, Bihar, Arunachal Pradesh, Tripura, Maharashtra and Meghalaya. Though in minority, BJP somehow formed the government, however their coalition broke with Andhra Pradesh in 2018 and they cut the string with PDP now in the valley.
Call it an eyewash, where Ram Madhav, BJP National Spokesperson, stating that since they had to respect the mandate of people, they formed the government with PDP; their respected leader Subramanian Swamy gives it a religious touch. According to Swamy the coalition could have continued had there been a 'Hindu' chief minister. Really? I mean what rubbish is going on?
At last, with all the confusions taking place in the PDP and BJP offices and their spokesperson commenting on something they also don't know, situations will certainly deteriorate in the valley. The repercussions of abrupt political decisions have not only irked the residents of Kashmir and but, political allies from other states too, which certainly have its consequences.
For Kashmir it had always been a 'Hum-Tum' episode, where for 'Hum' never meets 'Tum' and the separation is always saddening. But for now, Kashmiris' peace and prosperity is 'Ram Bharose'.