Hyderabad: Swami Paripoornananda joins BJP, calls himself 'karmyogi'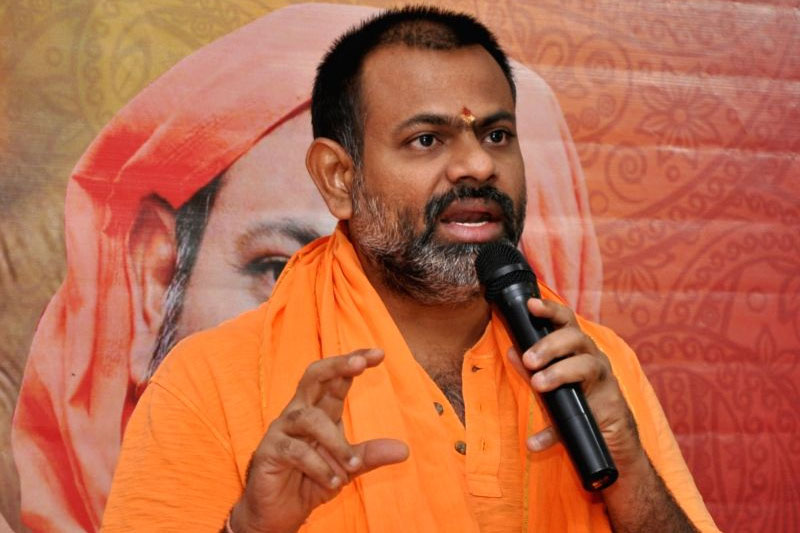 Ahead of the Assembly elections in Telangana, head of Sree Peetham Mutt Swami Paripoornananda joined Bharatiya Janata Party on Friday, in the presence of party president Amit Shah. Known for making controversial comments, Paripoornananda is a popular face in the two Telugu speaking states in India — Telangana and Andhra Pradesh.
Though nothing can be confirmed as of yet, but it is speculated that the priest might contest the Assembly elections or 2019 Lok Sabha elections from Telangana. Expressing his views on being welcomed to the party by Amit Shah and Ram Madhav, Paripoornananda said to the reporters, "I am happy to be part of this party…I am grateful to BJP president Amit Shah and Ram Madhav ji. I will follow them and work."
He also added that he will work as a 'karmyogi' (one who desires nothing for his work) for the party and the nation. Adding more he stated, "I will work 24*7. I need nothing because Telugu people have given me a lot. I come here as a karmachari (worker) and will remain a karmayogi."
Described as 'Yogi Adityanath of the south', Paripoornanand was banned from entering Hyderabad for six months in July for allegedly making provocative statements, however Hyderabad High Court suspended the ban in August.
Expressing his happiness over Paripoornanand joining BJP, Shah stated, "It is a day of joy for the BJP because Swami Paripoornananda has joined the party. He has contributed immensely in Andhra Pradesh, Telangana, Karnataka and all the southern states in the field of social work, religion and public awakening…Earlier his blessings were with us, now he is with us himself," adding, "We expect that his joining the party will benefit the BJP across the south, especially in Andhra Pradesh and Telangana. I believe his entry will energise the party in the Telangana elections and increase our chances of victory."
ALSO READ: Madhya Pradesh Assembly elections 2018: BJP unlikely to issue tickets to 70-80 MLAs