IAF chief Birender Singh Dhanoa supports Rafale deal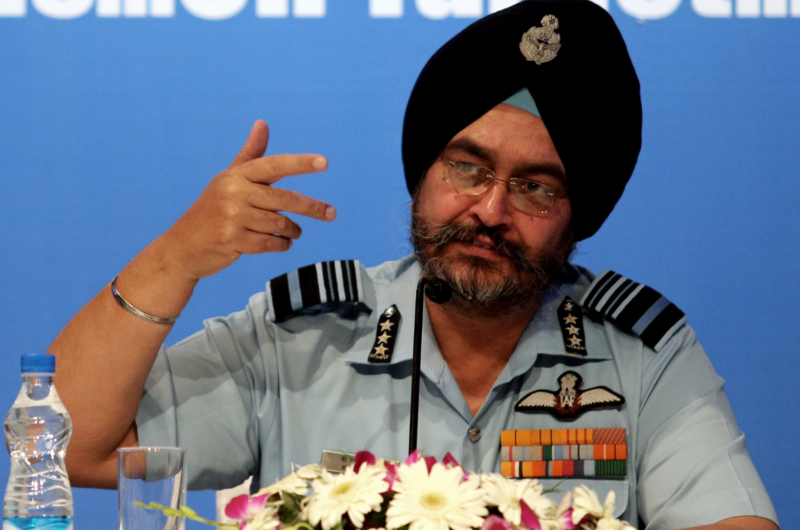 Indian Air Force (IAF) Air Chief Marshal Birender Singh Dhanoa on  Wednesday supported the Narendra Modi led government over the controversial Rafale fighters and Russian S-400 deals. He said that IAF needs to strengthen its fleet to match the neighbours who have been busy modernising their military at a rapid pace.
While commenting on IAF's force structure 2035 ACM Dhanoa said, India faces a grave threat to its security, which no other country in the world has to deal with. While he also supported the government's Rafale deal and S-400 missile calling it a step towards to enhance IAF's capability.
Dhanoa's comment comes at a time when all the opposition parties are taking digs at centre government over Rafale fighter and accusing the centre of compromising Indian national security to benefit a handful, industrialists.
He cited our neighbouring country's name and said, "Our neighbours are not sitting idle. China is modernising its air force significantly," said Dhanoa. He added that India's adversaries can change their intentions overnight and the defence forces "need to match force level of our adversaries".
IAF chief said, "By providing the Rafale and S-400, the government is strengthening the Indian Air Force to counter the shortfalls of our depleting numbers,… He also justified the procurement of two Rafale squadrons, adding that there are examples of similar purchases."
"What we do not have are the numbers, against a sanctioned strength of 42 squadrons, we are down to 31. Even when we do have 42 squadrons, we will be below the combined numbers of two of our regional adversaries," her further said.
According to the report, IAS still needs 42 squadrons to deal with two front war scenarios.  There are 11 squadrons of the frontline Sukhoi Su-30MKI, three each of the MiG-29 and Mirage 2000, six Jaguar and six MiG-21Bison squadrons apart from two upgraded MiG-27 squadrons.
The force has already  reportedly ordered three more Su-30MKI and two Dassault Rafale squadrons along with two squadrons of the indigenous Light Combat Aircraft Teja.
Indian Prime Minister during his visit to France on April 10, 2015 announced that India will purchase 36 Rafale jets in a government-to-government agreement. The Rs 58,000 crore deal was finalized in September 2016.
Also read: Rafale deal: Rahul Gandhi unaware of facts, says IAF deputy chief