If you are a Hindu, support Ram temple construction: Uma Bharti to Rahul Gandhi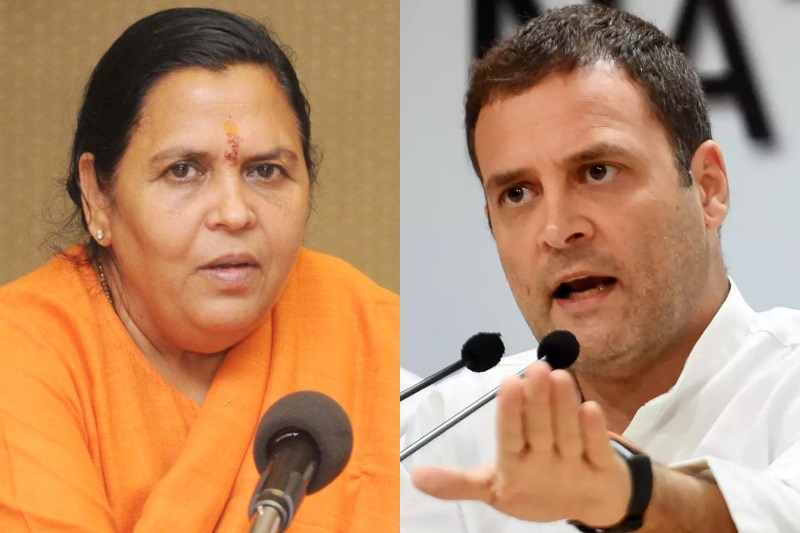 If you are a Hindu, support the construction of Ram temple. This is what Union Minister Uma Bharti has asked Congress president Rahul Gandhi to do to honour his "Brahmin" and "Hindu" credentials. Accusing Congress of being "obstructionist" in construction of the Ram temple in Ayodhya, Uma Bharti said Congress is trying to "disturb" the peace of the area for its vote bank politics.
"For the sake of his janeu — a sacred thread wear by Hindu Brahmins — and to honour his credentials, Rahul Gandhi must come forward and support the construction of a Ram temple in Ayodhya. He should convey to Prime Minister Narendra Modi that he will be in complete support of an ordinance (in Parliament) on this issue," Uma Bharti stated.
Congress has said that Rahul Gandhi is a "janeu-dhari Hindu" (A Hindu brahmin who wears a sacred thread). Also in November, a Pushkar priest revealed Rahul Gandhi's gotra as Dattatreya Kaul Brahmin.
With these developments coming to fore, Uma Bharti said she was hopeful that Congress will support the cause since it came clear "for the first time" and said that Congress president is "janeu-dhari" Hindu and a Dattaterya Kaul Brahmin.
"He (Rahul Gandhi) undertook a pilgrimage to Kailash Mansarovar. His party is saying he is a Lord Shiv devotee… if it really is the case, then he should support the construction of the temple (in Ayodhya)," Uma Bharti added.
According to her, the Ram temple construction is a nationalist work and in the matter she asked support from all leaders of the country. The list of leader she appealed to "support this noble cause" were Samajwadi Party president Akhilesh Yadav, Bahujan Samaj Party leader Mayawati, Trinamool Congress chief Mamata Banerjee and Communist Party of India (Marxist) General Secretary Sitaram Yechury.
Uma Bharti, a leading figure in the Ram Janmabhoomi movement, has said that the impasse is not about the land but about the faith. She said the issue of whether Ayodhya is the birthplace of Ram has been resolved long ago.
ALSO READ: BJP calls Rahul Gandhi's temple visit 'fancy dress Hinduism', asks Gotra