BJP calls Rahul Gandhi's temple visit 'fancy dress Hinduism', asks Gotra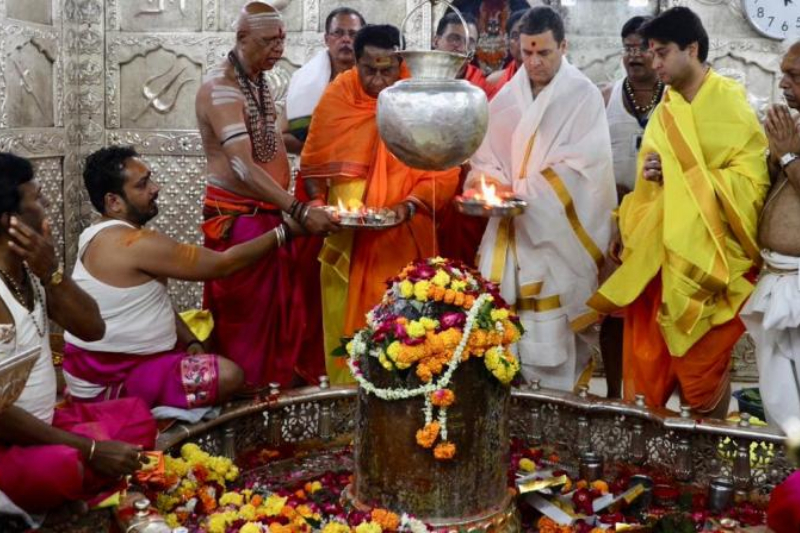 Bharatiya Janata Party (BJP) spokesperson Sambit Patra took a dig at Congress President Rahul Gandhi's Ujjain temple visit and asked, What' your Gotra?
Last year, ahead of Gujarat Assembly Election, Rahul Gandhi had paid a visit to Somnath temple. The Congress had called him a "janeu-dhari" (thread-wearing) Hindu — this in response to a controversy over a signature in a temple register.
The comment on Gandhi's Somnath temple visits were criticised by the ruling party, BJP as soft-Hindutva for votes.
Taking a dig at Gandhi's Mahakaleshwar temple visit in Indore, Sambit Patra questioned, "Rahul Gandhi wears a janeu (sacred thread). We want to ask him — he is going to Ujjain — what kind of 'Jenau Dhari' are you? What is your gotra."
Speaking in poll-bound state, Madhya Pradesh, where both the Congress and the BJP are aggressively campaigning for elections which is slated to be held on November 28.
Former Jammu and Kashmir chief minister Omar Abdullah tweeted, "I'd rather he was asked what his agenda is, what his plan for job creation is, what his plan for agriculture is, what his plan to combat inflation is but if all that matters is what his Gotra is, then God help us."
During Gujarat election campaign Rahul Gandhi had said, "Main Shiv ka bhakt hoon, sachaai mein believe karta hoon. BJP jo bhi bole main apni sachaai mein believe karta hu (I am a devotee of Shiv. The BJP may say anything, but I will remain honest.)"
In election season, there have been more controversial comments with religious undercurrents.
On Sunday, Congress leader Shashi Tharoor's comments that had the BJP fuming and demanding an apology from Rahul Gandhi. Tharoor had quoted the RSS source of a journalist and said that the leader had described Prime Minister Narendra Modi as a "Scorpion sitting on a Shiv Linga. You cannot remove him with your hand and you cannot hit it with a chappal [slipper] either."
The BJP today said that Congress president Rahul Gandhi is exhibiting 'fancy dress Hinduism' to make people fool and demanded action against Shashi Tharoor for his 'scorpion' remark against Prime Minister Narendra Modi.
Also read: Shashi Tharoor calls PM Modi 'Scorpion sitting on a Shivling'