IMD: Cyclone Formation Likely In Arabian Sea By May 16
IMD Issues Warning Of Cyclone, Heavy Rainfall, Tidal Wave On West Coast From May 13 to 15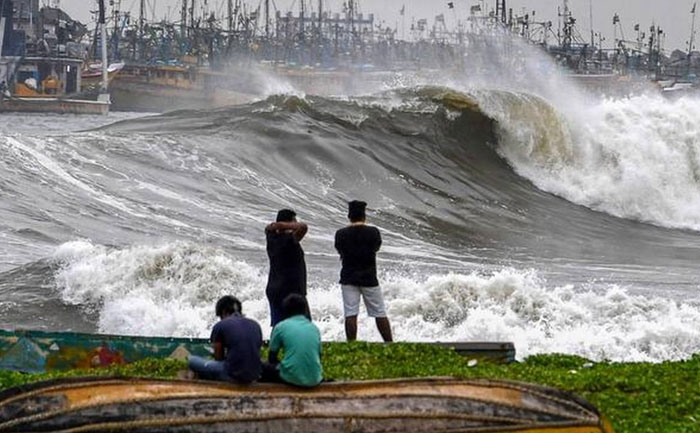 A low-pressure area is expected to form over the Arabian Sea around May 14. It is likely to intensify into a cyclonic storm around May 16. The India Meteorological Department (IMD) issued a warning on Tuesday. The Met department has also issued a warning of light to moderate rainfall over Lakshadweep, Kerala, Karnataka, and Tamil Nadu from Thursday onwards. It will be lasting till May 16.
As per a statement issued by the IMD, "A low-pressure area is very likely to form over the southeast Arabian Sea on the morning of May 14. It is likely to move north-northwestwards across this region adjoining Lakshadweep. It may intensify into a cyclonic storm around May 16."
They warned that rough sea conditions are expected to develop starting Thursday. Fishermen from these coastal states should avoid venturing into the sea from Friday. Those out in the sea have been urged to return to safety by Wednesday night.
Vineet Kumar Singh, a scientist at the Indian Institute of Tropical Meteorology says, "Studies have highlighted that pre-monsoon cyclones in the Arabian Sea are increasing. There is a possibility that this cyclone will be more intense than Cyclone Nisarga."
The MET Department also warned that the sea conditions will be rough along the coasts of Goa and Maharashtra on May 15. Squally winds gusting to 60 km/hour will lash Lakshadweep and Maldives from Thursday onwards. Coasts off Kerala, Goa, Karnataka, and Maharashtra will also experience similar gale wind till Sunday.
Also Read: Cyclone Burevi Causes Heavy Rainfall In Tamil Nadu And Kerala-View