Would Imran Khan's popularity in India be a boon or curse?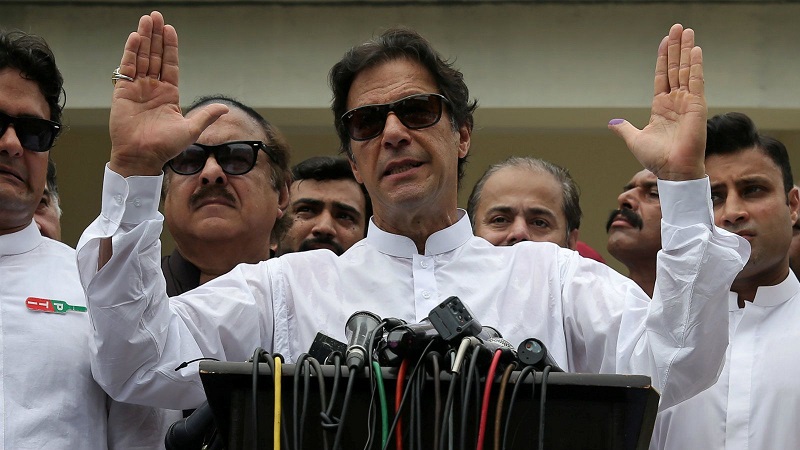 The prospect of Imran Khan taking over as the Pakistan Prime Minister has brought both bouquets and brickbats for him from the Indian media and public as well. It's true, he is a preferred personality than Nawaz Sharif or a Bilawal Bhutto Zardari, at least to the Indians. Largely due to his popularity among the Indian girls, it is time for many middle-aged women to celebrate, albeit with a note of caution and a sense of apprehension.
Celebration is for their hero to be the most powerful person in the neighbouring country while the caution is solely for the reason that it's Pakistan. There have been hardly any occasions when Indians cheered for Pakistanis. A handful of such incidents took place primarily because of two Pakistani sportsmen – Imran Khan and Wasim Akram. With Akram also past his prime, the Pakistani team is not a darling for the Indian women any more.
As a kid in 1980s I have seen how even our mothers, with very little knowledge of the game, were undecided on whom to support – India or Pakistan. Household fights during Indo-Pak matches were a common sight. Though the fights comprised mostly banters, still Pakistan got their share of support and only during the match days Pakistan were no longer the enemy, but a 'bunch of handsome dudes playing against us'.
In those days, however, supporting a particular player from the opposition – even as hated as Pakistan – wasn't considered as anti-national or unpatriotic. Times have changed and so are the likings. Now, people are apprehensive about supporting a foreign side, leave aside Pakistan particularly because of the current practice of Hindutva and hatred.
The sporting and the entertainment world never gave much importance to the nationality or patriotism. For example, one Diego Maradona with his mesmerising left foot, divided the entire nation of Italy in the 1990 FIFA World Cup. Many Italians backed the legend for his second World Cup title, which the Argentine missed by a proverbial whisker. Mind it, no eyebrows were raised in Italy and none lambasted people who supported Argentina and not their native country.
Not only Indian women, Imran had a great fan following in the much-hyped Bollywood too. Zeenat Aman, Moonmoon Sen and many other heartthrobs were seen hobnobbing with the former Pakistan skipper during his heydays. Rumour mills even went abuzz with Imran's affairs with several Bollywood actresses, but eventually nothing concrete was made out and those still remain unverified.
Even beyond Imran, India had a lot of Pakistani fans thanks to the emergence of another prince and Sultan of swing Wasim Akram and later to some extent Shahid Afridi. Not fully for their playing abilities, but more for their looks and mannerisms. Abilities as cricketers were seen as secondary by most of the women in seventies and eighties whereas looks mattered more.
But as far as politics is concerned, Imran becoming the Prime Minister of Pakistan may or may not be helpful to India. It may be even worse for our motherland with the spate of terrorism sponsored by Pakistan on the Line of Control. Moreover, it remains to be seen how powerful Imran can become in a terror-ravaged country basically ruled by the whims and fancies of their military force.
But there's one hope. At least, if Imran's speech is anything to go by, where he categorically said that military entering the valley of Kashmir is itself a violation of human rights. He must know that his predecessors – from Parvez Musharraf to Nawaz Sharif were serial offenders in this violation over the decades.
Now, only time will tell whether Imran would be successful in keeping his popularity intact in India, not as a cricketer, but as a top diplomat or will he be as hated as his predecessors.