'Saheb Biwi Aur Ganster 3' Movie Review: This time the gangster is in love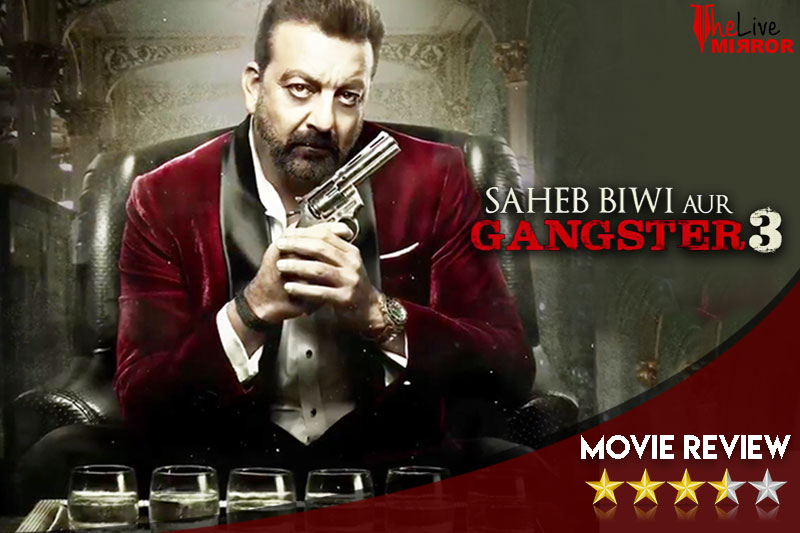 Directed By: Tigmanshu Dhulia
Produced By: Rahul Mittra
Cast: Sanjay Dutt,  Chitrangda Singh, Mahi Gill, Jimmy Shergill, Soha Ali Khan
Duration: 2h 20m
TLM  Rating: 2.5 stars
The third sequence of the film Saheb Biwi aur Gangster which is an Indian action film, to be specific it's the royal saga based upon deceit, conspiracy, greed and lust. The series was started by Tigmanshu Dhulia back in the year 2011. Well, the third installment, 'Saheb Biwi Gangster 3' is not much different than the previous series.
The outline of the story is that there is a Saheb (Jimmy Shergill) and Biwi (Mahie Gill) continues with an addition Uday Pratap Singh (Sanjay Dutt) and his royal Rajwada family. Rani Madhavi aka Biwi who is unhappy with her marriage starts planning to kill him, this is third time when the wife is not happy with marriage.
Now the whole plot is whether the Biwi is successful in her plan and right now we can't reveal the answer to this question but point to be consider the most is whether director is successful in delivering and maintaining suspense of plot.
Let's start with the Plot:
Honestly there is nothing innovative about the plot. But the movie is started on a very strong note featuring the man himself, Sanjay Dutt (Uday Pratap Singh), but later on loses it's track as the time passes.
Well, the first part of this saga revolves around Saheb who is apparently paying for his own sins behind the bars due to his beloved Biwi aka Madhavi. While, Saheb gets through a bail for a reason, there enters Uday Pratap Singh. Uday Pratap is well settled in London, but unhappy with his married life.
However, this Rajwadi man has a girlfriend out in India, Suhani (Chitrangda Singh) waiting for him. Uday and Saheb's life seems sorted until the moment they meet via Saheb's Biwi.
Cut to the next part; the main game begins when Biwi plots to kill her Saheb, whereas Uday's family plans to play the same card with him. Do Uday Pratap and Saheb both have a sad end, or do they get a new start to their lives, is for you to see in the theatres.
Now let's discuss the actor's performances:
We are happy to see Sanjay Dutt on screen after so long, who is playing the role of Uday Pratap Singh. Nevertheless, Deepak Tijori and Kabir Bedi, who play Dutt's brother and father respectively failed to make their appearance to be remembered by the audience.
Where as , Jimmy Shergill and Mahie Gill were successful leaving audience bewilder with their onscreen performance which really received spectacular by the audience.  The sizzling Chitranda saves the grace with her pretty face and equally good acting skills. Soha Ali Khan who has a special appearance in the film, is tipsy and makes us feel drowsy too.
Though rest all does not require the special attention but the chemistry between Chitrand and Sanju Baba  goes adorable and cute.
The technicalities of the film ie Direction and Cinematography: 
The crime drama is plotted by Tigmanshu Dhulia in real life. But it's sad that the director did not embedded a mark this time instead the story became too boring after some point.  Amalendu Chaudhary, the lensman of Dutt's drama, manages to keep us intact with brilliant mood of the scenes but again  that applies to certain scenes and not through the film.
Do you get attracted to the melody? 
The background score has been plotted well through edit as Dutt delivers some main stream punches through his trade mark style of delivery,  on which a 'Baba theme song' is dedicated. Meanwhile, 'Lag Ja Gale' by Rana Mazumder, is beautiful and soothing. 'Kesariya Jugni' is a Rajasthani spin on the song Jugni from its previous installments. On a whole, SBG 3's music is A one.
What's Good
Music
Chemistry between Sanjay Dutt and Chitrangda Singh
Mahie Gill's strong act
What's Bad
A stretched storyline
Cliche script
No X factor
Final Verdict
'Saheb Biwi Aur Gangster 3′ isn't a tale of bloodshed; but love, greed and pride and everything in between. While I did find the third part of Tigmanshu Dhulia's crime drama a tad bit boring, but if you are the one who adores getting glued to a typical tale, it is a must watch for you.
Also Read: Dhadak Movie Review- Debutantes Ishaan and Janhvi steal the show with their innocence
Watch Trailer here: