India gifts another patrol aircraft to Seychelles, talks of mutual warfare initiate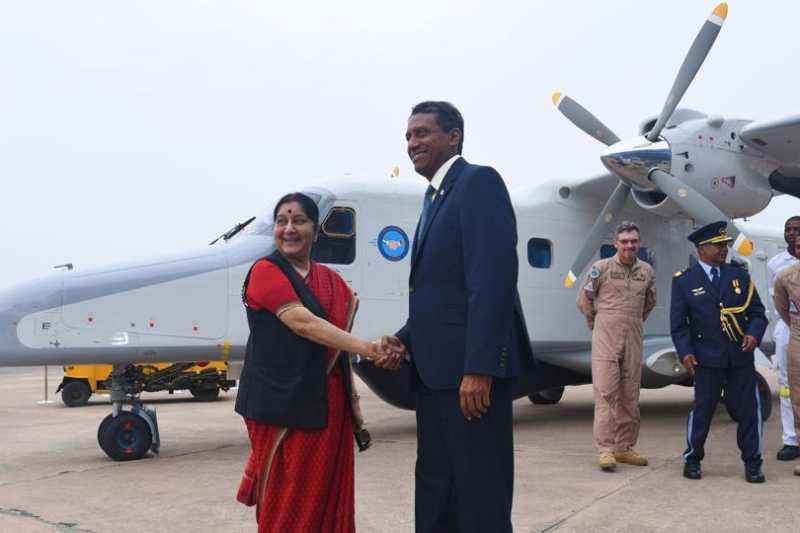 India on Tuesday gifted a second Dornier aircraft to the Seychelles to help it enhance maritime reconnaissance and maintain security in that part of the Indian Ocean region. "This aircraft will give a quantum enhancement in maritime reconnaissance and contribute towards keeping the vast EEZ (Exclusive Economic Zone) of Seychelles free from maritime threats," External Affairs Minister Sushma Swaraj said while handing over the aircraft to visiting Seychelles President Danny Faure here.
During his visit to the Seychelles in March 2015, Prime Minister Narendra Modi announced the gifting of a second Dornier aircraft to enhance the surveillance capability of the Indian Ocean archipelago nation in tackling maritime threats. Stating that as maritime neighbours, India and the Seychelles were committed to securing the oceanic space around them for sustained development, Sushma Swaraj said: "Securing our seas will ultimately lead to creating a peaceful environment for the progress and prosperity of our two countries and peoples.
"It forms part of our SAGAR vision articulated by our Prime Minister — an acronym that denotes Security and Growth for All in the Region." Describing India and the East African nation as "strong security partners", Sushma Swaraj said that Indian naval ships were regularly deployed to undertake patrolling of the extensive EEZ of that country. "India also remains committed to support Seychelles through capacity building, especially in the field of maritime security," she said. The gifting of the aircraft came even as President Faure failed to ratify in his country's Parliament an agreement signed during Modi's 2015 visit for jointly developing a naval base in the Seychelles' remote Assumption Island.
Also Read: Sushma Swaraj finds herself in a spot
The opposition in Seychelles is against the pact on concerns about sovereignty. During a bilateral meeting between Modi and Faure here on Monday, both sides agreed to work on the Assumption Island project keeping each other's interests in mind as New Delhi promised a $100 million line of credit to Seychelles to strengthen its defence capabilities.
"On the issue of Assumption Island, we are ready to work together on the basis of each other's interests," Modi said in a joint address to the media with Faure after the meeting. Faure is on his first bilateral visit to India at the invitation of President Ram Nath Kovind. He visited Ahmedabad and Goa before landing in Delhi and will also visit Uttarakhand.