India-Russia joint air exercise 'AviaIndra 2018′ concludes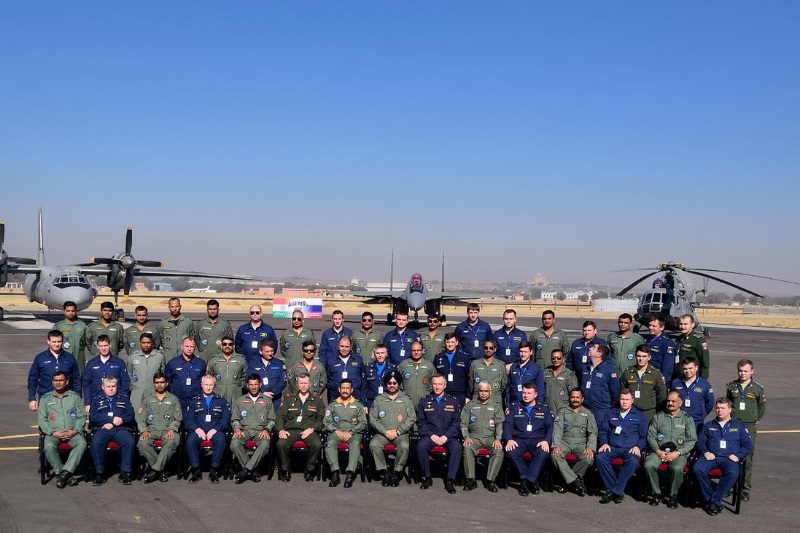 India-Russia joint air exercise 'AviaIndra 2018′, which was undertaken in Rajasthan's Jodhpur concluded on Wednesday.
The joint exercise was aimed to enhance mutual cooperation & understanding between the Indian Air Force (IAF) and the Russian Federation Aerospace Force (RFASF) while flying missions in fighter, transport and helicopters of Russian origin. The exercise was also focused on anti-terrorists operation in a bilateral scenario.
Initially, the RFASF delegation was given a detailed briefing on flying operations in the IAF, with special emphasis on procedures followed to enhance Aerospace Safety. In the meantime, RFASF team along with IAF participants conducted joint briefings on the flying operations planned during the exercise.
While the RFASF delegation was led by Lt General Lurii Sushkov, the Indian Air Force contingent was led by Air Marshal HS Arora.
It is worth recalling that in parallel with the Aviaindra 2018 exercise in India, Russian-Indian naval exercises are also taking place. Interestingly, the first phase of the exercise was conducted in Lipetsk, Russia from September 17 to 28.
Also Read: Maritime exercise INDRA NAVY-2018 between India and Russia concludes