India successfully test fires BrahMos supersonic missile from INS Chennai
India successfully tested BrahMos supersonic missile from destroyer INS Chennai in Arabian Sea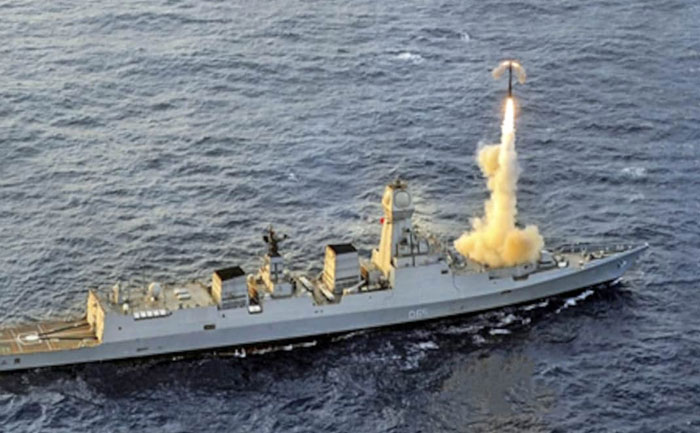 India has successfully tested BrahMos supersonic missile on Sunday. The Defence Research and Development Organisation (DRDO) carried out the successful test from Indian Navy's stealth destroyer INS Chennai. The missile hit the pre-designated target in the Arabian Sea successfully with pinpoint accuracy.
DRDO tweeted,
BRAHMOS, the supersonic cruise missile was successfully test fired today on 18th October 2020 from Indian Navy's indigenously-built stealth destroyer
INS Chennai, hitting a target in the Arabian Sea. The missile hit the target successfully with pin-point accuracy.

— DRDO (@DRDO_India) October 18, 2020
DRDO said, "The missile hit the target with pinpoint accuracy after performing high-level and extremely complex manoeuvres. BrahMos as prime strike weapon will ensure the warship's invincibility by engaging naval surface targets at long ranges, thus making the destroyer another lethal platform of Indian Navy."
Defence Minister Rajnath Singh congratulated DRDO, BrahMos and Indian Navy for the successful launch.
The highly versatile BrahMos has been jointly designed, developed and produced by India and Russia. The missile has a top speed of Mach 2.8, nearly three times the speed of sound. Brahmos can be launched from air, land and water.
Not only the navy but the Indian Air Force has also fitted the Su30 MKI with Brahmos to enhance its capabilities. So has the Army.
India is strengthening its defence and has test-fired a string of weapons during the last two months. Other weapons recently tested by India include a nuclear-capable hypersonic Shaurya missile with a range of 750 km and the anti-radiation missile to take down enemy radars and surveillance systems.
Also Read: BrahMos engineer arrested for spying in missile centre