India Wants to #BoycottChineseProducts After China's THIS decision
Twitterati wants to #BoycottChina after India's attempt to list Pakistan-based Jaish-e-Mohammed's chief Masood Azhar as a "global terrorist" by the UN Security Council.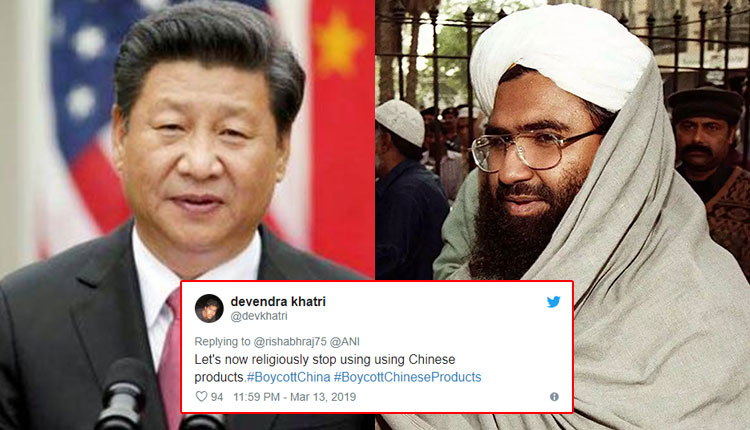 India's attempt to designate Pakistan based Jaish-e-Mohammed Chief Masood Azhar as 'global terrorist' by UN Security Council has once again failed as our neighbouring country China has blocked the resolution by putting it on a technical hold on March 13. India has long been trying to get Masood Azhar listed on 'Global terrorist' but China does not seem to get this done.
The development comes exactly a month after Pulwama terror attack which left more than 40 CRPF Jawans killed in Jammu and Kashmir. It is to be noted that the responsibility of the attack was claimed by Jaish-e- Mohammed. Following the deadliest attack, The  UK, US and France had come forward to get Azhar booked under the 1267 Al Qaeda Sanctions Committee of the UN Security Council on February 27th.
Notably, this is not the first time when China has blocked the resolution against Azhar. This was the fourth time when China did the same since 2009. In a statement, the ministry of external affairs called China's move disappointed.
Soon after China blocked the resolution, Indian people started hashtag #BoycottChina and #BoycottChineseProducts began trending on Indian Twitter. There are people on Twitter urged all countrymen to stop buying the product while several wrote that Is this enough to trend hashtag on Twitter or should BJP government come forward and say that government will launch diplomatic offensive or military action against China or suspend trade for supporting terrorism?
This is Twitteratis reacted on China's move:
We should not use Oppo, Vivo, Realme, Apple, Samsung smartphones and tablets. Hit China hard. #BoycottChineseProducts @oppo @realmemobiles @Vivo_India Xiaomi can be used because they are manufacturing in India

— Sukhroo (@sukhroo) March 14, 2019
By buying Chinese product we r doing biggest mistake of our life so#BoycottChina#BoycottChineseProducts#BoycottChineseGoods pic.twitter.com/qYuJQsmp5C

— Virat Kohli (@Tweetskohli) March 14, 2019
Let's now religiously stop using using Chinese products.#BoycottChina #BoycottChineseProducts

— devendra khatri (@devkhatri) March 13, 2019
It's all biased situation that China will block Indians move in UNSC for banning masood so all Indians must boycott entire Chinese products its the only way to teach them #BoycottChina #BoycottChineseProducts pic.twitter.com/FWDpS1k7pT

— Divakar R Divu (@r_divu) March 14, 2019
China supporting terrorism again…
Indian JANTA doesn't need more explanation than this to #BoycottChina and #BoycottChineseProducts pic.twitter.com/ZYUaNStXxb

— Sanghati dutta (@Sanghati6) March 14, 2019
?
EVERY TIME U BUY a CHINA PRODUCT?

⤵U r Demeaning d Soldier who laid dwn hs LIFE 4 U

⤵U r SupportingTERROR
coz moneyU Pay China is investd in2 PAK,who sends Terrorists 2Kill us&Our Soldiers

SO
IF U❤IND
IF U Respect OurJawans#BoycottChineseProducts ?#ThursdayThoughts pic.twitter.com/cpSv2xhUfE

— Empress? (@iempress_1) March 14, 2019
Anyone from BJP has guts to say that government will launch diplomatic offensive or military action against China or suspend trade for supporting terrorism? #BlockChina trend krne se Kya hoga?

— Aadil Ikram (@Aadil_Ikram) March 14, 2019