International Yoga Day 2018: PM Modi Inspires The Nation By Performing Asanas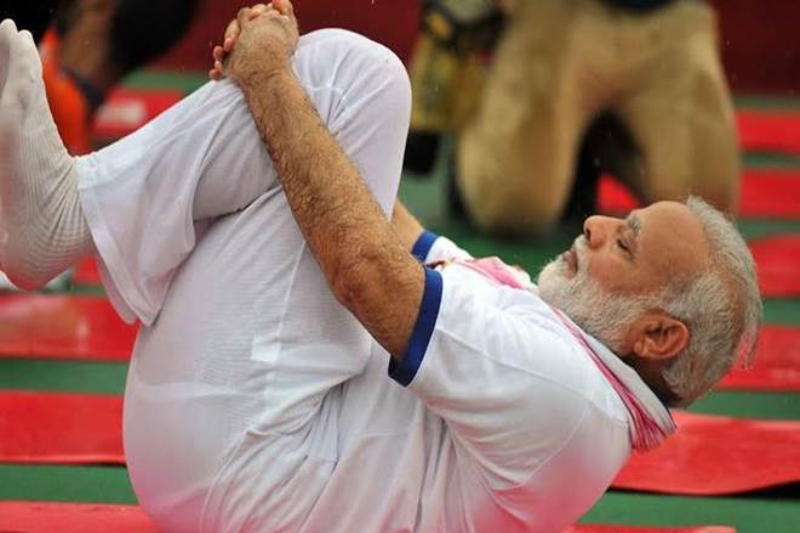 Yoga Day, is celebrated annually on 21st June every year since its birth in 2015. Though the idea of celebrating Yoga Day was suggested by our current Prime Minister Mr. Narendra Modi at the United Nation General Assembly.
Recognizing the strength of Yoga as a physical, mental and spiritual practice originated in Bharat. United Nations General Assembly declared international day for yoga back in 2015 as mentioned earlier.
Yoga is an invaluable gift of India's ancient tradition. The first International Day of Yoga was observed all over the world on 21 June 2015. The Ministry of AYUSH made the necessary arrangements in India. 35,985 people, including Narendra Modi and a large number of dignitaries from 84 nations, performed 21 yoga asanas for 35 minutes at Rajpath in New Delhi.
Coming to 2018, PM Modi led an estimated 50, 000 volunteers to mark the fourth anniversary of International Yoga Day. Vice President M Venkaiah Naidu along with several Union Ministers are also to host part of similar events across the country. PM Modi said that Yoga acted as a force in unifying the world and also performed various asanas as part of the celebrations.
The Dehradun event is being held at the Forest Research Institute, which has been neat and security across Dehradun tightened. PM Modi was welcomed at the Dehradun airport by Uttarakhand Governor Krishna Kant Paul, Chief Minister TS Rawat and other leaders and officials.
Union ministers Rajnath Singh, Nitin Gadkari, Suresh Prabhu, Uma Bharti, Ram Vilas Paswan, Ravi Shankar Prasad will take part in yoga events in Lucknow, Nagpur, Chennai, Rudraprayag, Hajipur and Patna respectively.
Vice-President M Venkaiah Naidu will be present in Mumbai at a yoga event organized by a non-profit run by BJP's Mumbai unit chief Ashish Shelar. Maharashtra Chief Minister Devendra Fadnavis will also be present on the occasion.
In Delhi, more than 10,000 people are expected to join Union Minister M Venkaiah Naidu, Delhi Lieutenant Government Anil Baijal and Delhi Chief Minister Arvind Kejriwal to perform yoga on International Day of Yoga in the National Capital Region.
Let's see the updates from all over the nation on the occasion of International Yoga Day 2018:
Reached Dehradun a short while back. Looking forward to the Yoga Day programme tomorrow morning at the iconic FRI campus at 6:30 AM. Here is a picture from the venue. pic.twitter.com/IfU6J1CrrG

— Narendra Modi (@narendramodi) June 20, 2018
Angamardana, a powerful process of #Yoga to strengthen one's sinews which has kept me intact through the various rigours of life. Being fit for life means hardness in the body, sharpness in the mind and softness in the heart.-Sg @Ra_THORe @GautamGambhir #FitnessChallenge #IDY2018 pic.twitter.com/VktIkIAgqI

— Sadhguru (@SadhguruJV) June 20, 2018
#YogainKota with 2 lakh Yogis along with CM @VasundharaBJP and @Ach_Balkrishna for the 4th #InternationalDayofYoga pic.twitter.com/ipQYz4DCVX

— Swami Ramdev (@yogrishiramdev) June 21, 2018
भारत में "योग" युगों से शरीर, मन और आत्मा को साध कर एक स्वस्थ जीवन जीने का मार्ग दिखा रहा है। मोदी सरकार के अथक प्रयासों से आज योग सम्पूर्ण विश्व को भी निरोगी जीवन जीने के लिए प्रेरित कर रहा है। pic.twitter.com/97JYH1kJ3e

— Amit Shah (@AmitShah) June 21, 2018