World Cup 2018: Costa labours Spain to 1-0 victory over Iran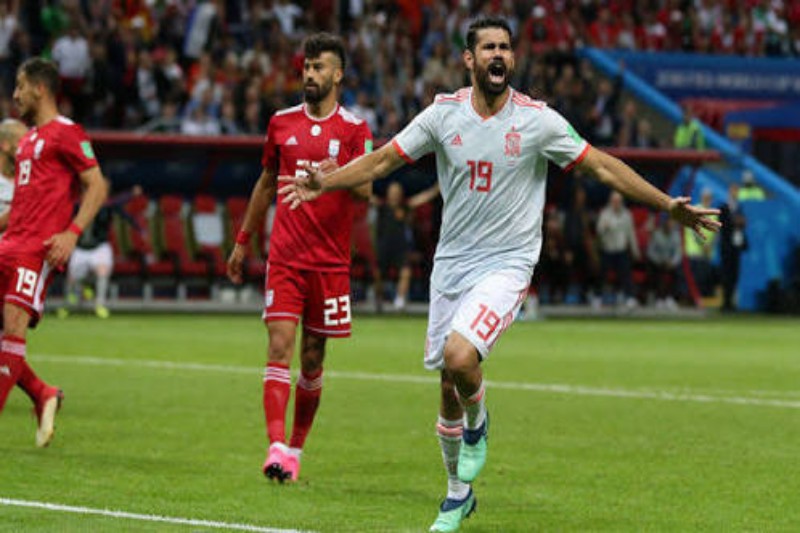 Diego Costa scored the winner as Spain trumped a highly defensive Iran, getting off to a lovely start before closing the game with a sneaky move at the Kazan Arena on Wednesday. It was 'La Roja's' maiden victory in this World Cup and should set the pace for the remainder of their campaign.
After a jaw-dropping 3-3 draw against Portugal, it was always a guarantee that Iran were going to defend deep and they did it with much accuracy, allowing Spain little or no space in the attacking third. It worked at least for the first 54 minutes, as the former champions found it difficult to establish themselves against a disciplined 'Team Melli' before eventually breaking the resistance.
Andres Iniesta slid in a through ball for Costa in the 54th minute who turned the first defender but was soon crowded out, before Ramin Razaeian's clearance ricocheted the ball off the Atletico Madrid star's shin into the net. Spain had taken the lead and although Iran celebrated an equaliser six minutes later, goal scorer Saeid Ezatolahi was ruled off-side by VAR.
It wasn't their only chance on the night and just like their superior opponents, Iran were wasteful coming closest in the 82nd minute when Mehdi Taremi's header sailed above the bar. They finished with zero shots on target after seeing only 22% of the ball and although many would say it was a contest heavily dominated by the Spaniards, it was Iran's defence that impressed the most.
Alsoread: https://www.thelivemirror.com/sports/world-cup-2018-suarezs-strike-pushes-uruguay-into-knockouts/
They completed just 49 successful passes in the opening-half, the lowest by any side in a World Cup game bettering their own record of 47 against Argentina, four years ago.
But Iran did not give up and although Spain concealed them inside their own 12-yard-box, not for a second did Carlos Quieroz's men looked out of sorts. As a result despite having over 80% possession, La Roja could muster one shot on target in the opening-half that increased to just five in the latter.
David Silva had some of Spain's best chances to score but most of his shots were blocked as were those of Sergio Ramos, Iniesta and Isco, all of whom were on prime positions to score but lacked the final product. Costa in contrast, now has three goals from three shots on target, adding one more to his tally after his brace against Portugal. He follows Cristiano Ronaldo  and Denis Chertsey in the race for Golden boot.
Alsoread: https://www.thelivemirror.com/sports/world-cup-2018-ronaldo-heads-portugal-1-0-win-morocco-becomes-europes-highest-goal-scorer
Iran though still have an opportunity to make it through to the knockout stages if they somehow manage to beat Portugal next Monday. Spain on the other hand, need a draw against Morocco-who suffered a 0-1 defeat again the European champions earlier on the day-to make it to the next round.