Tripura CM Biplab Deb does it again, claims ducks raise oxygen level in waterbodies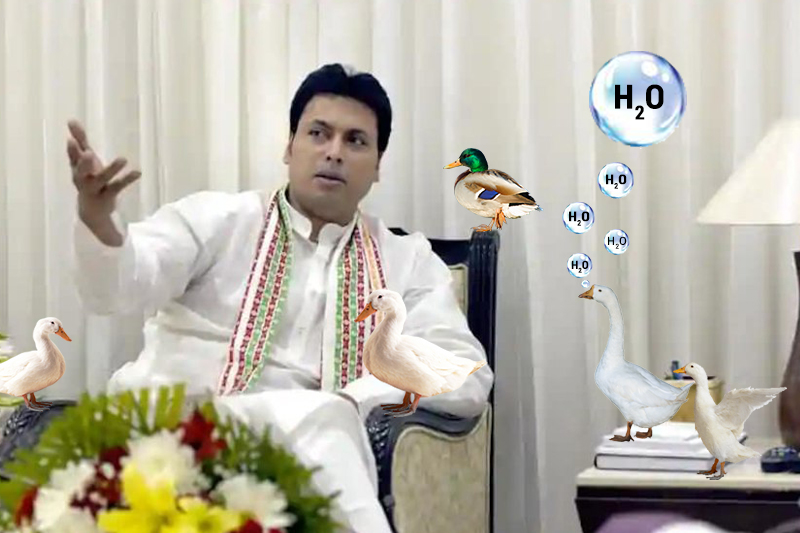 In what appears to be a hattrick of sorts in making unscientific claims, Tripura Chief Minister Biplab Deb has now credited ducks with the ability to recycle oxygen in water. This statement was made during a traditional boat racing event at Rudrasagar Lake on Monday evening.
Deb explained his claim by saying that ducks can raise oxygen in the waterbody by swimming in it and that their droppings help in increasing the population of fish. "When ducks swim in water, oxygen level automatically increases in the waterbody. It (oxygen) gets recycled. Fish in the water will get more oxygen. They also benefit from the bird droppings. Thus, pisciculture will benefit and fishes will grow faster, that too in a completely organic way," he said.
He has also announced his plans to distribute 50,000 ducklings to fishermen living nearby the lake as well as to those living near scenic waterbodies in order to encourage tourism and improve rural economy. "You don't need to have land for rearing ducks. The government will distribute white ducklings to you. Rear them in Rudrasagar. It will be a great attraction to see thousands of white ducks swimming in the lake", reported The Indian Express.
He added that if every family rears at least five ducks, it will help in additional protein and vitamin supplement for children. "Rearing ducks and hens were part of our rural culture. This culture was destroyed over the last 25 years," said the CM. He even blamed the CPM for ruining rural culture of rearing hens and ducks as the party would allegedly force people to come to their rallies than work on the poultry farms.
Meanwhile academicians have rejected the claim about ducks being able to generate oxygen in water. Calling the comment unscientific, retired Zoology professor Prakash Roy Choudhury said that oxygen can be enhanced in water through machines, but ducks do not have that ability, or the ability to increase fish population.
Deb's comment received flak from spokespersons across parties. According to Firstpost, Tripura Pradesh Congress' Tapas Dey deemed it was irresponsible of the CM for making a statement which is related to income generation of thousands without using scientific basis.
CPM state secretary Bijan Dhar refused to comment on the issue.
But the Tripura CM received support from fellow party men. As per a TOI report, a BJP committee member, referring a Food & Agricultural Organisation report tried to validate Deb's claims. He said, "Ducks aerate water while swimming. That is why they are called biological aerators. So, the intention of CM is not wrong."
The report also quoted a Zoology professor who said that ducks helped in 'nominal' amount of dissolution of oxygen in water.
Deb had earlier said that Gautam Buddha had walked across the sea to Japan and that Indians in the Maharabharata age had access to internet and artificial satellites.
#WATCH 'Aaj maine ghoshna ki hai 50,000 desi hans (ducks) aas pass ke logon ko de diye https://t.co/JnlsyO3SZd jalasai(Neermahal Lake) mein jab 50,000 safed ducks ghumegi toh kitna sundar lagegi aur use oxygen bhi recycle hoti hai' says Tripura CM Biplab Deb (27.8.18) pic.twitter.com/1pLzb5dsHi

— ANI (@ANI) August 28, 2018
Also Read: BJP lawmaker Nishikant Dubey: I do fear hugging Rahul Gandhi, my wife might divorce me after that