Irrfan's wife Sutapa Sikdar pens emotional poem for Babil, see post
On Thursday, Irrfan's wife Sutapa Sikdar penned an emotional note for 'kadak launda' Babil Khan.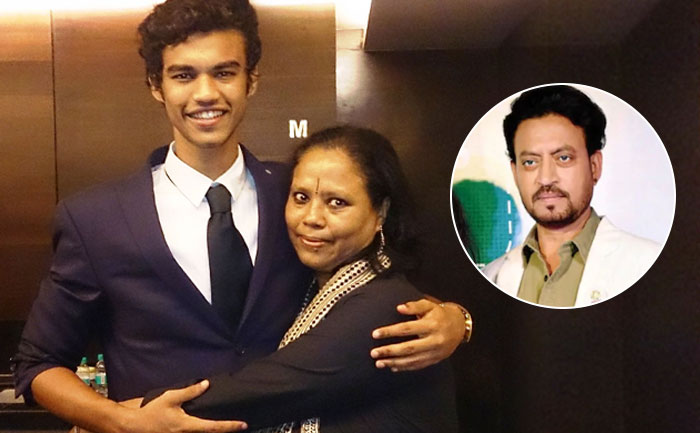 On Thursday, Sutapa Sikdar, wife of late Bollywood actor Irrfan Khan took to her Instagram handle and penned an emotional and long poem for her son Babil Khan who recently broke into tears while accepting two awards at the Filmfare.
In her poem, Sutapa called her son 'kadak lauda.' Sharing a photo of Babil breaking down at Filmfare Awards, she captioned it as: "मेरा बेटा
बड़ा कड़क लौंडा है वो
चुप चुप के नही सबके सामने ज़ार ज़ार रोता है वो
बड़ा कड़क लौंडा है
बाप के यादों को समेटता है नाज़ुक उँगलियों से
बिखेरता है उन्हें ख़ुशबू कि तरह
सहेजता है उन्हें बंद डायरी में
बड़ा सख्त लौंडा है वो
अपनी माँ को गले लगाके कह पाता है
"पूरी ज़िंदगी तू घना पेड़ थी हम सब के लिए'
अब उड़ माँ पंख फैलाए होश गवाएँ "
शर्माता है गालों पर उसके गिरते हैं डिम्पल मुस्कुराकर
जब कहता है अपनी ही माँ को " अब तो जा जीले अपनी ज़िंदगी सिमरन"
बड़ा शख़्त लौंडा है यह
रात भर रोता है बाबा की याद में
जब आँख सूज जाती है तो पूछने पर यह नही कहता अपनी मरदानगी के ख़ातिर की सोया नही रात भर
कह देता है रोया हूँ माँ
अहससात को जज़्बात को नौ मन बोझ बनाके नही रखता क्यूँकि मर्द है वो
अल्लाह का लाख लाख शुक्र है बड़ा सख़्त लौंडा है मेरा बेटा
क्यूँकि जज़्बात छिपाने के लिए नही दिखाने के लिए जिगर चाहिए होता है
पुराने रिवायतो को तोडकर नए आयाम बनाने के लिए जिगर चाहिए होता है
बहुत बहुत सख्त होना पढ़ता है नरम दिखने के लिए
बड़ा शख़्त लौंडा है यह," she wrote in Hindi.
Here's the post:
View this post on Instagram
In the poem, she shared that Babil often cries all night remembering his father and is not shy of confessing that he cried.
Irrfan Khan had won 2 awards- one for Best Actor in a Leading Role for 'Angrezi Medium', and a Lifetime Achievement Award at the 66th Vimal Elaichi Filmfare Awards. The late actor's son, who accepted the awards on stage, can be seen inconsolably crying in the video.
ALSO READ: Irrfan Khan's Son Babil Khan Marks Acting Debut In Anushka Sharma's Qala